If it's time for a new TV in your home theater, you're probably already knee-deep in deciding on things like OLED versus QLED or asking yourself what the heck QD-OLED is. While that is important, don't overlook another big decision: which TV operating system you prefer.
The biggest TV brands such as like Samsung and LG have their own systems built-in (Tizen and webOS, respectively), which is fine. But if your sights are focused on TVs from other players like TCL, Hisense, and even Sony, you're likely looking at those that come with Google TV or Roku built-in (we also have a roundup of the best Roku TVs).
Here, we're going to focus on the best Google TVs you can buy right now, and while the 2023 TVs are still making their way to shelves (and our review bench), so far we can say that the TCL QM8, the Sony Bravia X93, and the Hisense U8H are frontrunners for the year. But that's not to say that the 2022 crop still doesn't have relevance, and since you can still find many of them, getting into a model from last year is a great way to save some money.
All the TVs on our list are backed by Google TV, and there's a reason people love it. The stable and robust OS connects you to all your favorite TV shows and movies through streaming services from Netflix and Hulu to Disney+ and Amazon Prime Video. Google TV also pays attention to your viewing habits, and will curate a home screen packed with content that aligns with the kinds of genres you love most. Let's get started.
Note: Google TV used to be called Android TV until a broad upgrade changed the name and interface while adding new AI technology for recommendations, etc. We've included an Android TV on this list as well because, for the time being, it's still a relevant platform, but most new TVs will be running Google TV instead of Android TV.
TCL QM8 mini-LED
The Google TV most people should buy
Pros
Stunning HDR performance
Class-leading brightness
Excellent black levels
Virtually no detectable blooming
Very good color saturation/brightness
One of the key themes for TVs in 2023 has been brightness, and so far few can come anywhere close to TCL's ridiculously bright and vivid QM8 mini-LED QLED. TCL has been tearing things up in the TV world and has put out some legit contenders to heavy hitters LG, Samsung, and Sony, making many take a much closer look at the Chinese company for its high quality and much more reasonable price. With its price, features, and performance, everyone considering a new TV should look at the QM8 as it could possibly be the best TV that TCL has ever made.
As part of TCL's flagship newest Q class TVs, the 2023 QM8, as expected, runs on the Google TV OS (or else you wouldn't be here). But what we weren't expecting was the 2,500 nits of peak brightness in HDR mode that this TV measured out during our full review. This thing is blazingly bright, which means you won't have any problems watching it in a sun-drenched room. The black levels on the QM8 are impressive, too, and with Dolby Vision, IQ, HDR10+, HDR10, and HLG support, contrast performs well with excellent local dimming, and while it doesn't quite hit OLED's rich blacks in darker rooms, for the price and quality you may wonder why anyone would spend more for that tech. Our review also revealed some stunning and accurate color balance and brightness, too, even out of the box with no calibration.
Gamers will love the QM8, too, as two of its four HDMI inputs (two HDMI 2.1 and two HDMI 2.0) have support for 144Hz refresh rate and VRR (separate from the eARC port, too), as well as support for AMD FreeSync Premium Pro, and there's even a dedicated gaming mode.
Available in 65-, 75-, 85-, and 98-inch variants ranging in price from $1,200 to $10,000, additional features of the TCL QM8 include Dolby Atmos sound, support for Google Assistant, Alexa, Apple HomeKit, built-in Chromecast, AirPlay 2 and more.
TCL QM8 mini-LED
The Google TV most people should buy
Sony Bravia X93L mini-LED
Premium Sony without the premium price
Pros
Excellent motion resolution
Stellar color accuracy
Bright, punchy HDR performance
Solid black levels
Cons
Some backlight blooming/halo
Poor off-angle performance
Sony is having a deja vu moment with its 2023 X93L mini-LED, but we're here to tell you that it's a good thing. On the one hand, it's the exact same TV as last year's X95K, which was the company's outstanding flagship mini-LED. On the other hand, it's gotten some modest software improvements and, most importantly, it's still a premium TV at a much more affordable price.
But even if you aren't familiar with the Bravia X95K (and who is, really?), all you need to know about the X93L mini-LED is that it's a powerful Google TV backed by Sony's Cognitive Processor XR, is colorful and bright, measuring an impressive 1,800 peak nits of brightness, has support for HDR10, HLG, and Dolby Vision, supports Dolby Atmos sound, and is a killer gaming TV with support for VRR, ALLM (auto low latency mode), and 4K/120Hz.
If you're a movie buff, there are some great presets, such as IMAX Enhanced mode and a Netflix calibrated mode, too, as well as what our reviewer called "stellar motion processing and low-resolution content upscaling," meaning fast-action movies will be smooth, and lower-resolution content will look better.
But what sets the X93L apart from the X95K are some software improvements. A new Eco Dashboard lets you better manage eco settings, and there are some new black level adjustments for seeing darker scenes better. A new gaming dashboard also allows more control over the VRR, letting you toggle between 60Hz and 120Hz.
Available in 65-, 75-, and 85-inch models, the X93L ranges in price from $2,200 to $4,400.
Sony Bravia X93L mini-LED
Premium Sony without the premium price
65-inch Hisense U8H
The best Google TV for brightness
Pros
Intensely bright
Class-leading black levels
Impressive HDR imaging
Vibrant, accurate Color
Surprisingly Good Sound
Cons
Quirky user interface
Some bugs
Hisense is one of the most powerful names in the TV marketplace right now, offering impressive and vibrant picture quality, beautiful HDR performance, optimized gaming features, and of course, the rock-solid Google TV platform.
The U8H is the company's flagship set, and combines the best of two incredible picture technologies, quantum dots and mini-LED backlighting, to deliver one of the brightest images we've ever seen, bar none. In our testing of the Hisense U8H, we clocked peak brightness levels of around 2,000 nits (a measure of a TV's brightness) in HDR, making the U8H one of the strongest TVs for rooms filled with ambient lighting.
The thrills don't stop with the amazing peak and color brightness though. The U8H is also equipped with HDMI 2.1 inputs (4K/120Hz), and support for HDR10, HDR10+, Dolby Vision, and HLG formats, as well as Dolby Atmos. We also love the set's Game Mode Pro that optimizes picture and motion capabilities when a gaming console is detected.
The Hisense U8H is available in 55-, 65- and 75-inch sizes, and the prices of each screen are highly competitive. Simply put, this is one of the least expensive midrange TVs that looks and feels much more like a premium model from Samsung or Sony.
65-inch Hisense U8H
The best Google TV for brightness
65-inch Sony Bravia XR A95K QD-OLED
The best OLED Google TV
Pros
Next-level color purity
High color brightness
Wide color gamut
Perfect black levels
Great sound
This is the first consumer TV to offer QD-OLED technology, combining the better parts of Quantum Dot and OLED panels into a screen that can benefit from both with improved off-angle color and less risk of OLED issues like burn-in. The result is a TV we think will be one of the hottest models of 2022 and set a new standard for image quality going forward.
This 65-inch Bravia XR TV also works very well with Google TV, running the platform effortlessly. HDRO10 and Dolby Vision are both included to complement the 4K resolution, and gamers will be pleased to see the 120Hz refresh rate. There's even an included Bravia cam that can be uncovered to make video chats and – potentially – optimize the TV for gesture controls and the most popular spots in your living room.
So yes, there's a lot to be excited about for this QD-OLED upgrade, which also includes four HDMI ports and gaming features such as VRR (Variable Refresh Rate). But it's not quite available yet, and when models start selling you'll have to pay a lot to get one. New panel technologies often come at a high price, and this is a pertinent example.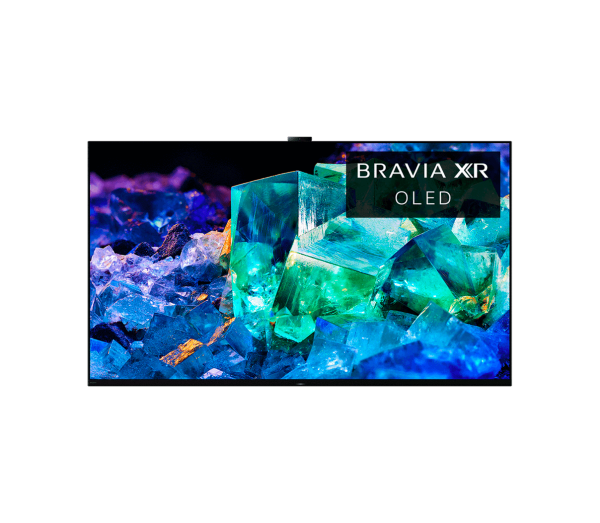 65-inch Sony Bravia XR A95K QD-OLED
The best OLED Google TV
65-inch Hisense U7H
Best affordable Google TV
Pros
Great color accuracy
Solid HDR Punch
Impressive black levels
Runs Google TV well
Outstanding value
Cons
Motion not as smooth as pricier TVs
Glut of ads on YouTube
If you haven't taken a good look at Hisense in recent years, do yourself a favor — it's really come into its own as a brand that's making some quality TVs at really reasonable prices. A great case in point is its 65-inch U7H, a 4K Quantum Dot ULED TV running Google TV that offers color and brightness you'd find in much pricier panels from much bigger brand names, making it really hard for our TV guru, Caleb Denison, to ignore.
For under $1,000, you get a panel that Denison says delivers deep black levels and contrast, and "shockingly good color accuracy with no adjustment" out of the box. On the all-important brightness scale, the U7H has it where it counts, too, with 1,000 nits peak brightness across 120 local dimming zones, making the U7H one of the brightest in this price range, and a great choice if you happen to be putting it in a room with a lot of windows.
The Hisense U7H has compatibility with the latest video and audio formats you'll need, including Dolby Vision, HDR10, HRD10+ and HLG for impressive contrast, plus Dolby Atmos technologies compatibility for surround sound.
For gaming, the U7H is similarly outfitted as Hisense's step-up U8H panel, with two 4K 120Hz HDMI 2.1 inputs at 4K/120Hz, variable refresh rate, low input lag, and auto-game mode.
And lastly, the Google TV interface gives you access to all the streaming services you'll ever need, plus a built-in browser and apps from the Google Play Store. If voice assistants are important to you, the Hisense U7H works with Alexa and Google Assistant. We'll let Denison have the last word here, from his review: "Dollar per dollar, the U7H is one of the most impressive TVs you can buy this year."
65-inch Hisense U7H
Best affordable Google TV
65-inch TCL 6-Series
Best mini-LED Google TV
Pros
Bright, vivid picture with deep blacks
Very good color accuracy
Zippy mini-LED backlight control
4K 120Hz capable for gaming
High value
Cons
Glitchy operation
No input button on remote
Another affordable option, this brilliant 65-inch, 4K TCL 6-Series comes with Google TV and the new Mini-LED panel technology: That means it uses extra-small LEDs for backlighting so that local dimming and the resulting contrast are better than ever — an option if you like the idea of an OLED screen's contrast but would like to save a little money. It also supports Dolby Vision and other important HDR technologies, and if you stream a lot you'll appreciate the support for Wi-Fi 6, too.
This is another TV that's especially good for gamers, with its 120Hz refresh rate, THX game mode, and variable refresh rate support. All in all, it's a prime upgrade if you'd like to get some of the latest panel technologies without setting your wallet on fire.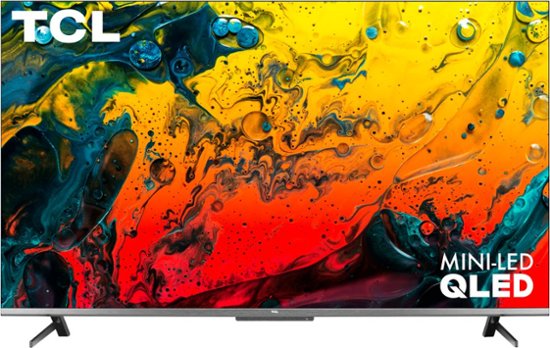 65-inch TCL 6-Series
Best mini-LED Google TV
75-inch Sony Bravia XR Z9J
The best 8K Google TV
Pros
Incredible brightness
Excellent backlight control/black levels
Spot-on color
Superb motion
Great sound
Cons
Lacks high-end gaming features
Very expensive
Do you want to skip straight to the best feature set available on a Google TV-powered screen? This Sony Bravia model is where you should start. It's one of the best TVs we've reviewed in recent years and comes packed with high-end, future-proof features including support for 8K content and massive 75-inch size to take advantage of it, a 120Hz refresh rate, and high brightness levels that enable the latest optimization technology like HDR10 and Dolby Vision. The local dimming and color are also some of the best we've ever seen on a standard LED TV.
This Bravia is also seriously smart: In addition to the Google TV platform, it supports voice commands via either Google Assistant or Alexa. Even the speakers are surprisingly good for built-in TV audio, so you don't need to feel bad about not getting a soundbar quite yet.
The only major downside of this Bravia is that you're paying a lot of money for features that haven't all come into their own yet. There's not much true 8K content available right now, although it is slowly coming. The TV also misses out on some of the advances being made with Mini-LED and other technologies, although it's certain to be a winner for years to come.
75-inch Sony Bravia XR Z9J
The best 8K Google TV
Frequently Asked Questions
What TV brands have Google TV built in?
Google is only partnering with some companies for its TV services and has only rolled out Google TV upgrades to some of those brands. Most Google TVs are Sony and TCL models at this time, with Hisense bringing the Google TV platform to its 2022 ULED TVs last year.
Note that this doesn't mean all Sony and TCL TVs will have Google TV, many are outfitted with Roku TV, so it's important to check when buying.
Is there a monthly fee to use Google TV?
No. This is a smart TV platform that's free to use. However, if you download any services on it like HBO or Netflix, you will have to pay those subscription fees to stream from them.
Is Google TV the same as Chromecast?
Google actually brought Google TV to Chromecast first, and even called its latest model "Chromecast with Google TV" to clear up any confusion. However, Chromecast remains a separate dongle that you hook up to your TV, while Google TV can also be built into a TV itself.
Note that the Chromecast version of Google TV may be a bit different from other built-in versions in regards to layout and features offered.
What's the difference between Google TV and Android TV?
Google TV is the updated version of Android TV with a new layout, more AI tech for recommendations, and a few other changes. For a more detailed explanation, check out our explainer on the differences between Google TV and Android TV.
Is Google TV replacing Android TV?
Currently, Google is maintaining both Android TV and Google TV. But the goal is to phase out Android TV entirely. Some existing Android TVs will be updated to Google TV, but this isn't always possible, especially with older models.
Editors' Recommendations