When it comes to buzzwords used by businesses, analytics has got to be at the top of the most-used list.
Thanks to the internet and all of the ways technology is changing, analytics and data mining have never been more important. And while data is great, it's what's done with it that can make or break a company. Analytics platforms software help ensure data is prepared and organized to improve decision-making. 
That's also where business analytics comes in. 
What is business analytics?
Business analytics (BA) is the combination of skills, technologies, and practices used to examine an organization's data and performance as a way to gain insights and make data-driven decisions in the future using statistical analysis. The goal of BA is to narrow down which datasets are useful and which can increase revenue, productivity, and efficiency.
When used correctly, BA can be leveraged to accurately predict future events that are related to the actions of consumers, market trends, and also assist in creating more efficient processes that could lead to an increase in revenue.
Business analytics use cases
Business analytics has many use cases, but when it comes to commercial organizations, BA is typically used to:
Analyze data from a variety of sources. This could be anything from cloud applications to marketing automation tools and CRM software. 
Use advanced analytics and statistics to find patterns within datasets. These patterns can help you predict trends in the future and access new insights about the consumer and their behavior. 
Monitor KPIs and trends as they change in real-time. This makes it easy for businesses to not only have their data in one place but to also come to conclusions quickly and accurately. 
Support decisions based on the most current information. With BA providing such a vast amount of data that you can use to back up your decisions, you can be sure that you are fully informed for not one, but several different scenarios.
While these are the most common use cases, there are four primary methods of business analysis.
Types of business analytics
One method isn't more important than another, it all depends on what your end-goal is when using BA. When you use these four types of analytics, your data can be cleaned, dissected, and absorbed in a way that makes it possible to create solutions for no matter what challenges your organization may face.
Descriptive analytics: Interpretation of historical data and KPIs to identify trends and patterns. This allows for a big picture look of what happened in the past and what is happening currently using data aggregation and data mining techniques.

Many companies use descriptive analytics for a deeper look into the behavior of customers and how they can target marketing strategies to those customers. 

Diagnostic analytics: Focuses on past performance to determine which elements influence specific trends.

This is done using drill-down, data discovering, data mining, and correlation to reveal the cause of specific events. Once an understanding is reached regarding the likelihood of the event, and why an event may occur, algorithms are used for classification and regression. 

Predictive analytics: Uses statistics to forecast and assess future outcomes using statistical models and machine learning techniques. This often takes the results of descriptive analytics to create models that determine the likelihood of specific outcomes.

This type is often used by sales and marketing teams to forecast opinions of specific customers based on social media data.

Prescriptive analytics: Uses past performance data to recommend how to handle similar situations in the future. Not only does this type of business analytics determine outcomes, but it can also recommend the specific actions that need to occur to have the best possible result. This is often achieved using deep learning and complex neural networks.

This type of business analytics is often used to match various options to real-time needs of a consumer.
Deciding which method to go with will depend on the business situation at hand.
Elements of business analytics
Now that we've narrowed down how it works, let's now break down all of the components that go into business analytics and which methods it uses to find its valuable conclusions.
The method you decide to go with when taking a deep dive into BA is going to depend on the end-goal you set before starting the process. Whichever method you choose, you are sure to find actionable insights waiting for you at the finish line. 
Data mining
Data mining is the strategy of sifting through massive datasets to uncover patterns, trends, and other truths about data that aren't initially visible using machine learning, statistics, and database systems. There are several data mining techniques that business analytics can pull from, including regression, clustering, and outlier detection.
This is a useful element of business analytics as it leads to faster and more efficient decision making.
For example, through data mining, a business may be able to see which customers are buying specific products at certain times of the year. This data can then be used to segment those customers. 
Text mining
Text mining is the process of extracting high-quality information from the text on apps and throughout the World Wide Web.
Companies use text mining to collect textual information from social media sites, blog comments, and even call center scripts. Then, this data is used to improve customer service and experience, develop new products, and review the performance of their competitors.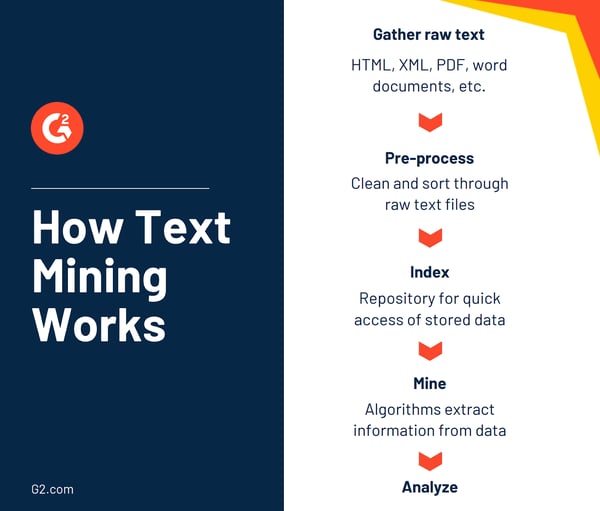 Data aggregation
The process of data aggregation consists of gathering and collecting the data, which is then presented in a summarized format. Essentially, before it can be analyzed, it needs to be collected, centralized, cleaned, and then filtered to remove any inaccuracies or redundancies. 
This is a crucial step for business analytics because the accuracy in which you can gather insights from data is directly related to the kind of relevant and actionable results you'll have at the conclusion of the process. 
An example of data aggregation would be how a marketing team uses data like customer demographics and metrics (age, location, number of transactions, etc.) to personalize their messaging and offers.
Forecasting
When business analytics are used to analyze processes that occurred during a specific period or season, businesses are provided with a forecast of future events or behaviors, thanks to historical data.
Forecasting can be used for several different things, such as retail sales around specific holidays and spikes in specific internet searches around certain events – like an award show or the Super Bowl.
Jackie Jeffers, Analytics Strategist at Portent, stresses the importance of using forecasting as a major part of your strategy. "Forecasting based on historical data is useful for setting  yearly goals and predicting online user behavior, such as traffic and conversions. Customer journey analytics allow you to identify first-touch interactions with a potential lead, all the way to the conversion step. Having visibility to all touch-points in the nurture process lets you optimize the steps in between and improve the user journey."
Not only does business analytics help build your lead funnel, but it impacts your bottom line in other ways. Forecasting call volume, for example, can help optimize staffing resources in a call center. Having the ability to gather and analyze data is not only beneficial but critical to making data-driven and informed decisions."
Data visualization
For all you visual learners out there, data visualization is an absolute must-have part of business analytics. It seamlessly takes the information and insights drawn from your data and presents it in an interactive graph or chart.  
The right data visualization software is crucial to this process to help track business metrics and KPIs in real-time so you can better understand performance and goals. If you're unsure which software option is right for your company, take a look at the hundreds of unbiased reviews, brought to you by G2!
Importance of business analytics
There are a lot of moving parts that go into business analytics, but it may be unclear why BA is important to your organization in the first place.
For starters, business analytics tools help understand a company's needs to make accurate decisions. These decisions are likely to impact your entire organization as they help you to improve profitability, increase market share, and provide a greater return to potential shareholders.
There's no denying that so many businesses are impacted by technology, but when used correctly, BA has the chance to impact your company for the better as it provides a competitive advantage to a variety of companies.
While some companies are unsure what to do with large amounts of data, business analytics works to combine this data with actionable insights to improve the decisions you make as a company.
Plus, since this data can be presented using any format, the decision-maker at your organization will feel informed in a way that works for them and the goals you set at the beginning of the process.
Essentially, the four main ways business analytics is important, no matter the industry, are:
Improves performance by giving your business a clear picture of what is and isn't working
Provides faster and more accurate decisions
Minimizes risks as it helps a business make the right choices regarding consumer behavior, trends, and performance
Inspires change and innovation by answering questions about the consumer
Business analytics examples
Business analytics have use cases in a wide array of industries and organizations. As technology becomes more advanced, more and more companies are developing new ways to utilize big data to their advantage to maximize their profits and improve the customer experience. 
For instance, let's say you run a fast-food restaurant.
You may use business analytics to speed up the ordering process for your customers using the drive-thru. When you use BA to monitor the traffic that the drive-thru receives, you'll be able to know your peak hours and when to increase efficiency.
When you know the line is about to get long, you can move around your staff to get more employees working the drive-thru lane, or even have them recommend orders that can be completed quickly. When lines are shorter, employees can recommend items with higher margins that are more expensive and take more time to create. 
The popular meal kit delivery service, Blue Apron, used business analytics to forecast demand for their orders and recipes. Each week they sent its subscribers a mixed menu of meals for purchase, and thanks to predictive analytics, they were able to use various data insights to avoid product spoilage and fulfill orders.
To do this, Blue Apron looked at customer-related insights that consisted of historical data of how often a customer made specific orders. There was also recipe-related data that focused on a customer's preference for recipes in the past. Finally, they looked at seasonal trends to see if there were purchasing patterns of higher or lower order rates for a specific time of year. 
Thanks to predictive analytics, Blue Apron was able to better understand their customers, improve the user experience, predict shifting preferences, and even identify how tastes in meals change over time. 
The Growth Hackers's CEO, Jonathan Aufray, took the time to share how they use business analytics. "At Growth Hackers, we use business analytics to track our traffic sources and the number of leads we generate. This allows us to understand which marketing strategies work and which ones don't, allowing us to optimize the least performing ones, drop some, and double down on the marketing channels that give the best results."
We also use business analytics for the clients we help. It's essential to be able to track your actions and gather data in order to keep improving your strategies. Without data, you cannot know what's working and how to optimize your strategy. I believe that all businesses should use analytics for their marketing, lead generation, sales, and customer experience.
Benefits of business analytics
No matter the size of your business or the industry in which it operates, business analytics provides a variety of benefits.
Plan for the unexpected. One of the main benefits is that it allows your business to plan for the unexpected. BA can model the trends in an organization's sales, profits, and other key metrics while projecting them for the future. This allows businesses to see changes that may occur annually, seasonally, or on any scale, which provides a chance to prepare and plan ahead.
Minimize waste. Perhaps you'll need to decrease spending to prepare for a slow season, or invest in new marketing campaigns. BA can make it easy for larger companies to predict order volume and minimize waste. 
Test new campaigns. Business analytics also allows your organization to test new marketing campaigns. Since BA provides you with data surrounding customer behavior, you can better understand the effectiveness of your advertising campaigns on different audiences and demographics. Also, when you're able to identify that the customer is less likely to return, you can consider offering targeted promotions to gain their business back.
When you utilize BA to your advantage, you'll have a competitive edge over the competition — no matter your industry. 
Challenges of business analytics
Business analytics has some potential pitfalls that you'll need to overcome. 
Need for leadership & experts. For starters, you'll find the most success with it when all parties within your company fully support its adoption and execution. It's always going to need buy-in from senior leadership and a clear corporate strategy.
Getting everyone in upper management to sign off on a BA strategy can be difficult, so be sure to present business analytics as supportive of strategies already in place. This should also include clear and measurable goals to help those who are slow to be convinced by the benefits of BA.
IT involvement: In addition to executive ownership, business analytics also require IT involvement, meaning the right technology infrastructure and tools in place to handle the data. Business and IT teams must work together for business analytics to truly succeed. While you're at it, make sure you have the right project management software in place to implement predictive models and adopt an agile approach.
No immediate ROI. During the initial months of an analytics project, it's important to remain committed to the end result. While the cost of analytics software may be high, and ROI isn't immediate, stay dedicated. The analytical models will develop over-time and predictions will only improve. A business that isn't able to make it through the investment period will likely abandon the entire concept. 
Business analytics career
A career in business analytics is a popular choice among those who enjoy working with numbers. To start working towards a career in BA, you'll need a bachelor's degree in business analytics, data science, information management, business intelligence, marketing, statistics, or a related field.
 Some of the more popular career paths related to business analytics are:
Data Analyst or Data Scientist: As a data scientist, you would collect, analyze, and organize data in a way that provides the organization with valuable insights that can be utilized by all departments. A data analyst presents this data to upper management using tables, charts, and other types of reports.
Business Intelligence Analyst: A business intelligence analyst is different in the way that they will be gathering and analyzing information to gain an advantage over competing organizations. They'll present to upper management exactly where their business stands, its strengths and weaknesses, and how they can bring in a larger profit. 
Big Data Analytics Specialist: Using the latest developments in technology and data science, big data analytics specialists solve challenges that arise when working within a digital industry. They will often be asked to weigh in on various decisions using insights gained through data and need to be able to backup their conclusions with factual evidence.
Management Analyst or Consultant: The role of a managing analyst consists of working with business operations and making sure they're running smoothly and effectively. You'll work with several other departments to narrow down which business process needs to be improved while also finding a way to enhance efficiency. 
Marketing Manager: Those who choose the route of a marketing manager will be required to come up with the marketing strategies of the organization. Whether that's overseeing marketing campaigns, gathering retail analytics, working directly with the sales and marketing teams, or reporting to upper management, it'll likely depend on the type of organization and industry. 
Operations Research Analyst: Operation research analysts work to analyze operational data using information technology to run an analysis and develop solutions to improve efficiencies across varying departments. 
Market Research Analyst: Those who choose to be market research analysts will work directly with marketing data. This type of information will help to identify potential customers, evaluate the desirability of the product, and develop specific price ranges to increase revenue over time.

Data analyst salary
If you need a place to start within the business analytics industry, one of the more common paths is the role of a data analyst. There's no denying that this job is in high demand, especially when you consider that every organization is beginning to see the value a data analyst will add to their staff. 
If you're going this route, you may be wondering if you live in a city that pays the most to become one. Here are the top five paying cities: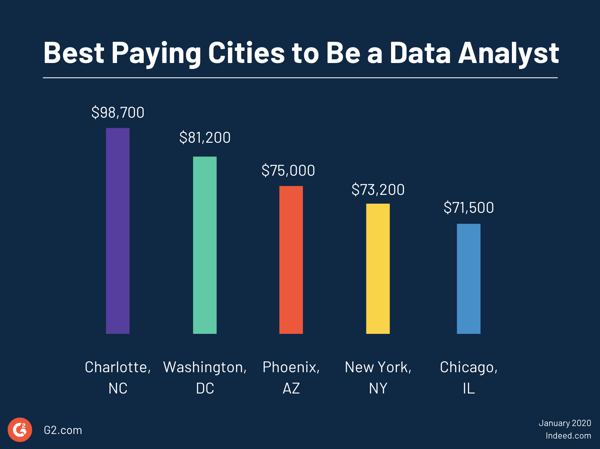 Business analytics skills
In order to have a career in one of the roles listed above, you'll need a specific skill set to succeed. 
Critical thinking: A major part of working with business analytics is knowing which data can be helpful in making decisions and thinking critically about the implications of the data that is collected.
Problem-solving: The overall goal of collecting data is often to solve a specific pain point within the organization, so having this skill makes it easier to connect the dots and draw conclusions along the way.
Communication: Whether you're working with others on your team or communicating findings to upper management, being a strong communicator through writing and presenting is key.
Curiosity: Working with business analytics means being curious as to how things work, fit together, and change over time. 
Detail-oriented: Since those in this field work with such complex data, paying attention to the many details of this data, and the recommendations it may present is crucial. 

Business analytics vs. business intelligence
It's not uncommon that business intelligence (BI) is often confused with business analytics, and vice versa, as the two are similar. BI also deals with historical data, but this data tends to be compiled from various places, like a company's CRM software, ERP systems, and marketing automation tools.
With both BA and BI, data is collected, sorted through, and displayed using data visualization software so that business executives can have a visual representation of any spikes or pain points that may be uncovered. 
However, there is one main difference between the two:
Business intelligence is more concerned with reporting a company's performance and where it stands on key metrics. It provides context to what happened in the past, why it may have happened, and what is happening now.
Business analytics takes the context provided by business intelligence and applies statistical analysis, data mining, predictive modeling, and other techniques. These methods are more advanced, and they'll provide more context of what to expect in the future – also known as forecasting.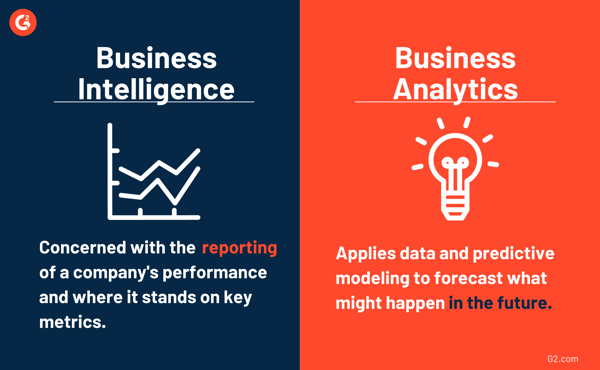 It can be tricky to determine which method is right for your business. Use business intelligence if:
You need to visualize your company's past or present performance.
You're less concerned with prediction than you are with aggregating and visualizing important metrics.
You'd like more users to be aware of the data. This is made possible with self-service business intelligence, a solution geared toward less technical users so they can generate charts and reports.
You're comfortable making decisions based on the data.
On the other hand, use business analytics if:
You need a way to visualize the future performance of your company.
Prediction is key to the success of your company.
You have data analysts to explore and manipulate the data who can also visualize results for accurate forecasting.
You'd prefer to make decisions based on the results of data mining, statistical analysis, and predictive modeling.
Related: Unsure where to start with turning your data into actionable information? Browse your options for Business Intelligence Platforms and read real reviews from your peers!
Business analytics vs. data science
Like business intelligence, sometimes it's unclear how business analytics differs from data science. Both involve gathering data, modeling, and obtaining various insights.
The difference between the two stems from BA being specific to business-related problems, like cost and profit, and can predict what could happen in the future.
Data science is the larger or superset of the two, as its main focus is to answer questions related to customer preferences, seasonal factors, and geography within the business. It combines data with algorithm building and technology to answer these questions. 
In short, data science is the science of studying data using statistics, algorithms, and technology. BA is the statistical study of business data.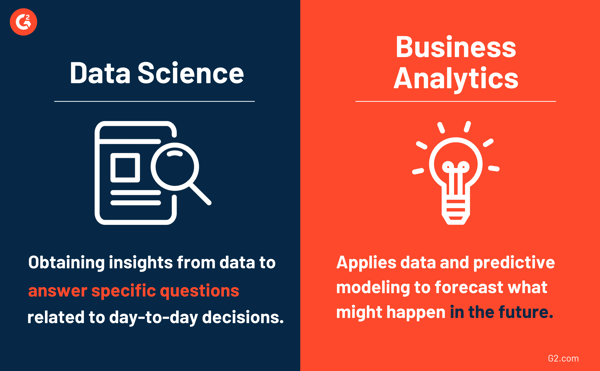 Let's consider a real-life example.
Let's say you open up an ice cream store. You buy all of the necessary ingredients and equipment, and even come up with a catchy name.
Business analytics will help you answer questions like:
Is my business profitable?
How can I make my business even more profitable?
If it isn't profitable, what am I doing wrong?
What item is causing a lack of profitability?
Should I be selling my ice cream at a higher or lower price?
Data science can help you answer questions like:
What is the typical demographic for the average ice cream eater?
Will playing the top 40 music on the radio make my customers tip more?
Where is the best geographical location to open up another ice cream store?
What month of the year do I sell the most ice cream?
Business analytics best practices
Implementing the right business analytics strategy isn't something a company can do overnight. However, when specific best practices are put into place, you can be sure that the insights you receive allow your business to be as successful as possible. These best practices include:
Defining your business use case and the goal before using business analytics
Deciding on specific criteria for success and failure
Validating models using your criteria for success and failure
Creating a methodology, narrowing down your data, and determining the internal and external factors that go into making an accurate prediction
When you take the time to do these four practices, you can be sure that your business will benefit the most from data-driven decision making.
Let's get down to business
When your organization chooses to use business analytics, you are bound to make better decisions regarding revenue, customer experience, and overall efficiency.
These methods are often considered a hidden gem as they can reveal ways to get an edge over your competitors. Set your goal, keep your eye on the prize, and you'll be pleasantly surprised by what you find. 
Don't stop learning just yet! Find out more about big data analytics and how it's used to make faster and more calculated decisions.
---
This article was originally published in 2020 and has been updated with the latest information.