Nothing wants to establish itself as a breakthrough brand in a sea of sameness. It has the right character at the helm – Carl Pei – who was so instrumental in getting OnePlus noticed on the world stage, with sights now set on the US.
The Nothing phone (2) continues much of what the Nothing phone (1) started, but at the same time, it's a step-change for this startup smartphone. But is this a phone that you should consider instead of the latest Pixel or Samsung device – and how does it fit into the smartphone landscape? I've been using it for a couple of weeks to find out.
Nothing Phone 2
Bigger, bolder and more ambitious, the Nothing phone (2) has been revised and refined in its second-gen, designed to appeal to more buyers, although the camera still lags behind.
Pros
Great design with Glyph Interface
Plenty of power
Some nice OS tweaks
Cons
Camera performance not great
Display autobrightness a bit dull
Design
162.1 x 76.4 x 8.6mm, 201.2g
Recycled aluminium and glass design
IP54 rating
Glyph Interface
Glance at the Nothing phone (2) and it's instantly recognisable. It looks a lot like the Nothing phone (1) but there's clearly been some refinement to arrive at this point. The phone is now larger, expanding to offer a bigger display, while there's an immediate sense of refinement.
The overall design evolves the phone. I thought that the Nothing phone (1) looked like an iPhone with a transparent back and there's still some of that feeling with the squared aluminium sides and the placement of the buttons around the body, but there's a new slightly domed back 3D glass back on the phone. This not only shows off the beatifully geeky interior components and that unique design, but also allows the Glyph Interface – the Nothing phone's pièce de resistance – to shine through.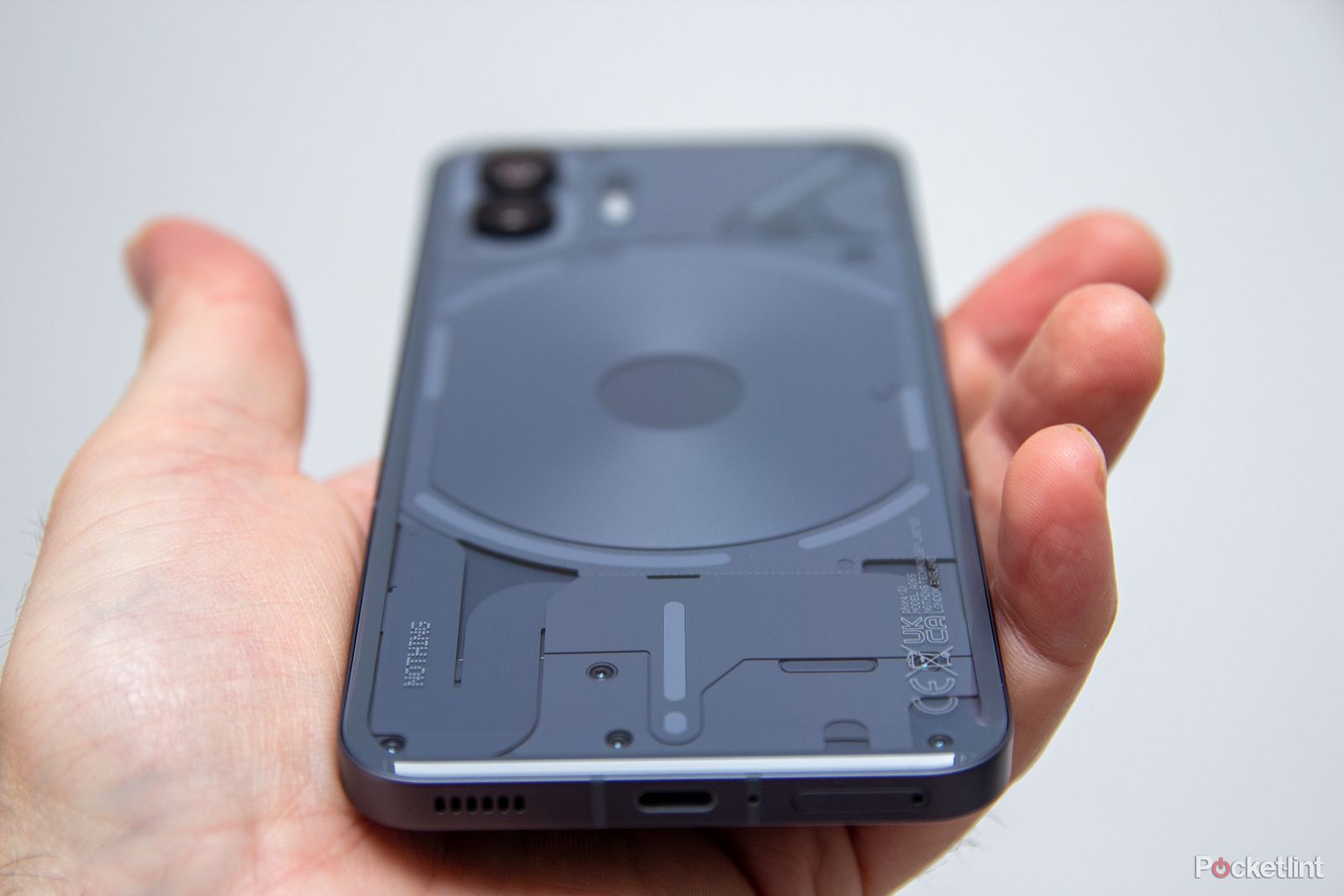 It's here that the Nothing phone (2) looks and feels better than the Nothing phone (1). It retains all the uniqueness (and at this early stage in Nothing's life this is still a design that attracts attention), but it refines it. Holding the phone it feels better – but I can't help feeling that there might be some fragility to the rear. I expect we'll see a number of smashed backs, but that might just encourage you to use a case for your Nothing phone.
Nothing is also keen to push its eco credentials, from the minimalist – and I have to say very cool – packaging, through to the 100 per cent recycled aluminium mid-frame. There are recycled materials used all over this phone, meaning the carbon footprint is lower than the previous device despite the increased display and battery capacity. It's also great that Nothing has opted for an IP54 rating. Sure, it's not quite up there with the top IP68 specs, but it means there will be protection when the rain comes, keeping your phone safe from water splashes.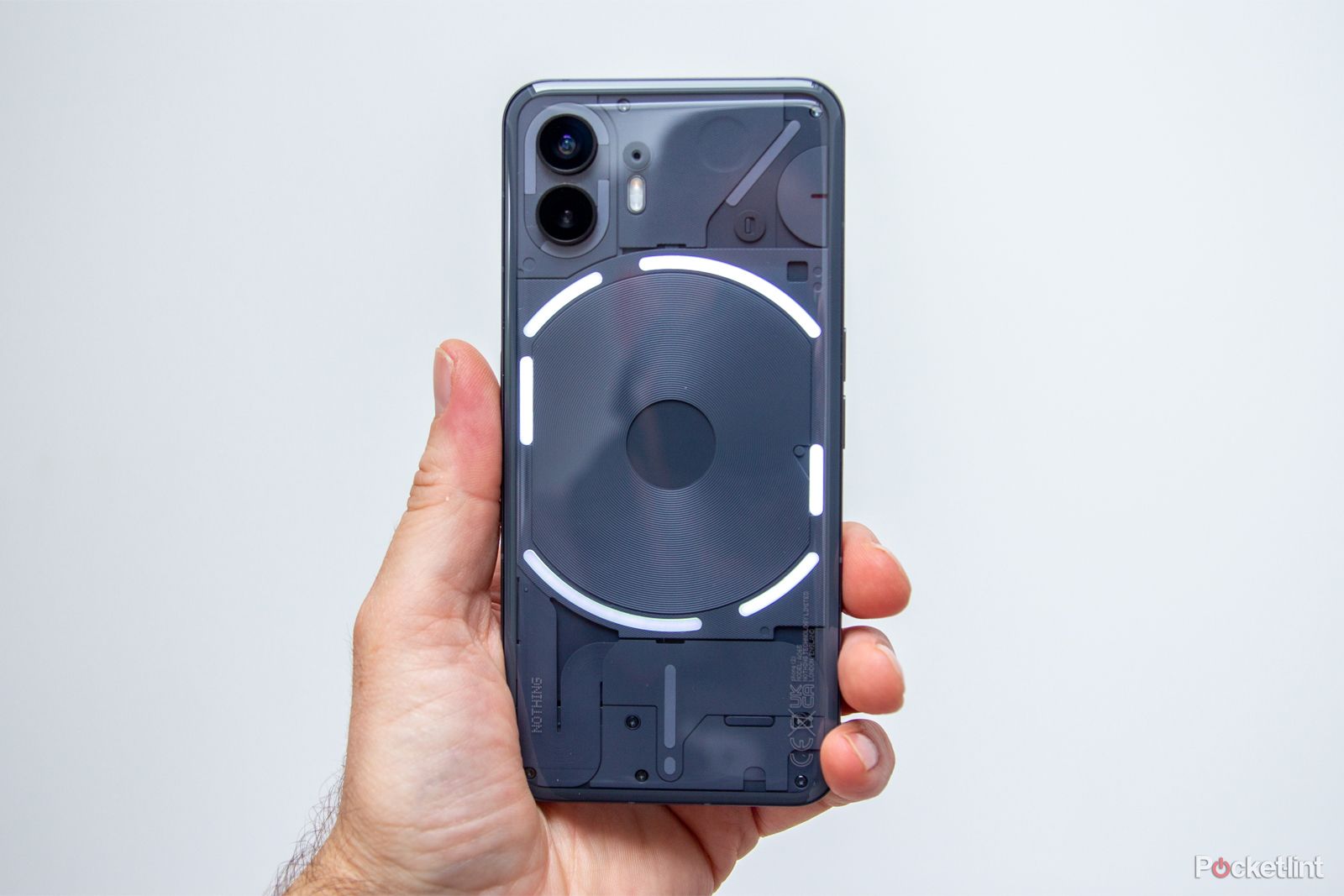 A large part of the design, of course is focused on the Glyph Interface on the rear of the phone. That pattern of LEDs in the rear of the phone has 33 separate zones, allowing more customisation and some clever functions, like a countdown timer that can be graphically displayed on the rear of the phone via a receding line. Nothing is also planning integration with third-party apps, so you can glance at the back of your phone to see how close your Uber is – and in the future, hopefully your food delivery too. Called Glyph Progress, this is currently in its infancy, but it means that rather than constantly checking the app on your phone, you can just glance at the back of the device to see how long you have to wait. That's on top of custom light patterns for contacts, indicators for and a whole lot more.
Gylph Interface is a showpiece. It's very much a viral marketing weapon for Nothing, while also giving you something else to play with. No other phone goes any further than having a glowing edge for notifications (Motorola) unless you have a phone like the ROG Phone with a rear display.
Display and hardware performance
6.7in LTPO OLED, 2412 x 1080 (394ppi), 1-120Hz
Snapdragon 8+ Gen 1, 8/12GB, 128-512GB
4700mAh, 45W wired, 15W wireless, 5W reverse
The Nothing phone (2) gets a larger display than the Nothing phone (1), expanding to 6.7-inches. It's an LTPO OLED panel, meaning it can provide adaptive refresh rates from 1-120Hz to optimise the display to the content you're viewing. The display can be nice and vibrant, but the autobrightness is a little dull by default. I was forever notching up the brightness to get content to pop and really come to life. Nothing has probably been conservative with brightness to preserve battery life, but this won't get the best results from the display. Nothing is offering 1000 nits, with 1600 nits peak, and supporting HDR – but you don't see that until you turn the brightness up.
There's another interesting angle to this: the Nothing icon pack will strip all the colour from your app icons to give you a monochrome finish (a little like Android's bedtime mode). I've been using this for some weeks now and it will take some time to get used to, but it also plays into having a slightly duller display – monochrome doesn't need the colours to pop, so this icon pack actually works on a phone with lower brightness.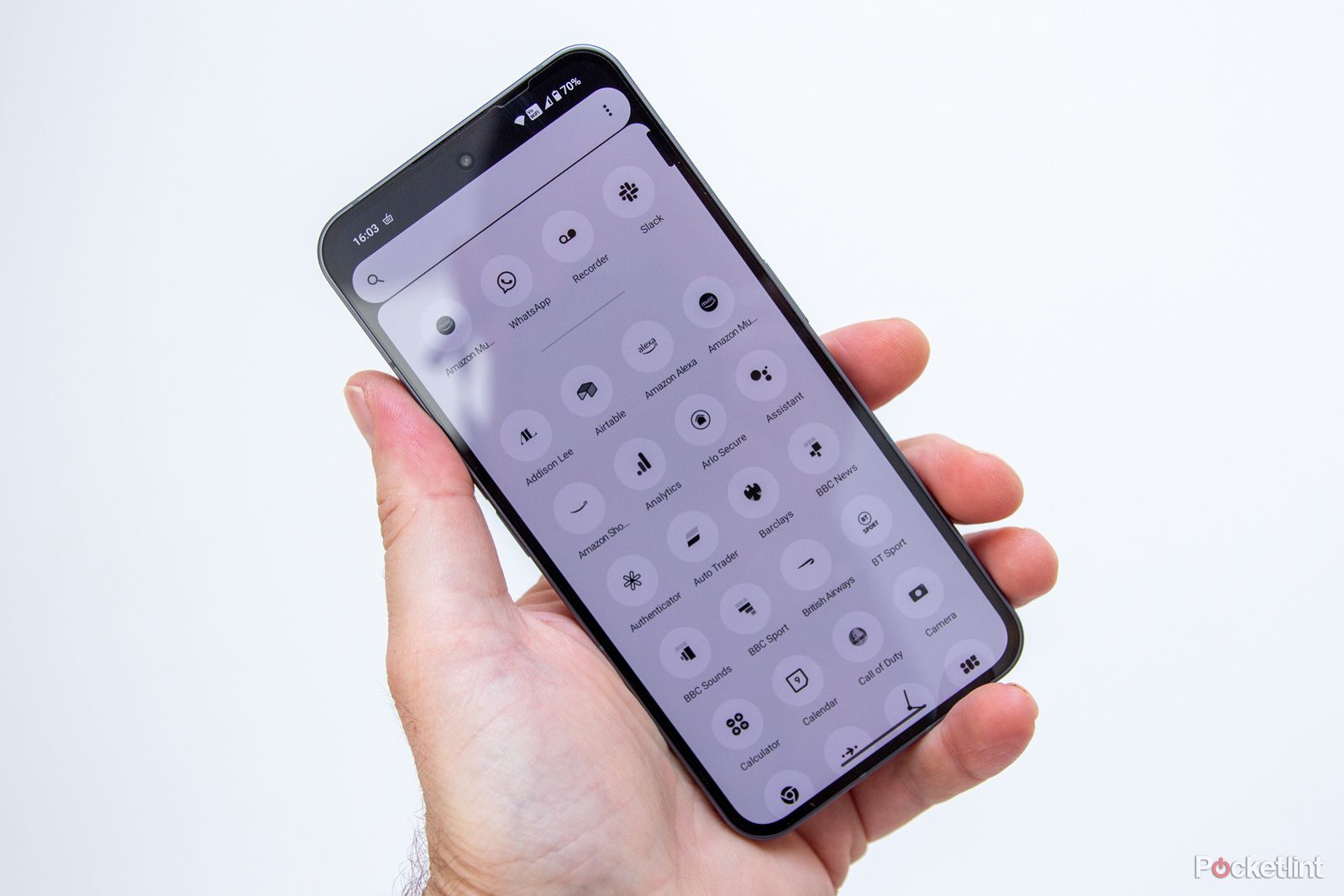 Sitting at the heart of the phone (2) is the Snapdragon 8+ Gen 1. It's a slightly older hardware platform from 2022, but the advantage it offers is that it is flagship grade. Nothing told us that they wanted to work with something established, and that it will unlock more power for the cameras – and we know from 2022 flagship phones that it performs well.
At the same time, it's not going to compete in terms of pure power with the latest 2023 phones like the Samsung Galaxy S23 Ultra, but at the same time, it's more affordable, with Nothing asking US$599, CA$959, £579 in the UK and €679 in Europe for the entry-level 8/128GB model. That's mid-range prices for flagship-grade hardware.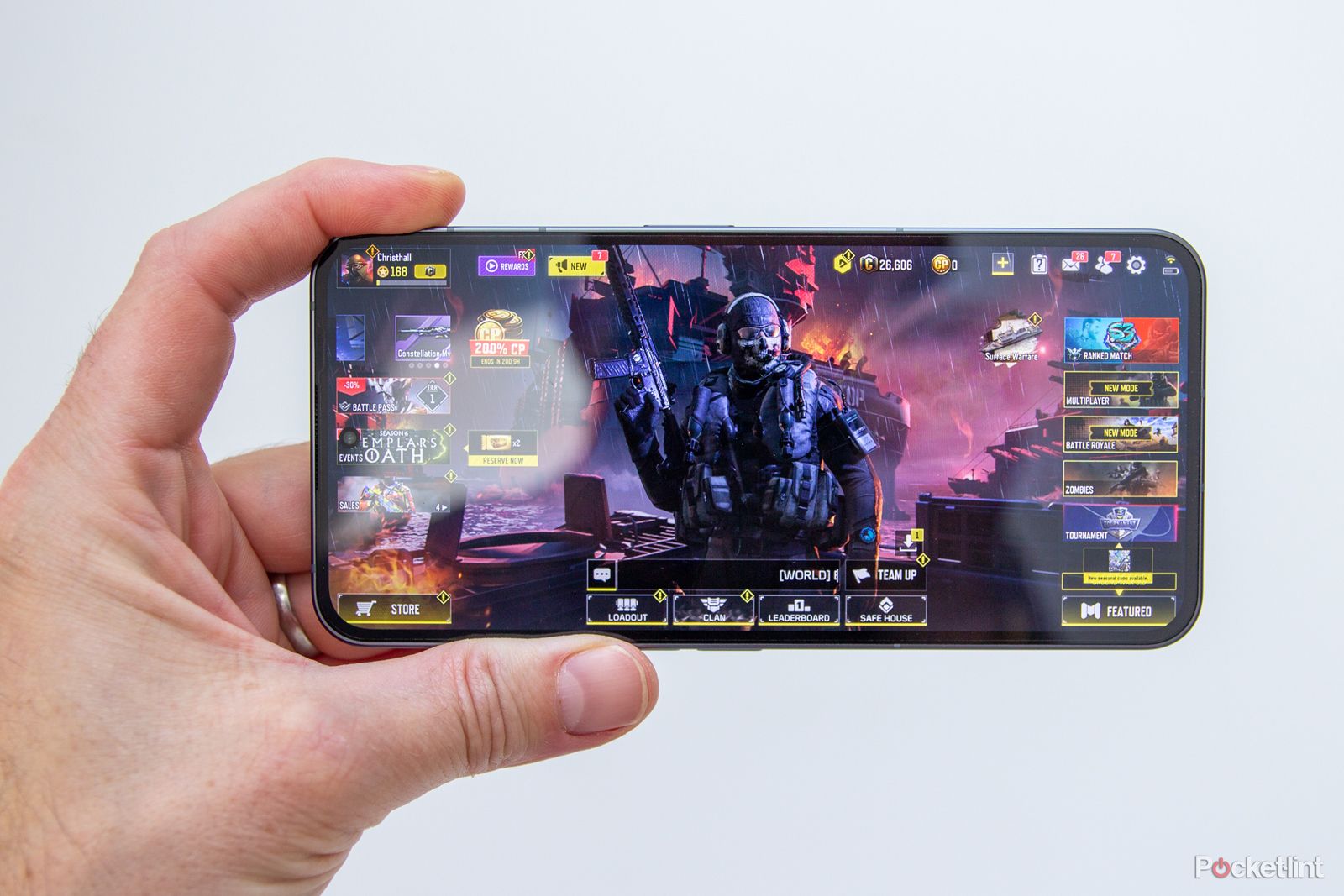 Importantly, it's a healthy step forward over the Snapdragon 778G+ of the Nothing phone (1) and this phone behaves like a flagship device. It's perfectly happy to get stuck into long gaming sessions on Call of Duty Mobile, or to flip between multiple apps as you go about your busy day.
That also applies to the battery, moving to 4700mAh over 4500mAh. The 45W wired charging and 15W wireless charging won't break any records in terms of speed, but it's as fast as the biggest players in the market, viz. Samsung and Apple. I've found the battery life to be generally good, this phone will make it through the day without too much of a problem and nothing suggested to me that battery life would be a concern. In that regard, it's pretty much average for this grade of hardware on this size of device.
You can see how the Nothing phone (2) compares to the Nothing phone (1) in detail here.
The fingerprint scanner in the display works well and we've found it fast and reliable to unlock, while there are stereo speakers in the frame too. The speakers offer reasonable volume, but most of the work is done by the speaker on the base of the phone, with the ear speaker driving higher tones. The bass drops as the volume increases and things get a little strained, so it's not the best performance I've heard from phone speakers.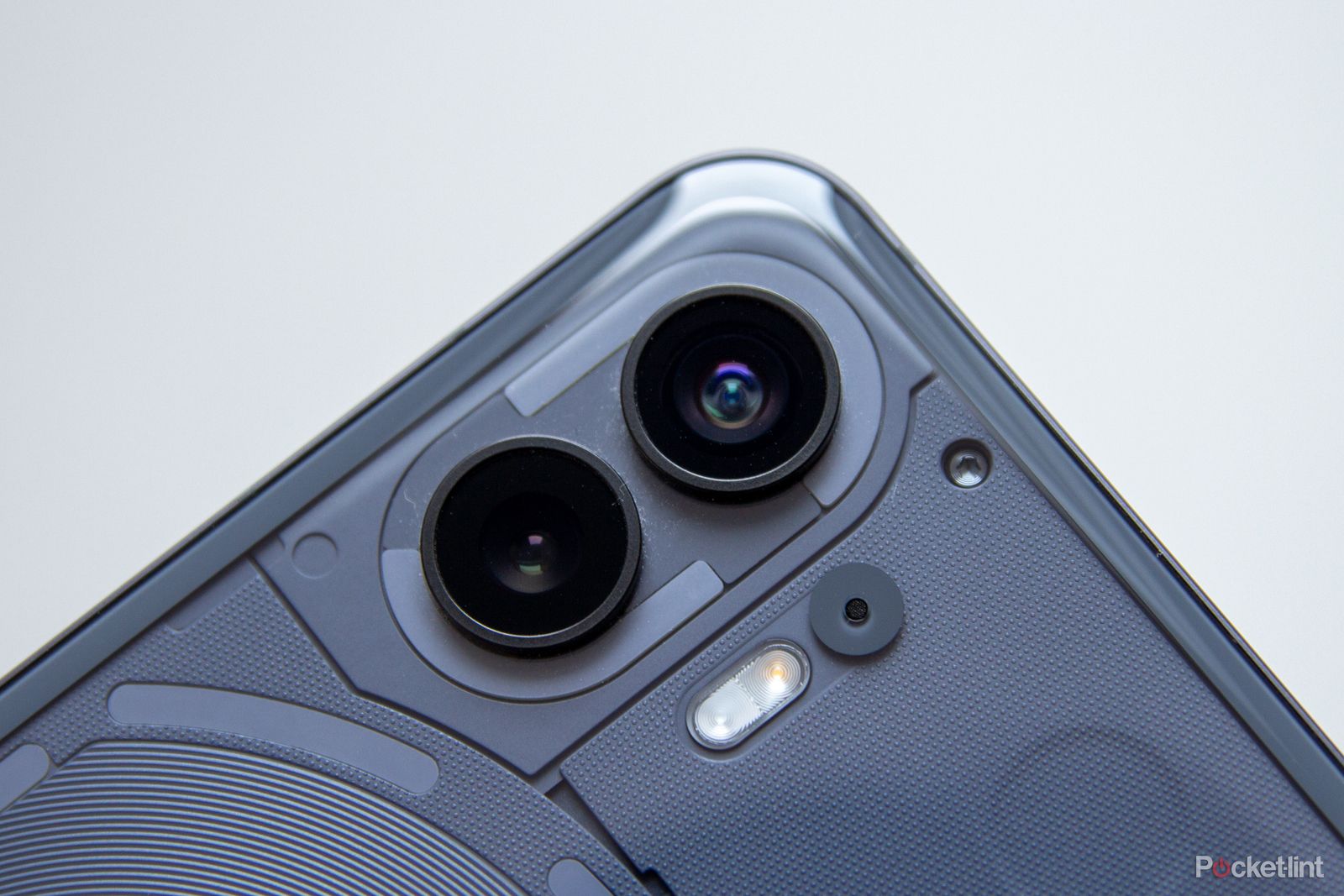 Cameras
Main: 50MP, 1/1.56in, 1µm, f/1.88
UIltrawide: 50MP, 1/2.76in, 0.64µm, f/2.2
Front: 32MP, 1/2.74in, 0.8µm, f/2.45
There's a dual camera arrangement on the rear of the Nothing phone (2), with Nothing pointing to the upgraded Snapdragon hardware with additional power for driving the cameras. It's an upgrade to a newer sensor for the main camera – a Sony IMX890 over the IMX766 of the previous phone – but the idea remains the same. The aim is to give you two decent cameras, rather than packing the phone with duff sensors just to brag about having more cameras on the spec sheet.
The biggest criticism of the Nothing phone (1) is that despite the aim of delivering sensible cameras, the performance wasn't really there. That's also evident on the Nothing phone (2). The main camera is perfectly capable in light conditions and the ultrawide gives reasonable results too, both looking close in colour consistency from our test shots and this will please a lot of users wanting to take typical shots in good light.
But when the light dips, the nothing phone struggles. Indoors under artificial lighting is ok – but only ok – and as it gets darker, the images rapidly lose detail. It looks as though the Nothing phone (2) attempts to control noise by smoothing and over sharpening. the results aren't great and it would be hard to recommend the low light performance against something like the Pixel 7a, which is easily better in low light. This comes down to computational photography too, which is at this point delivering better results than ramping up hardware in smartphone cameras.
This is most apparent on the front camera. Nothing has moved from 16 to 32-megapixels for the front camera, but this does feel like a spec sheet play, as there's no discernable advantage. The selfie camera performance is generally poor, unless you're in perfect conditions. Firstly, there's no HDR preview when composing your selfie, so you see the sky blown out in the app, but it's corrected when you look at the image itself – so that's a bad user experience. But in low light the self camera really struggles, smoothing and over-sharpening: in my low light test shots the results mean that I look about 70 years old, with skin like paper. I also found in some HDR situations with the front camera that it would produce a halo effect around my head. There's a rogues' gallery below – but be warned, it's not pretty.
With no zoom you're left to digital zoom to get you closer to the action and this is fine at the 2x option you get in the viewfinder. But the 10x option doesn't give great results, especially over any sort of distance where it looks more like a watercolour painting. Up close you get better results, but they are soft and you don't get the sort of far zoom stabilisation that you get from a flagship phone.
The result if a camera experience that's decidedly average and shows where Nothing really needs to refine its offering to be competitive – because there are phones from Google and Samsung that easily trump the performance seen here, and for less money.
Software
Android 13 with Nothing OS 2.0
3 years of Android updates
Of course a lot of the focus of this phone is on software. The Nothing phone (2) comes with the latest version of Nothing OS and as I mentioned above, there's the ability to turn it monochrome, escaping the colours of all your apps. Of course you don't have to do that, you can have any finish you want, but minimalism and highlighting precise elements of the device is one of the things I immediately like about Nothing OS.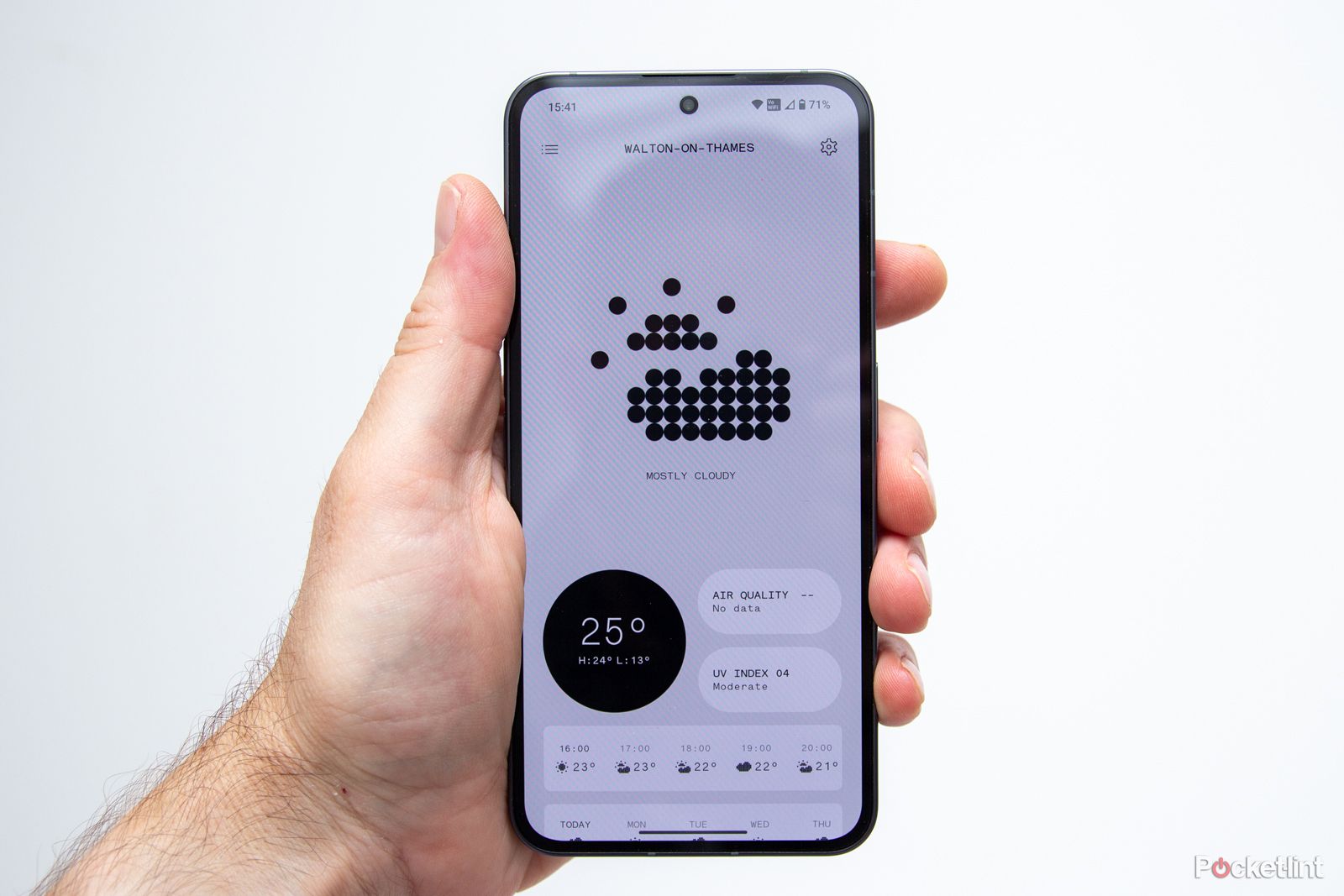 There's a range of interesting widgets, with Nothing's dot matrix design seeping through just about everything and that again helps this device look unique when compared to other Android phones. Stick to Nothing's widgets and you'll get a nice minimalist aesthetic. One of the widgets I like is the ability to drop anything from the Quick Settings menu into a widget for a single tap activation. That might be your hotspot or Do Not Disturb – and they turn red when toggled, so it's easy to see what's going on with your phone.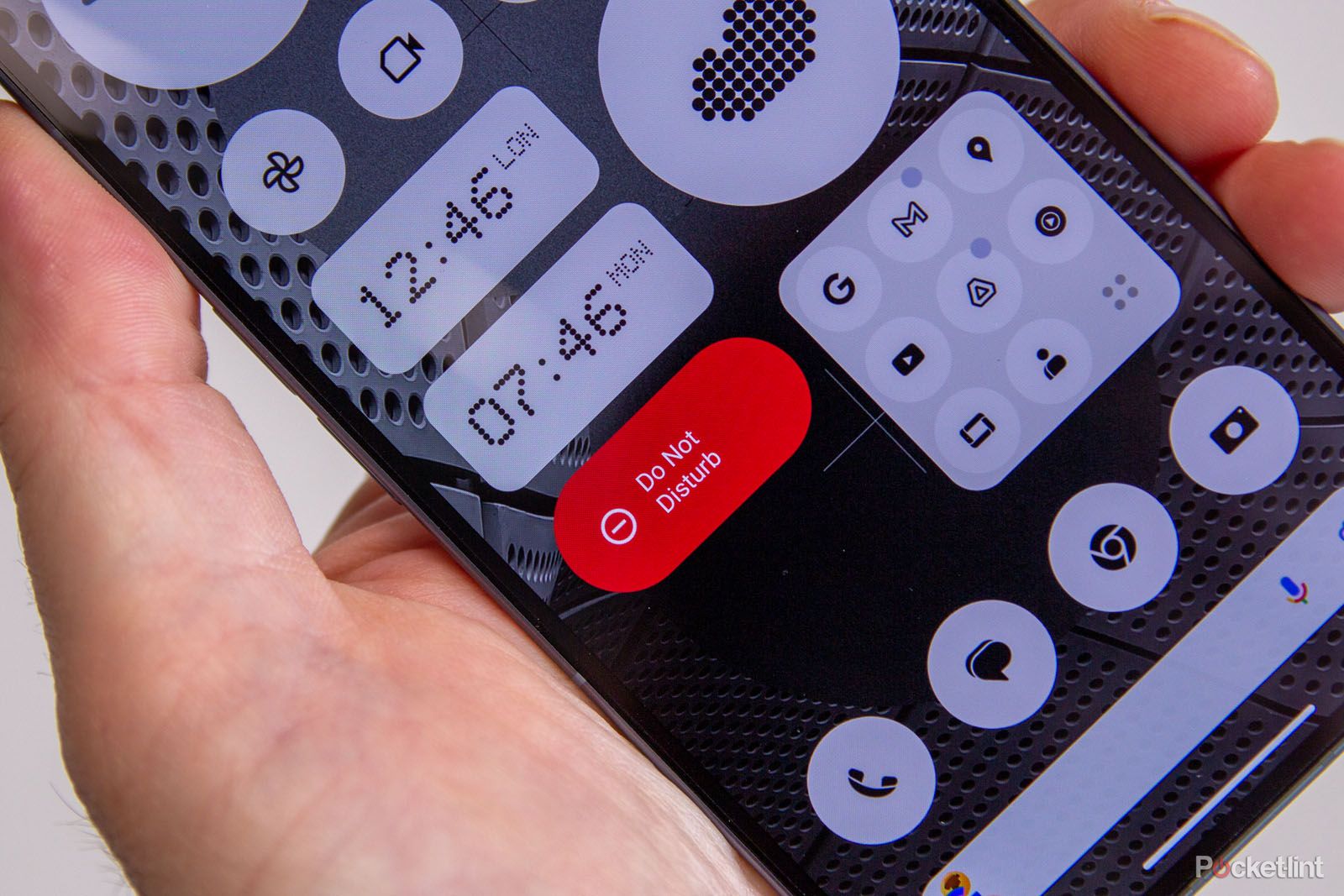 Nothing's modifications extend into areas like the Quick Settings menu, with some big icons for network connections and Bluetooth, there's customisation for app labels and folders, and it's all designed to make your phone more usable and less distracting. Some of it is pure aesthetics too, but one thing I've found is that I've used the Nothing phone (2) with widgets on the home screen and found them useful. I'd previously stopped using widgets on Android phones because they were messy and distracting – so Nothing is doing something right.
Verdict
The thing that strikes us most about the Nothing phone (2) is the refinement of the design. For a phone that's designed to attract attention (despite the company ethos of making tech blend into the background), this is a phone that looks great. I've caught a lot of people stealing a sideward glance at it, not just because I've been using an unreleased phone, but because it's unique. (Don't forget, there are people selling phone skins to make devices look like this.)
The positive side of this device is loaded with great design, a good display, a great user interface and customisation options and the unique Glyph Interface – as well as the overall performance and battery life. This phone has the performance of an older flagship, just as you'd expect. But what it doesn't have is the camera performance of an old flagship. The camera lacks in a number of areas, especially low light performance and that's the biggest negative of this device. For some, the positives will outweigh that negative, but for others, the camera performance they are looking for will lie elsewhere.