We use affiliate links. If you buy something through the links on this page, we may earn a commission at no cost to you. Learn more.
REVIEW – With gas prices so unpredictable, I've been slowly giving into the temptation of electric bikes. The big thing holding me back is that I need the bike to fit into the rear of a Subaru Impreza hatchback. When I saw the Heybike Mars 2.0, I noticed immediately that the battery was easily removable and the bike able to fold in half. Since that makes it easy to fit in the back, I gave in to the temptation and gave it a shot.
What is it?
The Heybike Mars 2.0 is an electric bike that has a range of up to 45 miles and can go up to 28 mph.
Hardware specs
Seat Height: 29″ – 34.3″
Handlebar Height: 48″
Handlebar Width: 24.4″
Stand-over Height: 25.6″
Total Length: 67″
Wheelbase: 44″
Weight: 75lbs
Rider Height: 5'3″ – 6'1″
Range: 30-45 miles
Top Speed: 28 MPH
Gears: 7 Speed
750/1200W Rear Hub Motor
80Nm Torque
600Wh Battery
What's in the box?
Heybike Mars 2.0 electric bike
2x Pedals
1x Rear Rack
1x Front Fender
1x Headlight
1x Seat
2x Front Fork Covers
1x Front Wheel
1x Battery
2x Keys
1x Charger
2x Wrenches
5x Allen Wrenches
1x User Manual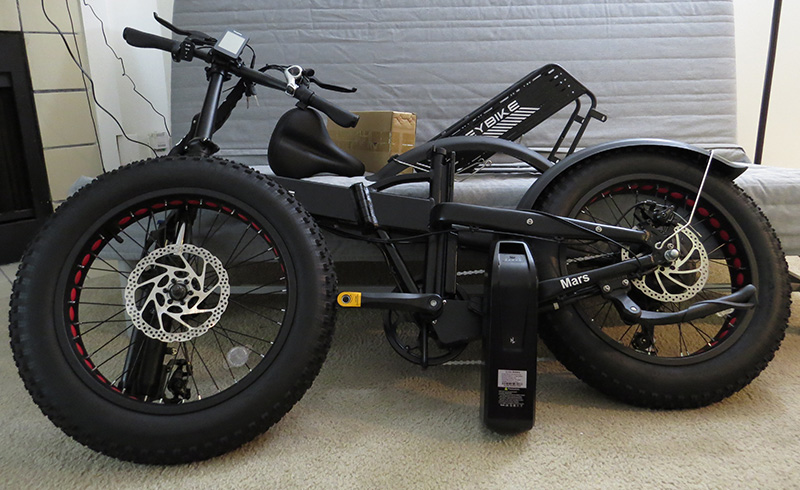 Design and features
The buttons on the left side of the handlebars are the meat and bread of the e-bike. There are four of them:
Button 1: Short press increases pedal assist level, long press activates and deactivates the back light.
Button 2: Short press goes between DST and the odometer, long press turns on and off the bike.
Button 3: Short press changes current speed/max speed/avg speed.
Button 4: Short press decreases pedal assist level, holding down activates walking mode until it is no longer held down.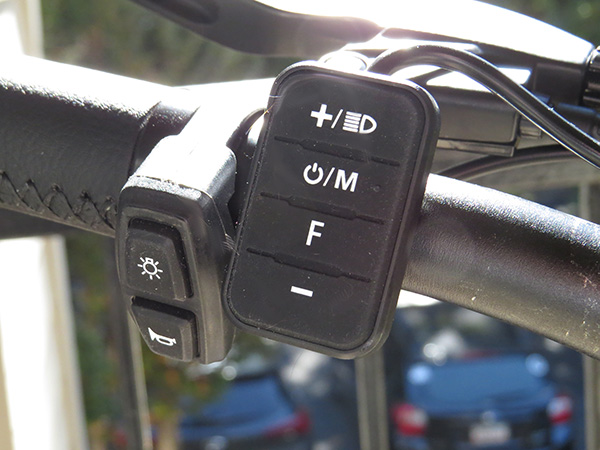 There is also a button for the headlights on next to the main buttons as well as a button for the horn. All of the buttons were easily activated with my left thumb while riding or stationary, depending on the button.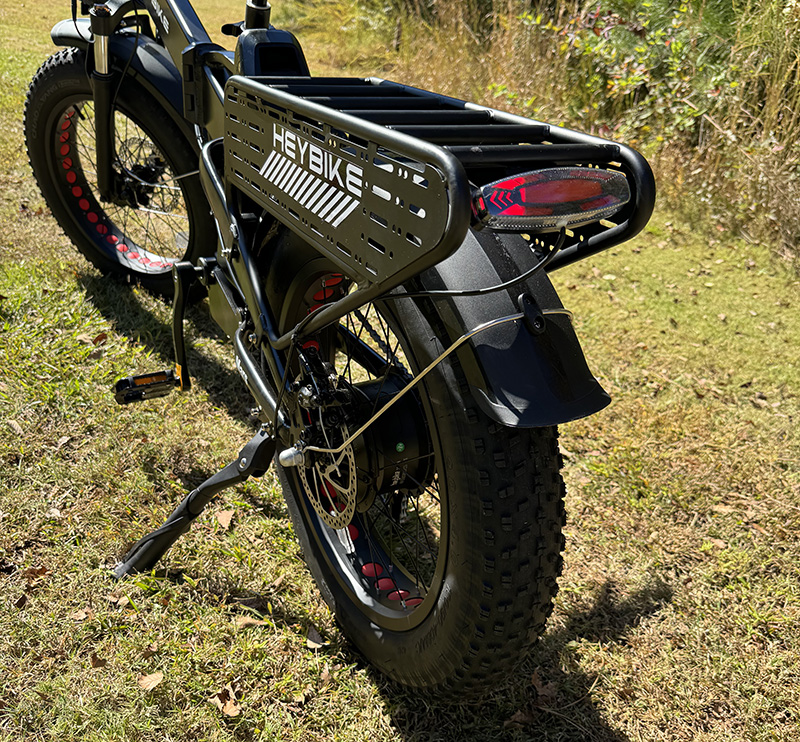 It comes with a solid kickstand, standard pedals, and disc brakes which worked so much better than any brakes on my standard pedal bike. There is also a rack to install over the back tire for storage, which I noticed they had optional baskets and whatnot as accessories on their website.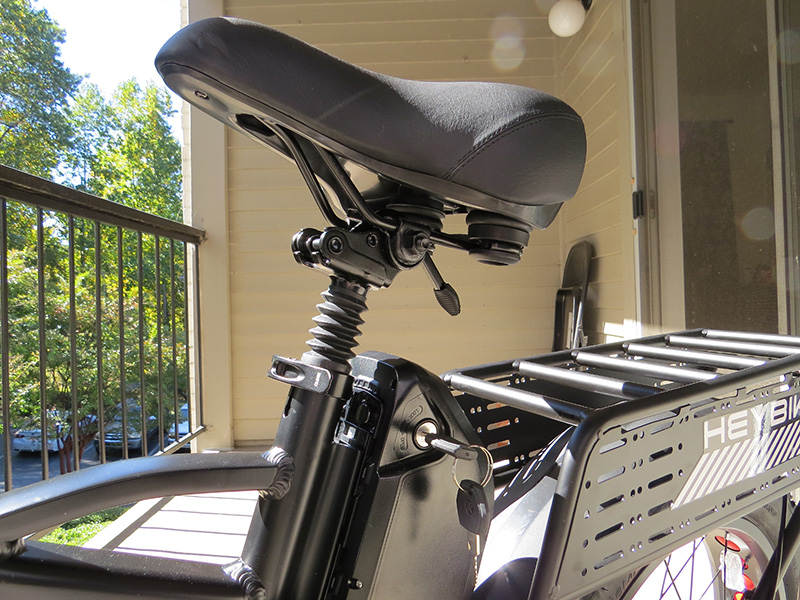 I consider myself average size, and the Mars 2.0 seemed to be just shorter than I. Their advertised rider minimum height of 5'3″ should be taken into full account. The handlebars are a very comfortable distance away from the seat and the height is adjustable as well.
Setup
I was prepared with my own tools to put together the Mars 2.0, but that wasn't necessary, as all of the tools needed to put it together are included. This consisted of two solid wrenches of different sizes and five different sizes of Allen wrench from big to small.
While the user manual had solid instructions on how to put together the bike, I felt the instructional video, which can be seen above, was easiest to follow. I put it on my phone and paused as needed while putting together the bike, and within 30 minutes, I had it completely together.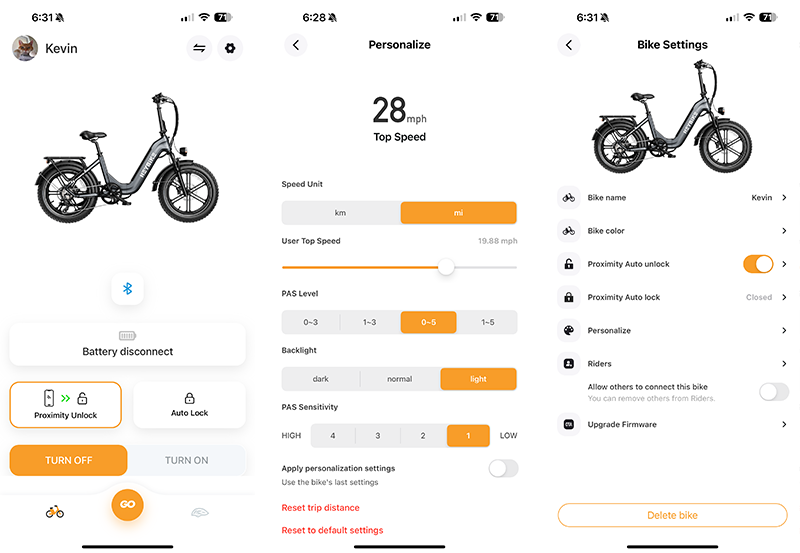 I downloaded the Heybike app and set up an account. Then, I added my bike easily by turning it on and pairing it, and was ready to go. I first modified nothing, as I like to see what stock brings, but then I renamed my bike, adjusted some settings such as top speed and how many different speed levels I wanted. The app seems very user friendly, and even allows for proximity locking and unlocking the bike versus using the provided keys. It was an extremely easy to use app with most of the settings in one place. I liked this, because when I had to reset the odometer after the app updated, it was extremely easy to go find what I was looking for. Oh, and yes, I did name my bike Kevin.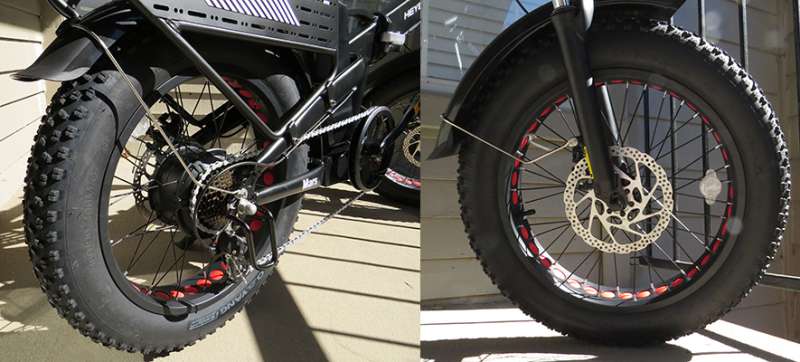 Performance
The first thing I did was toss my helmet on and take the Heybike Mars 2.0 out as a normal bike. Due to the 4″ thick tires, it definitely was not as easy to pedal as my old road bike, but it was a smooth ride down the road. It was easy to change the gears, especially since there are only seven, and they clicked into place right away.
Next, I started out using the electric portion of the bike and was initially a little nervous due to the speed that the first setting had. It only took a few minutes to get quite comfortable with the top speed. For casually riding, setting the speed to roughly 7-8 mph and pedaling when I could was the most enjoyable out of all the settings, since I got that feeling of 'riding a bike' but when a hill came, I was able to let the bike do all the work.
Lastly, I had to try out the fastest speed. It's one thing to go down a hill at over 20 mph on a bike when you are pedaling, but to go along a straightaway on an electric bike hitting almost 25 mph was invigorating. I say invigorating because I felt I was in good control of the Mars 2.0 the entire time and was able to just enjoy the wind in my face. I was, however, thankful that I had a helmet on just in case!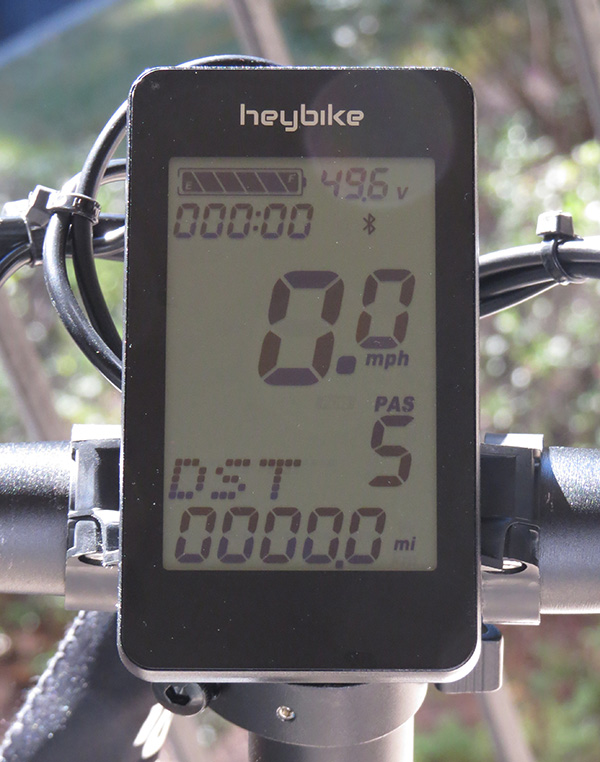 That first go around took me down roughly 1/3 of the battery life, which actually impressed me quite a bit. Initially my odometer wasn't working, so I wasn't sure how far I went. Once they updated the app, it fixed the odometer with a simple reset. Since then, the odometer has worked flawlessly.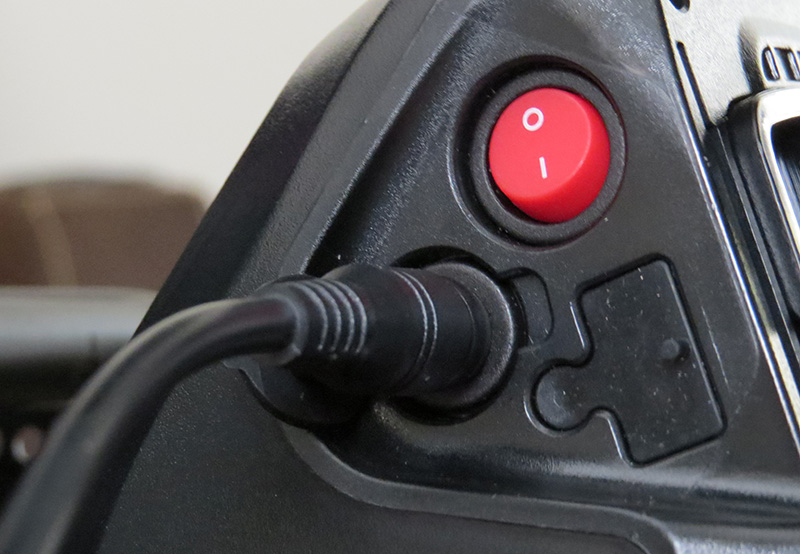 I charged back up the battery, since I didn't want to risk it running out, which easily was done overnight. Back at full, I took it down to McDonald's and picked up some food, then down to the nearby grocery. This is what I felt the bike would be used most for; small errands and getting some food less than five miles away. Not having to waste gas was such a huge blessing. I recharged the battery both on the bike itself and after removing the battery. Since I kept the bike on my balcony, charging inside was much more convenient. Removing the battery was easy; I just had to fold the seat up and slide it up and out.


Never did I allow it to go much below half, as I didn't want to risk it, but each time I let the battery run down, it seemed consistent to the median speeds that I was going. I kept my standard speed between 7-14 mph depending on how busy it was, and only really took it past that for testing. If I had to commute, I'd likely go faster just to get to work though. Based on how many miles I went, it felt about right for 35-40 miles per charge at my standard pace depending on how much the boost of the bike was being used. I felt that the miles per charge could go higher or lower depending on the type of ride but seemed generally as advertised.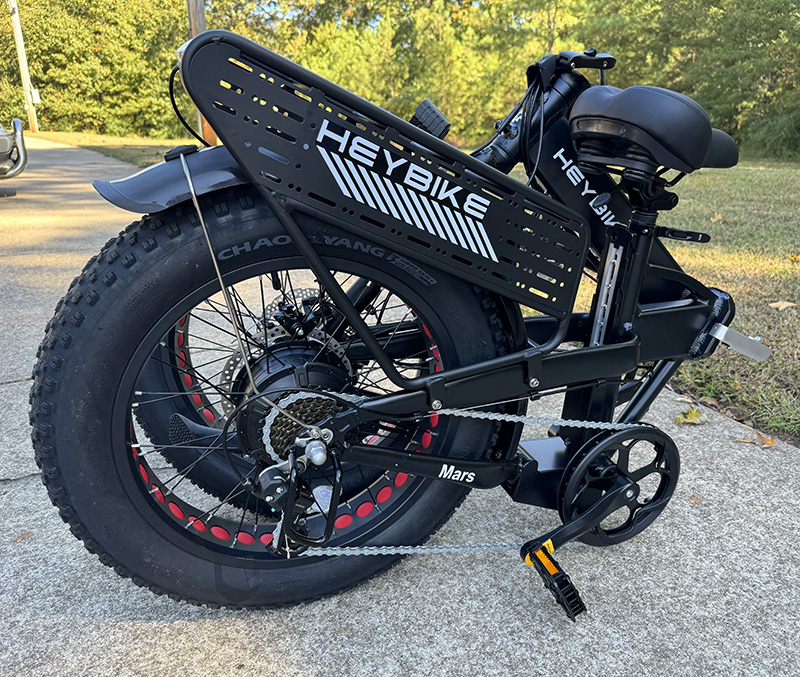 The thing I needed most with an e-bike was the ability to toss it in the back of my car, and the Heybike Mars 2.0 worked perfectly for that. It folds in half and the handlebars easily fold down for travel, though I did not fold the handlebars, instead just folding it in half. If I had to have my back seats up, I'd have needed to fold the handlebars down as well. Unfolding it and pressing down the latch was easy and it kept together just fine. Not once did I worry it was going to come apart. It is quite heavy to pick up, even without the battery, so if you can't comfortably lift roughly 50 lbs, it may be still difficult to port around.
I live on the second floor of an apartment complex, so I had to go up and down the stairs. My first try probably left people laughing, but I got a tip that using the walk assist feature while going up the stairs is a lifesaver. It is. You just hold down the minus button on the left hand side of the handle bars to activate the walking assist and let go of it to stop it. Just make sure you are ready with the brakes as you go up the stairs.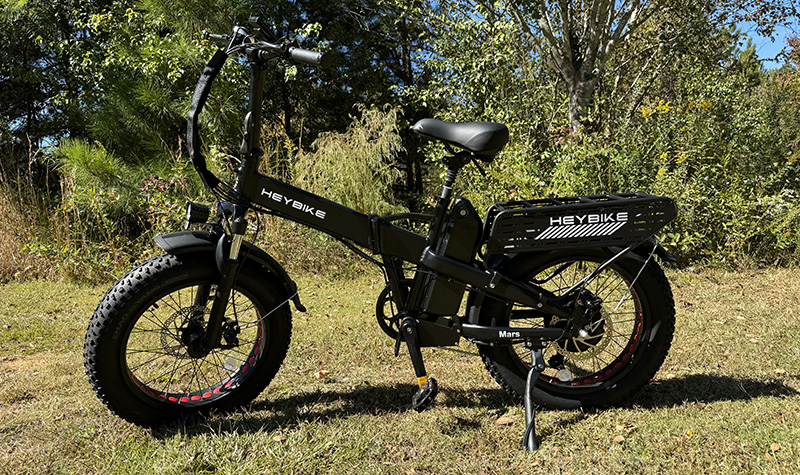 What I like
Fits in the back of my hatchback
Can customize the speeds each level goes up to
Easy to assemble with all tools included
Rides smoothly
What I'd change
If you can't lift heavy objects, it may be too heavy
Final thoughts
Overall, I was extremely impressed with the Heybike Mars 2.0 electric bike. It fit easily into the back of my hatchback, was incredibly easy to assemble, and seemed quite sturdy. The app made it easy to adjust the speeds of the bike and I felt due to that I had the most control possible while riding even in a busy park. I've already recommended the Heybike Mars 2.0 to my friends, so take a look and see if it may be right for you. Read all of our other Heybike electric bike reviews and other electric bike reviews.
Price: $999.00
Where to buy: Heybike Website
Source: The sample of this product was provided by Heybike.