Samsung Galaxy Z Flip 5
Proceeding the Samsung Galaxy Z Flip 4, the Z Flip 5 is an encore with subtle yet effective refinements. Featuring a bigger screen on the external display, the clamshell handset not only looks cooler, but offers a more fun and functional performance. Thanks to this Samsung Black Friday offer, you can score one at a $600 discount when you trade-in an eligible device.
In 2020, we saw a resurgence of 90s fashion and aesthetic amongst Gen Zers, and even in tech when Samsung launched the original Z Flip. Instead of fading out, the trend has continued to dominate the foldable phone market and the Galaxy Z Flip just launched its 5th generation handset this past fall.
On many levels, the device is a fairly iterative update, still toting the same capable 3700mAh battery as its Z Flip 4 predecessor and cameras. However, the main difference lies in the bright external display – which, at 3.4 inches, takes up most of the folded exterior and is loads more functional than the Flip 4's 1.9-inch outer display.
Why is the Samsung Galaxy Z Flip 5 worth my money this holiday season?
Essentially, the Z Flip 5 is full of Samsung's staple camera quality — although we're still patiently awaiting the Flip series' optical zoom lens integration — design ingenuity (even making the hinge a more seamless fold), and punchy display performance. The latest in tech's push to stray from the traditional smartphone slab design, it's hard not to want the device. However, its usual starting $1000 price tag is usually the compact phone's hardest thing to pocket, making this discount on offer a great time to invest in the Galaxy Z Flip 5, if you've been watching out for a decent deal.
Trade-in your device at Samsung to get $600 off your Z Flip 5
Now, for Black Friday, you can trade-in your older smartphone, whether it be a fellow Samsung sibling, Apple device, or even a Google handset, and get up to $600 in immediate credit savings. Especially if you've been eyeing a new phone, joined the flip side early and have been waiting to upgrade, or are just wanting to venture into the world of foldables, this is a great time to do so.
To find if your phone is eligible and the best savings you can get, select your device and its condition.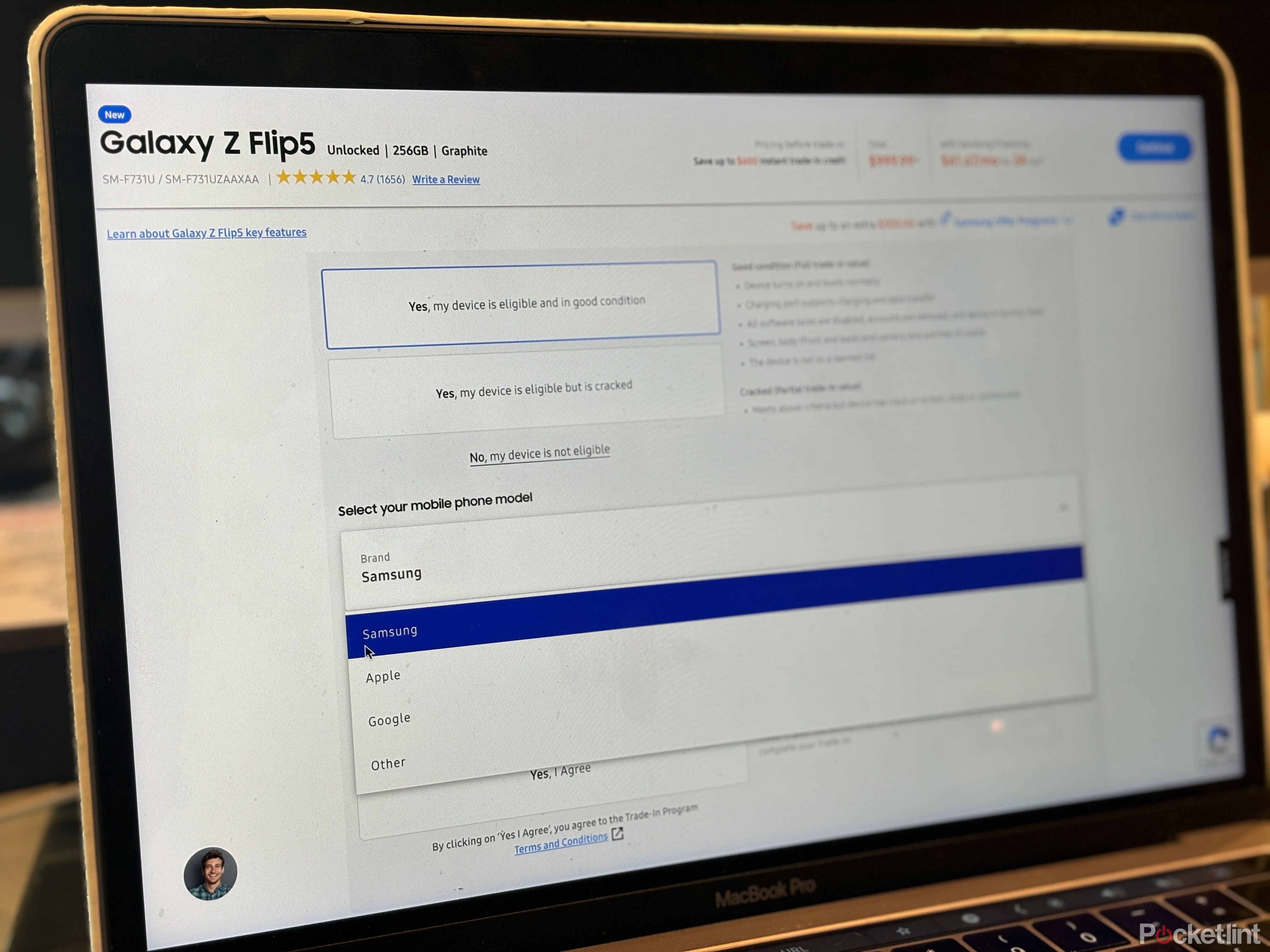 And if you have a newer phone on the market, even if it's cracked, the savings are great. Here are some of the top trade-in deals, based on phone model:
Samsung
Samsung Galaxy Z Flip 3 in 'good condition': $600 estimated credit
Samsung Galaxy S 22 +5G in 'good condition': $500 estimated credit
Samsung Galaxy Z Flip (original) in 'good condition': $400 estimated credit
Apple
iPhone 12 Pro Max in 'good condition': $600 estimated credit
iPhone 13 Pro in 'good condition': $500 estimated credit
iPhone 12 Mini in 'good condition': $300 estimated credit
Google
Google Pixel 7 Pro in 'good condition': $400 estimated credit
Google Pixel 6a in 'good condition': $200 estimated credit
Google Pixel 7 in 'good condition': $300 estimated credit
Why should you trade-in a phone this Black Friday instead of just ordering a new one?
Not only do trade-ins offer great price drops and often even better deals than standard price drops, but trading in your phone is a great way to reduce e-waste. Samsung, in particular, is known for its e-cycle program in which it fixes and upgrades phones and other devices using older devices. We highlighted the Samsung e-cycle program in our best sustainable phones guide, which landed the company's Galaxy S22 and S23 on the shortlist due to their incentivized program aiming at reducing waste.
Related: Best sustainable smartphones: Expert tested and reviewed
In short, your 'trash' might be someone's treasure as you enjoy your new tech loot. I personally traded in my three-year-old, slowly dying iPhone 12 Pro earlier this fall for the new iPhone 15, saved $230, and didn't have to worry about what to do with my old handset — especially now that it doesn't even have the same charging cable and I already felt wasteful enough.