We use affiliate links. If you buy something through the links on this page, we may earn a commission at no cost to you. Learn more.
REVIEW – I'm always on the lookout for a good ergonomic mouse as I'm in front of my laptop 8 hours at least 5 days a week.  I had been using one of those upright type mice by Logitech and it was fine.  I had it for years and it finally died. So when the Kensington Pro Ergo TB550 trackball mouse came along to review I knew I wanted to give it a whirl. I reviewed another Kensington trackball a while back and it just didn't work for me, but seeing as this one uses your thumb instead of your fingers to move the cursor, I thought this would work better for me. So did it? Read on if you want to know and wonder if it might be what you're looking for.
What is it?
The Kensington Pro Ergo TB550 trackball is an ergonomic trackball mouse that can be used wired or wirelessly.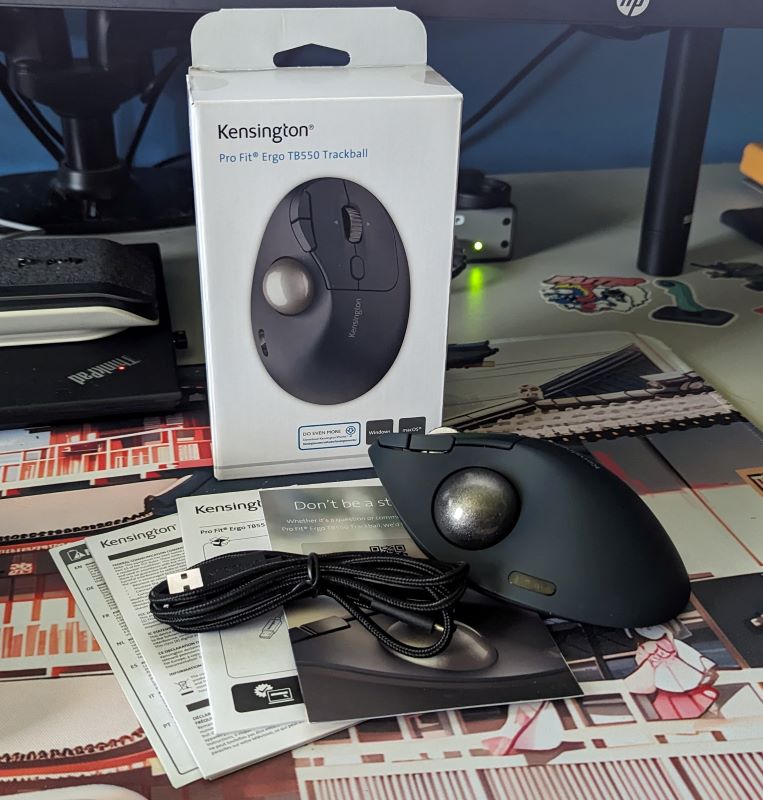 What's in the box?
Kensington Pro Ergo TB550 trackball
USB A to USB C cable
2.4 GHz dongle
Manuals
Hardware specs
128-bit AES Encryption for wireless communication
Bluetooth Low Energy
2.4GHz
Built-in battery with up to 4-month battery life
4 DPI levels
4-way scrolling wheel
7 programmable buttons
Design and features
I had a Kensington trackball many, many moons ago and loved it. After it stopped working, I was never able to find another I liked as much. The Kensington Pro Ergo TB550 has renewed my love for the trackball. The mouse itself is set at a 45-degree angle to help improve wrist and arm alignment. It's a very comfortable design with a nice matte finish that feels nice in the hand. All of the TB550's buttons have a nice tactile feel followed by a satisfying click. It's not loud per se but I notice it because I like the audible confirmation that my button press took. The scroll wheel employs 4 way scrolling which is very handy for scrolling around a zoomed-in PDF or everyone's favorite overly large spreadsheet. It works well but the scroll wheel is probably my least liked feature of the mouse. The 4-way scrolling is great and the wheel has positive little bumps when using it. But, there's another company's mouse wheel I like better. There's the normal mode where you feel the clicks and it scrolls 3 lines at a time. Then, if you press it once, it spins freely and you can scroll infinitely as long as it's spinning. This is just my personal preference, but I hate the little circle with the up and down arrows that appear if you press the wheel on most mice.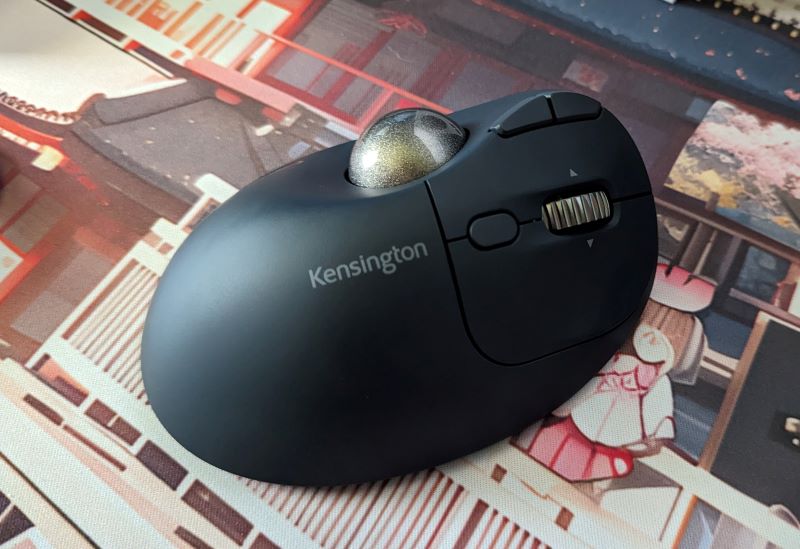 By default, the two small buttons on the side of the left mouse button act like forward and back buttons, which work well in Windows File Explorer and Chrome.  Most of the other mice I've used that had those buttons placed them just above my thumb so that took a little bit of getting used to. Another thing I had to get used to was the little pill-shaped button between the rear of the left and right buttons. I'm used to clicking that to change the DPI level of the mouse but here Kensington chose to use it to select methods of connection. It switches between 2.4 GHz and 2 Bluetooth connections. The DPI selection button is actually on the bottom. It's a strange choice in my opinion, but I'm sure Kensington has a reason for that setup.
Now on to my favorite part, the Kensington Pro Ergo TB550 trackball. I love the trackball. It's slivery and glittery and so smooth! I admit there was a learning curve since I hadn't really used one in years.  There was the one I reviewed but I really never got the hang of using my index and middle fingers for navigation. It just didn't feel right. After a day or so using the TB550 and using my thumb, it was like saying hello to an old friend. I can move the cursor quickly and precisely with my thumb while my hand doesn't move all over the desk.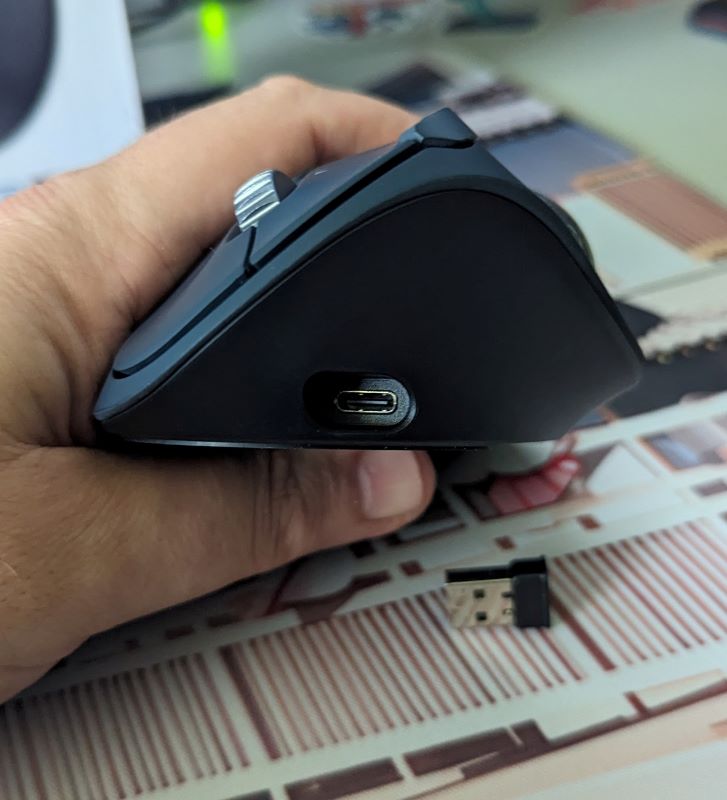 Like I said earlier, you can use the Pro Ergo TB550 wired as well and here you can see the USB C port for doing just that.  Of course, you also charge the internal battery that way as well. I might add, the battery is not replaceable. Kensington says you can get up to 4 months of battery life. I can't say yet whether that's true or not, but I've only charged it once since I've had it and that was right after opening the box a month ago. On the bottom, we've got more going on. There you'll find the power switch, the DPI button, housing for the 2.4 GHz wireless dongle, and a rather large button. What the heck is that thing for? Pressing the button will pop out the trackball allowing you to clean it and inside its well, for lack of a better term.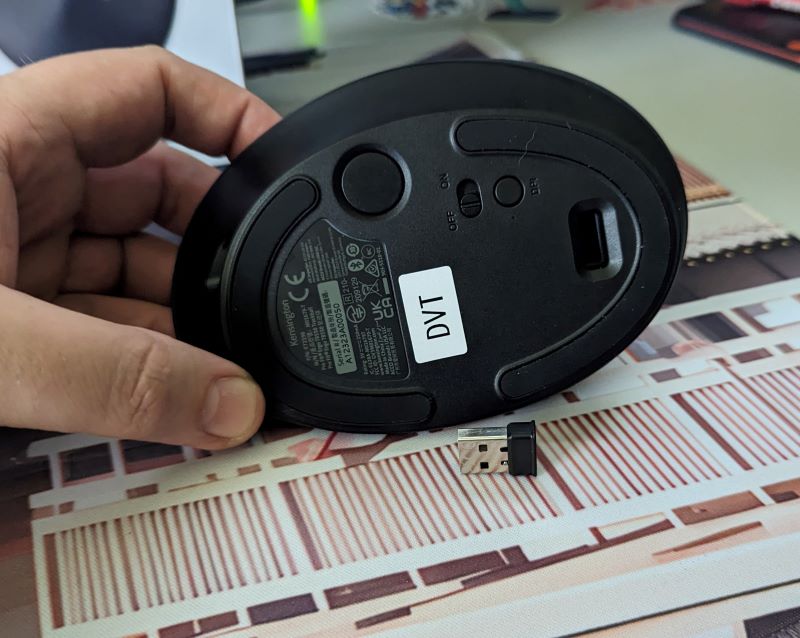 There are also those pretty substantial rubber strips to keep it from sliding all over the place. Coupled with the weight of the mouse, which is noticeable but not in a bad way, it sits perfectly still while in use. I hate a mouse that feels like an empty plastic shell.  That was one complaint I had with my last ergonomic mouse. Not here, the Pro Ergo TB550 is right in the Goldilocks zone for me.
Setup
Setting up the Pro Ergo TB550 on my Windows laptop was a breeze. I connected it using the included cable and everything just worked, same with the 2.4 GHz dongle. There were a couple more steps for Bluetooth connections but that's to be expected.  Kensington does offer their own software you can load to remap buttons and such but I didn't use it. I do all my work on a laptop provided by my employer. Plus, it does everything I want it to do natively, so win-win for me.
What I like
The trackball
ergonomics
Good weight
What I'd change
Swap places of the DPI and COM buttons
Scroll wheel to match the other one I like so much
No replaceable battery
Final thoughts
The Kensington Pro Ergo TB550 is a good mouse. Hell, it's pert near a great mouse. I love it. I wanted another trackball for ergonomic and space-saving reasons, and this fits the bill perfectly. If you're looking to try or replace a trackball, I highly recommend you check it out. It's well built, well designed, and a pretty good price too.
Price: $69.99
Where to buy: Kensington and Amazon
Source: The sample of this product was provided by Kensington.