Smartwatches have become daily wear for a lot of people. Wearables like Apple Watch, Fitbit, Samsung Galaxy, Garmin, and more are used not only as health trackers but also as everyday accessories. That has resulted in problems like skin irritation, rashes, and even burns for some. Here, let's see everything you can do to avoid and minimize rashes or burns caused by your smartwatch or fitness band.
Avoid Rashes or Burns from Your Smartwatches or Band
Many people have complained of getting rashes and skin irritation on their wrists after wearing smartwatches for a prolonged period. Some have even complained of getting burns from wearing Fitbit and Apple Watch.
Here's why it happens and how to avoid rashes and skin problems caused by your smartwatch or fitness tracker.
Check if You're Allergic to Smartwatch Metal or Latex
Most tier-1 smartwatches are tested thoroughly for the materials to be approved for the wider audience. However, some people are sensitive to specific materials, which can lead to Contact dermatitis.
Contact dermatitis is an itchy rash caused by contact with an allergic material or substance. And some people can be sensitive to the smartwatch's metal casing or the rubber/ latex used in its strap, which can lead to a reaction that usually shows up within days of wearing the smartwatch.
For starters, Apple extensively evaluates materials on its smartwatches, including material composition tests, over a thousand prototypes worn for trial studies, thousands of toxicological assessments, and consultations with board-certified dermatologists.
The Cupertino-giant clarifies that Apple Watches with stainless steel or aluminum casings, metallic buttons, and portions contain Nickel. While the levels are well under regulations, some people can be susceptible to nickel-related reactions. Furthermore, the watch case and specific straps contain a fraction of acrylates and methacrylates from adhesives.
Samsung has mentioned the materials used on Galaxy Watches– Nickel on the main body and band buckles and Acrylate on the main body and band. Similarly, Fitbit has a dedicated landing page for wrist care, which clearly says the devices contain Nickel and trace amounts of acrylates and methacrylates.
If you experience swelling, redness, itchiness, or any other kind of skin irritation after wearing a smartwatch for a long, consult your physician to see if it's causing an allergy. It could be that your skin is sensitive to one of the materials used on the smartwatch or fitness tracker.
The allergies can also be caused by:
Soap or sanitizers
Skin creams and lotions
Trapped sweat or moisture
Climate or humidity
Fungal infections and more
Ensure the Straps Are Not Too Loose or Tight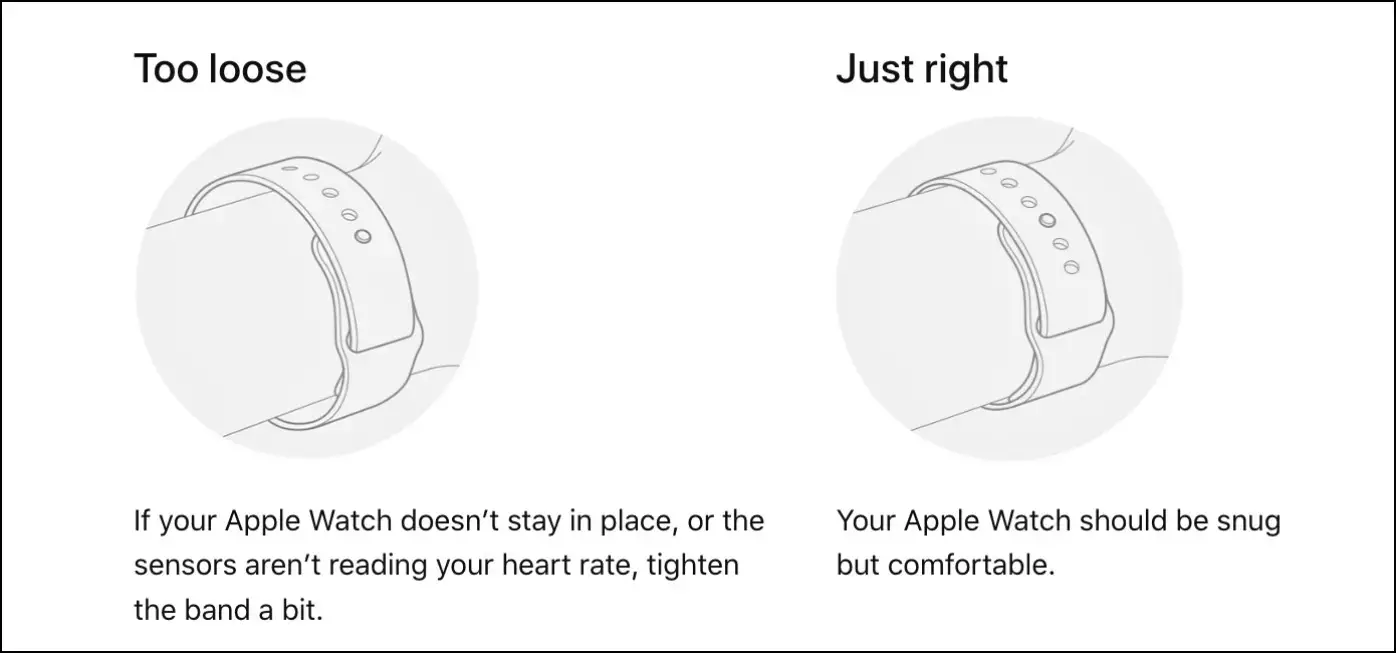 A smartwatch requires snug skin contact for features like heart rate, blood oxygen tracking, sleep measurement, and ECG to work properly. However, some people wrap them too tight around their wrists, which can cause skin irritation.
Make sure the band is neither too loose nor too tight. It should fit just right while leaving enough breathing room for the skin to keep you comfortable while allowing sensors to work correctly at the same time.
Clean Your Smartwatch and Skin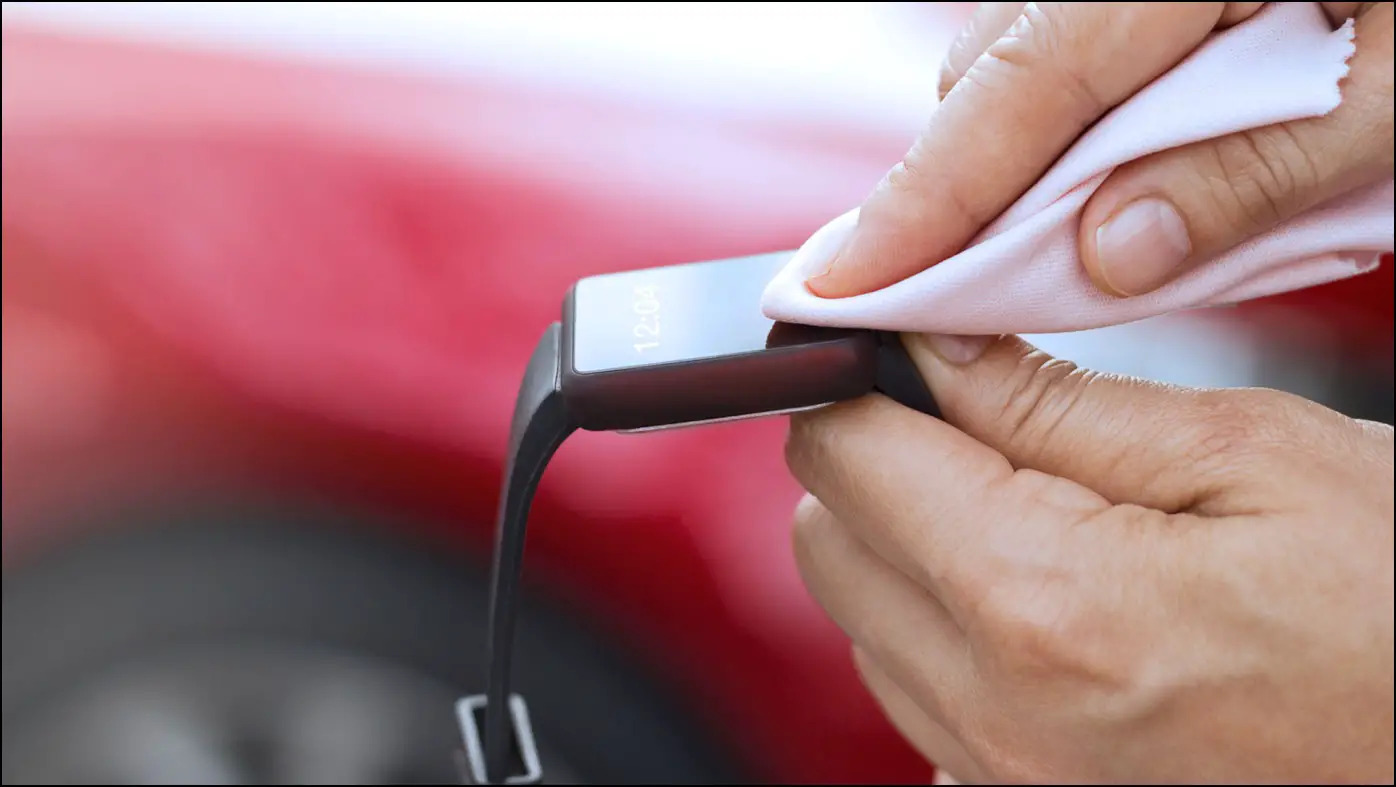 Trapped soap, dirt, or sweat often cause skin irritation and itchiness on the wrist. Hence, it's advisable to clean both- the back of your smartwatch and the wrist skin daily, especially if you sweat a lot or are exposed to soap every day.
This will ensure the smartwatch doesn't trap sweat or foreign particles that may cause allergy. You can clean the smartwatch with water and a soft, damp microfibre cloth. Whereas the wrist can be washed with a handwash or soap solution. Wear the smartwatch only after drying it properly.
Switch to Different Straps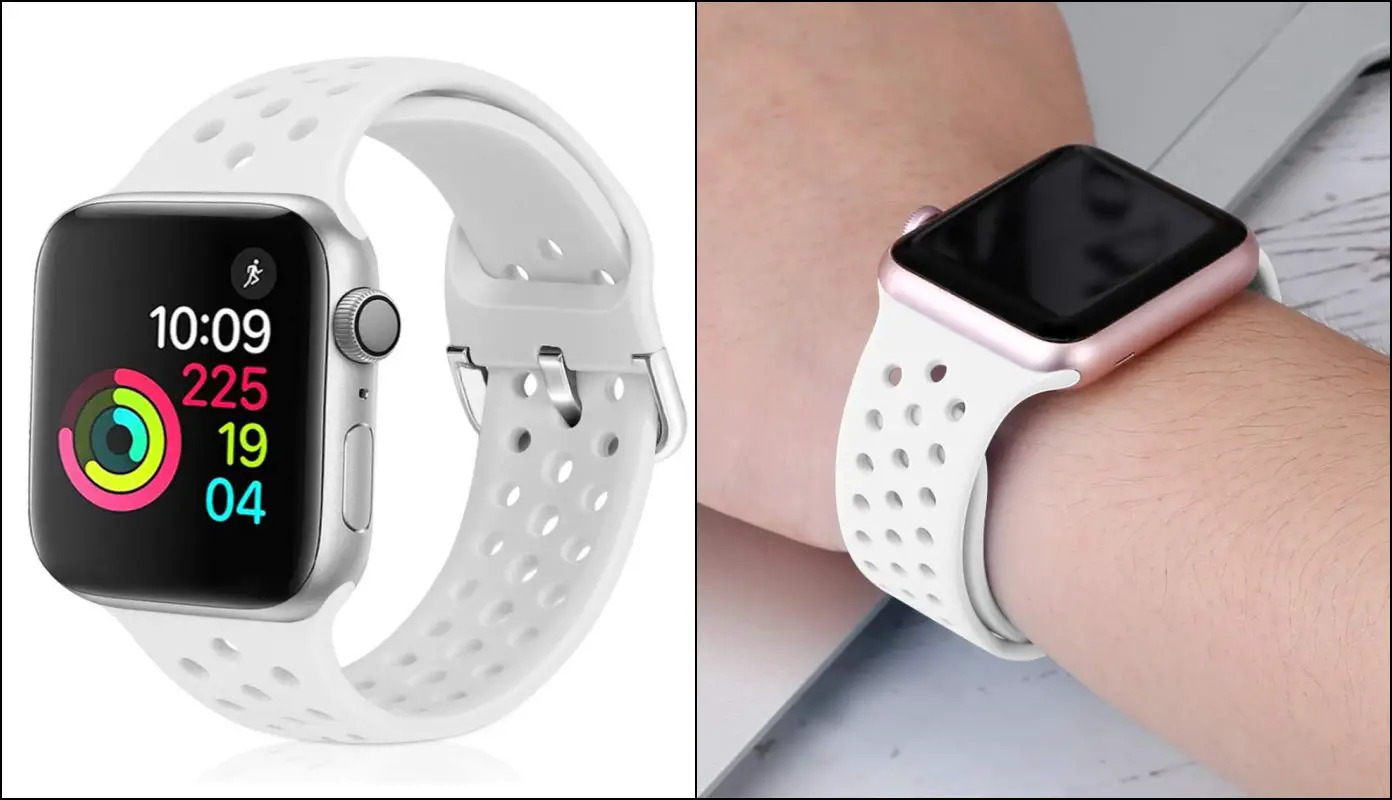 The smartwatch straps may cause skin allergies in some people. Many in the past have reported that their Apple Watch caused rashes, redness, and swelling on the wrist. If that's the case with you, make sure you:
Clean the straps every once in a while.
Give them a few days to see if it starts feeling any better.
Switch to a different pair of straps, preferably made of a different material.
If you aren't comfortable with the default straps, consider switching to soft plastic straps with holes. Those will provide better skin breathability, avoiding trapping moisture or sweat underneath.
Use Moisturizer, Clear Nailpolish, or a Piece of Tape
People with sensitive skin can still wear smartwatches without rashes or irritation by breaking direct contact with smartwatch materials. You can apply a layer of moisturizer over your skin or paste clear nail polish or a piece of clear tape on the back of your smartwatch.
This way, you can keep wearing the smartwatch while avoiding allergies due to Nickel. And do not worry; as long as the layer is thin and transparent, the sensors on your smartwatch will continue working normally.
Some people have even tried placing a cutout piece of folded tissue between the wrist and watch, which helps them avoid direct skin contact with the metal. You can experiment to see what works best for you while maintaining the sensor's accuracy.
Take Frequent Breaks
Yes, you don't always have to wear your smartwatch or fitness tracker. Take frequent breaks to give rest to your wrist and relieve the hand nerves from constant pressure. You can remove the watch while taking a bath, having your lunch or dinner, or even while sleeping if you're not into tracking the sleep stages.
This will also help you avoid chronic pain from wearing smartwatches for prolonged periods. If you've already got a rash, keep your smartwatch away for a day or two.
Wearing Smartwatch 24 x 7? Switch Between the Hands
If you're continuously wearing a smartwatch and can't help taking breaks, consider switching between your hands daily. Doing so will avoid prolonged exposure to the smartwatch on a particular wrist, giving it enough rest.
Smartwatch Battery Causing Overheating and Wrist Burns?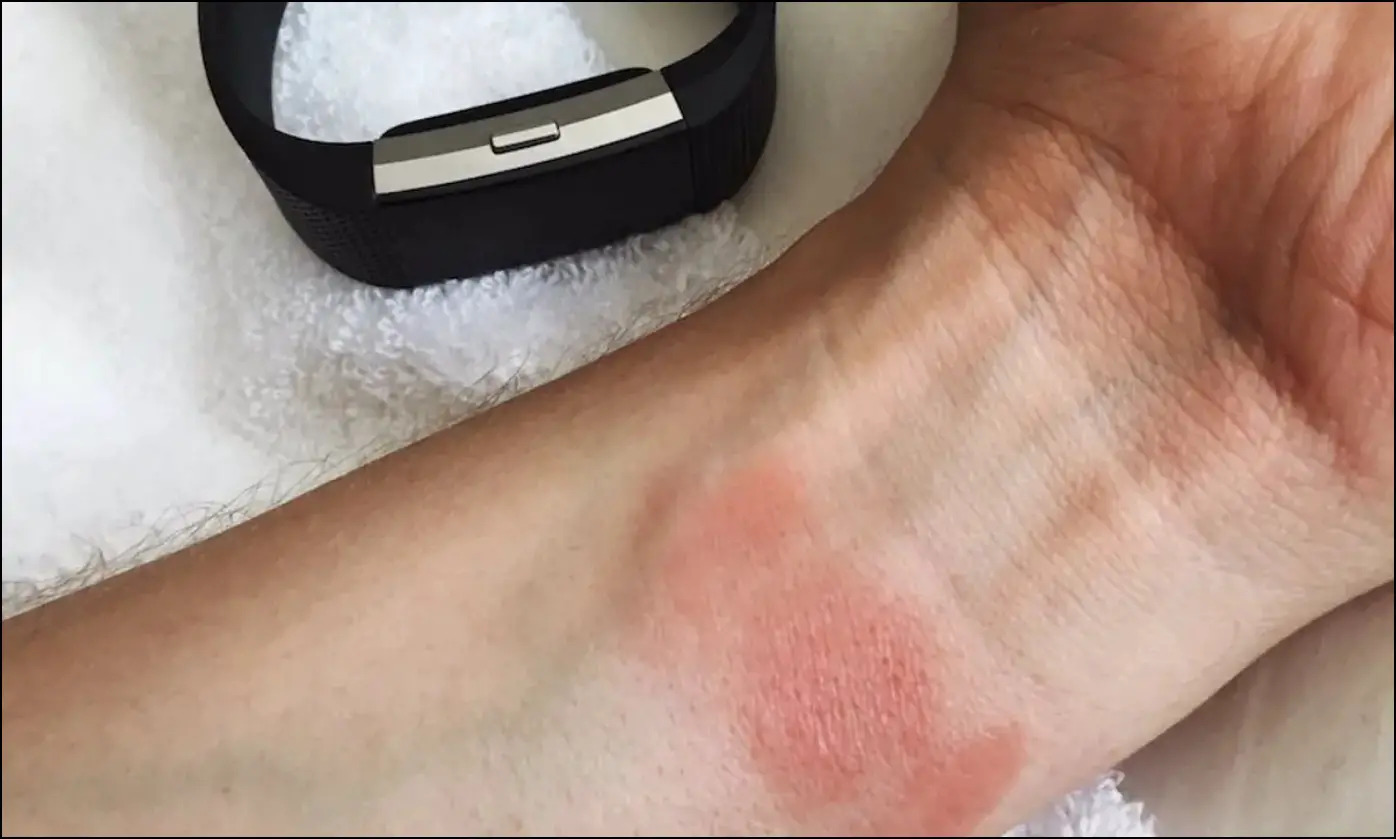 In the past, people have reported burns on their wrists due to smartwatches. Particularly, Fitbit was in big news for its Ionic smartwatch burning people's hands. The brand recalled nearly 2 billion units of the watch over the reports of the lithium-ion battery overheating and causing burn injuries on the wrist.
Fortunately, the brand addressed the problem, and the watch was already discontinued in 2020. So yes, a smartwatch can cause burns on the wrist if it has a faulty battery. If you're experiencing any overheating with your Apple Watch, Fitbit, or any other smartwatch, stop using it and contact the manufacturer for further assistance.
If the product is under warranty, you will likely get a refund or a free replacement, provided it's a manufacturing defect.
Frequently Asked Questions
Q. Can Smartwatches or Fitness Bands Cause Skin Irritation?
Yes. Smartwatches and fitness bands use certain materials like Nickel and Acrylates on the body and certain parts of straps, which can cause skin irritation for people with sensitive skin.
Q. Can a Smartwatch Burn My Skin?
If your smartwatch has a faulty battery, it may overheat, causing burns on your wrist. Fitbit had to recall over 1 billion smartwatches over the reports of them burning wrists due to overheating.
Q. How to Treat a Rash Caused by Smartwatch?
If you have a rash after wearing a smartwatch, do the following:
Stop wearing the watch for a while- give it a break.
Refrain from itching or scratching the affected area.
Use an over-the-counter cream or ointment to cure the rash.
Keep the skin moisturized using moisturizers that contain glycerine, lipids, and ceramides.
Try finding the exact cause of the rash or allergy.
Q. When to Visit a Dermatologist for Skin Issues Caused by Smartwatch?
If the rashes don't go after over-the-counter treatments or continue to persist even after you've stopped wearing the smartwatch, you should visit a dermatologist.
Q. How to Choose an Irritation-free Smartwatch?
If you have sensitive skin, follow the checklist when buying a smartwatch:
Smartwatch case material: What is the smartwatch made of? Does it have materials like Nickel and Acrylates? Are you allergic to these materials?
Strap material: Check if you're allergic to the strap material. Prefer a soft silicon strap- you can try and switch to other strap materials later.
Strap design: Opt for a breathable strap design, especially if you're a gym-goer or sweat a lot.
Smartwatch weight: A heavy smartwatch may feel uncomfortable and cause strain over extended periods. It may also cause irritation if worn tightly.
Wrapping Up
These were handy ways to avoid rashes, itching, and burns from wearing smartwatches or fitness trackers. As evident, the materials used on smartwatches may not suit everybody. In that case, you can try different straps or casings altogether or build a barrier to avoid direct skin contact when wearing the watch. Anyways, does your smartwatch cause any rashes or skin irritation? Let us know via comments.
You can also follow us for instant tech news at Google News or for tips and tricks, smartphones & gadgets reviews, join GadgetsToUse Telegram Group or for the latest review videos subscribe GadgetsToUse Youtube Channel.