Google's Nearby Share is an option Android users to quickly share between devices, similar to what Apple offers AirDrop for iOS, iPadOS and macOS users.
The Nearby Share feature allows easy and reliable sharing with thousands of users Android phones and works online and offline.
Nearby Sharing also works with Chromebooks and Windows PCs, it is especially useful if you use it together with an Android phone, helping you share files with just a few clicks.
Here's everything you need to know about Google Nearby Share including how it works, which devices it works with and how to use it.
How does Google Nearby Share work?
Google Nearby Share enables Android users to share files, links, photos and more with nearby Android users while protecting their privacy.
Instead of opening specific apps, such as Messages, WhatsApp or Gmail, find the file you want to share and attach it, Nearby Sharing lets you share with just a few clicks.
A list of devices will appear near you when you use the Nearby Share feature, which you can share with. When you click on the recipient, they will be notified with the option to accept or reject the file you are sharing.
Google's Nearby Share will automatically choose the best way to share quickly and easily using Bluetooth, Bluetooth Low Energy, WebRTC or WiFi-to-peer. This means that you can use Nearby Share even if you are offline.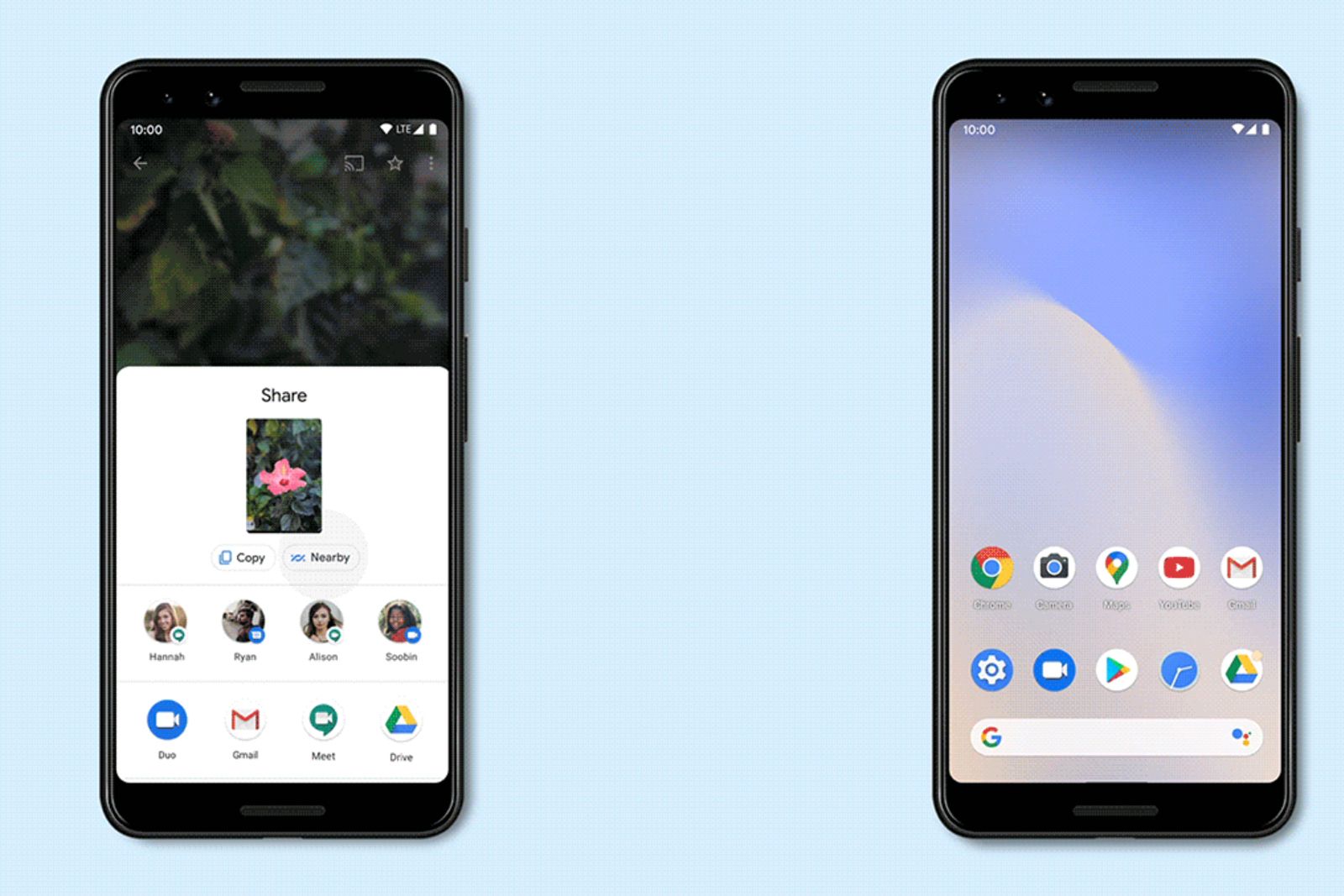 How do you use Nearby Share?
To use Nearby Sharing, you need to make sure that the feature is turned on. It is needed Android 6.0+ and you need to turn on Bluetooth and Location on your Android device.
Then you need to go to the Settings app on your Android device > Tap Google > Device Connection > Share Nearby > Turn it on. To turn off Nearby Sharing, tap Settings and then turn off Nearby Sharing.
How to share a file/image using Nearby Share
When you're ready to share a file, photo, website or anything else you want to share, open the file and click the share icon. Then you need to select Nearby.
Hold your phone next to the device you want to share with and under "Viewing nearby devices", right click on it and click Send. A message will appear saying "Sending", once "Sending" appears, you can click close.
How to receive a file/image using Nearby Share
When you want to receive a file, photo or other information from someone else's phone, you need to ask them to follow the steps above.
When they hit Send it on what they are sharing, you will be notified that someone is sharing with you.
If you haven't, to make your device visible, click on the notification. When prompted to turn on Nearby Share, Bluetooth, or Location, tap Turn On. To access the content, just click Welcome.
How to enable Nearby Sharing on Chromebook
On your Chromebook, at the bottom right, select time and then Settings. On the left, select Connected Devices. Next to 'Share Nearby', select Setup. Select your device name and select Done.
You can choose the appearance of your device. This works the same for Android and Chromebook, and you can learn more about the different versions below.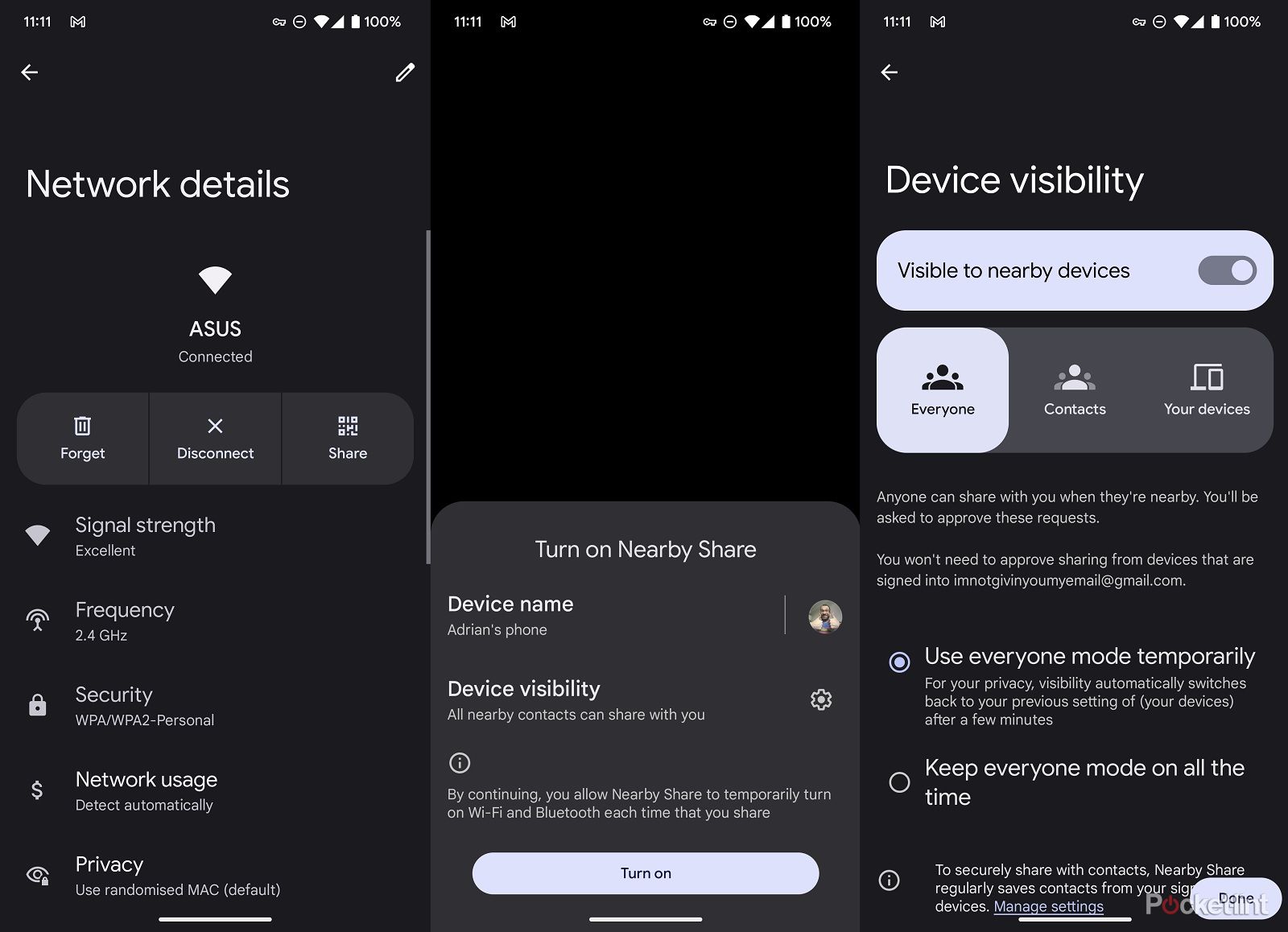 How to use Nearby Share with Windows PC
Sharing files wirelessly between your Android devices and your Windows machine has never been easier with Windows Nearby Sharing. We went there when it was in beta and it worked as promised. It's a full, stable release now, and that's how you can take advantage.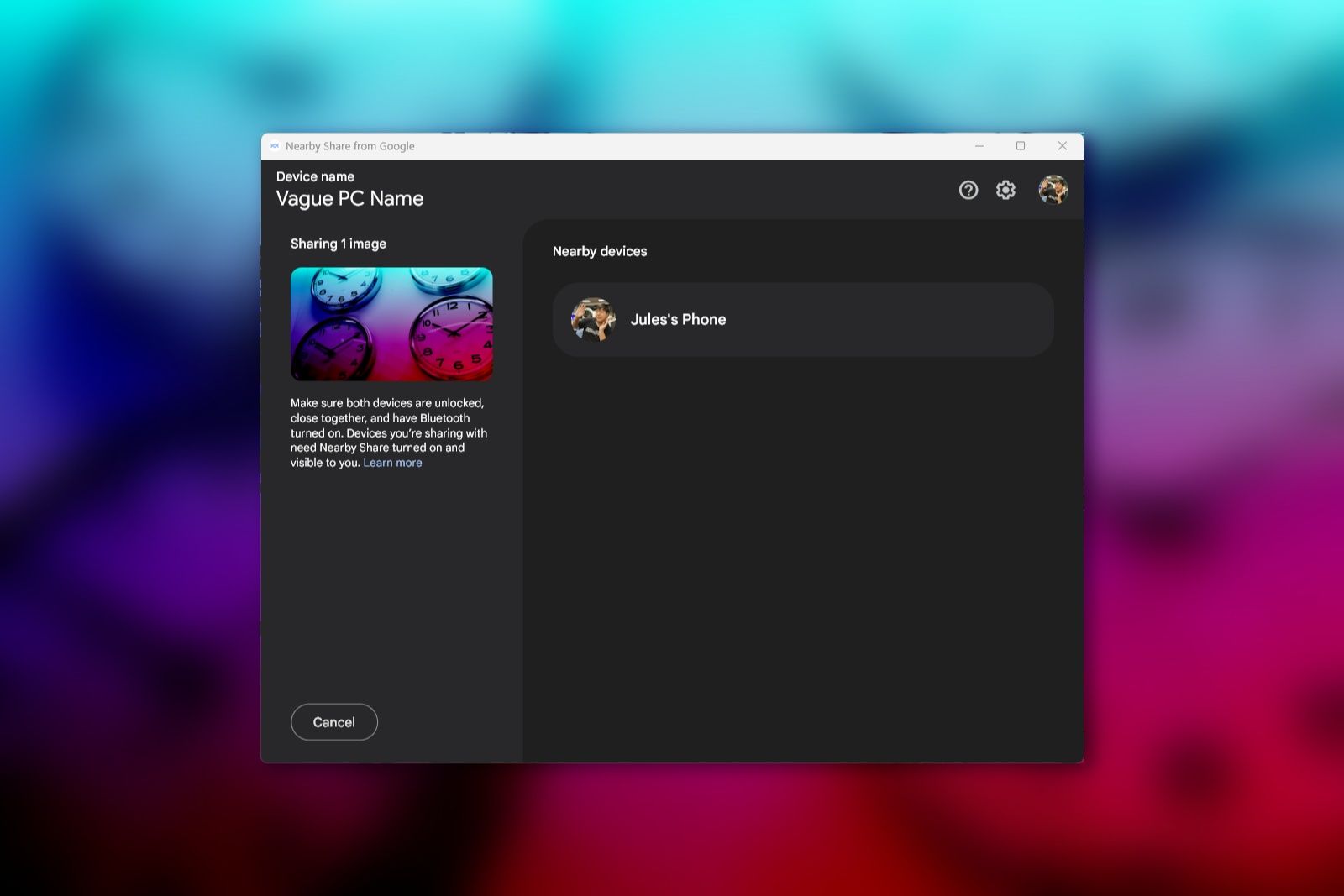 Go on this website Download Nearby Share for Windows.

Your PC must be running x64 Windows 10 or later.

Run the installer and open the application.
Sign in with the Google Account you use on your phone.
Choose your device profile and give it a PC name.

You can set your PC to be visible to everyone nearby, your contacts, or your devices. You can also hide your PC from view.

Start sharing. Select the file on your Android or PC, then start the process on all devices.
Once everything is set up, you'll be able to share files between your Android devices and your PC wirelessly, just like you can with an Android phone or Chromecast. Uploaded files will appear in your Downloads folder on each device by default – you can set the destination on your PC in the app's settings by clicking the gear icon in the top right.
How to share your Wi-Fi password with Nearby Share
There are different ways to do it Share Wi-Fi passwords at home and other people. One of them is through Nearby Share.
This is a great way to share your password with others because it means you don't have to worry about knowing the password off the top of your head or scrambling around trying to find it behind your router. Instead, you can just click a few buttons to share.
To use Nearby Share to share Wi-Fi passwords just follow these steps:
Go to settings and check Network and Internet
Then click on Wi-Fi settings
Select your Wi-Fi network
Look for the share button
Click that and on the next page you should see the Nearby share option
Click to temporarily turn on Nearby Sharing
Then you can choose preferences for who can see your device – friends (for example, people in your phone), everyone or your devices.
Click to turn it on
Your guest will be notified that you are sharing, they should click on the notification and choose to turn on Nearby Sharing, bluetooth and location settings
Then follow the steps on the screen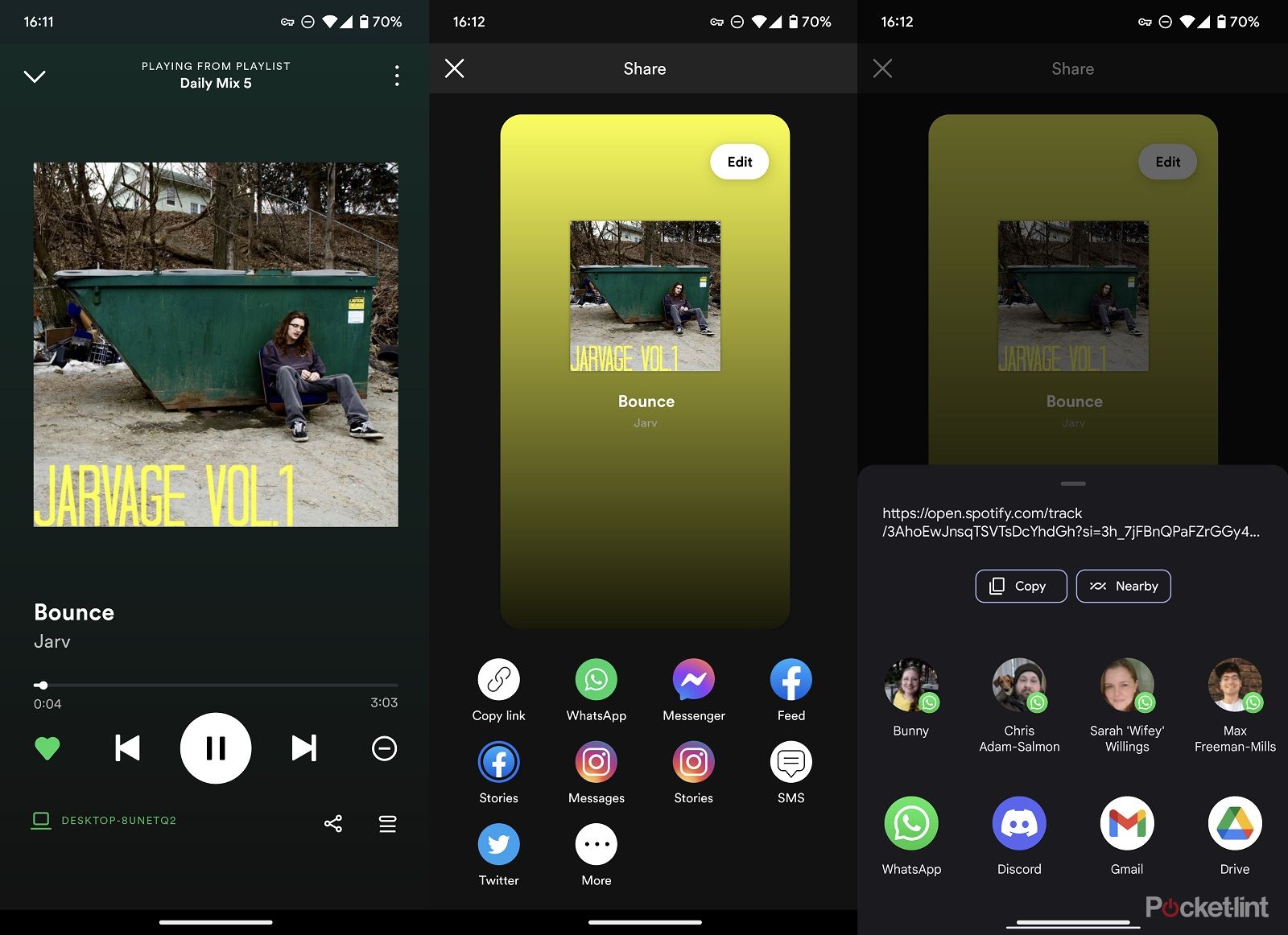 Share apps using Nearby Share
As you can see Virtual Sharing is useful for more than just file sharing. It can also be used to share all kinds of content, including software.
If you have favorite apps on your phone that you want to share with your friends then you can do it using this method. It's easier than making them search or sending them individual links to apps.
Action:
Open Google Play on your phone
Click your profile picture
From there select Manges software and tools
Select "send apps" and highlight the apps you want to send and press the send button
The other person should do the same but click "receive apps" instead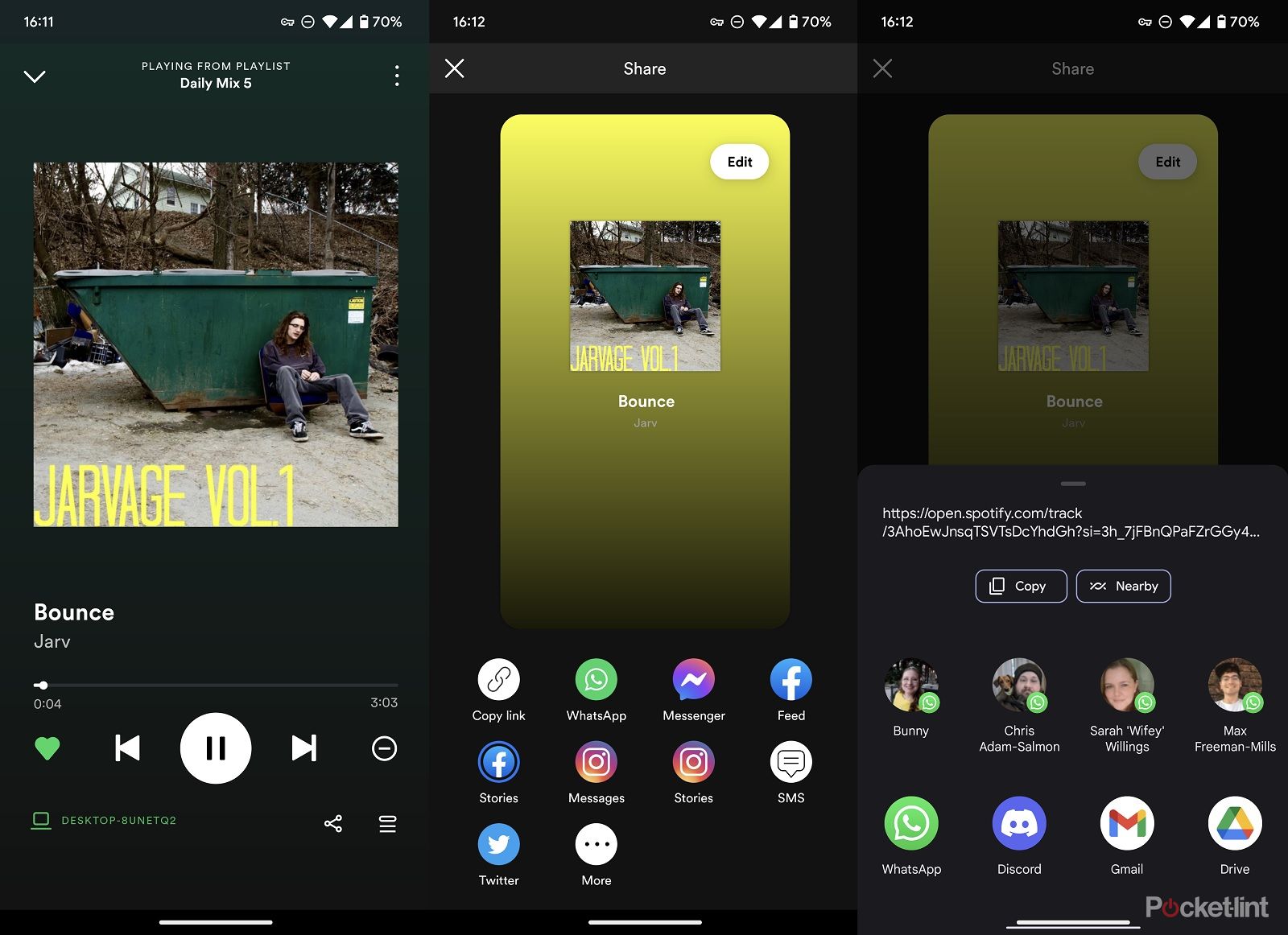 Share music via Nearby Share
As well as files, Wi-Fi passwords and apps you can also use Nearby Share for simple things like sharing your favorite music. If you are using it Spotify (for example), you can easily share a song or playlist with Nearby Share.
In the now playing view just click the share button and click "more" under the share options. You will then see a close-up image on the next page (next to the download button). If you write that you then have the opportunity to send music. Just thinking that someone is ready to accept your taste in music.
How to choose who to share content with
Google says Nearby Share is built with privacy at its core, allowing Android users to send and receive files without sharing information. Users can send and receive anonymously and you can change your privacy settings and who sees you in your phone's Quick Settings.
Open the Settings app on your phone > Tap Google > Device connections > Nearby sharing > Device visibility.
It is possible to choose between "All Contacts", "Other Contacts" and "Hidden" regarding your visibility on Nearby Share.
Selecting "All Contacts" means that your device is visible to your contacts when your screen is turned on and locked. When you select "Other Contacts", you will see a list of contacts near you who have Nearby Share enabled and have chosen to be visible. Then you need to switch to the ones in the list that you want to see when you share the file.
For your contacts to appear in the Nearby Sections list, you'll need to add their Google Account email address to their contact information.
If you select "Hidden", your device will only be visible when Nearby Sharing is enabled.
Having trouble with Nearby Sharing?
If you're having trouble with the Nearby Share feature, try the following:
Check that Bluetooth is turned on on both phones
Check Location is enabled on both phones
Bring the devices closer together, within 300mm (1 foot) of each other
Turn Airplane mode on and off
Turn your phone off and on again
Wait until no one is sharing the content with the other phone