We've known for a while that Ubisoft was working on a Star Wars game, but that didn't lessen the impact at all when it unveiled Star Wars Outlaws at Summer Game Fest in June 2023.
Now we've had plenty of information about the game, including a proper gameplay showcase and more, so you can find all the key details you need to know about Star Wars Outlaws right here.
Star Wars Outlaws release date
Star Wars Outlaws is slated for a release in 2024 – we don't know anything more exact than that at this stage, although the gameplay we've seen has looked extremely polished.
This means you could, if you were feeling optimistic, get hopeful that we'll be playing it by the time summer rolls around.
Star Wars Outlaws platforms
As you'll easily be able to tell from the fidelity of the trailers we'll present below, Outlaws is a current-generation title, and won't be coming to older hardware or the Nintendo Switch.
You'll be able to play it on PlayStation 5, Xbox Series X/S and PC when it releases in 2024.
Star Wars Outlaws trailers
The first trailer we got for Outlaws was a CGI affair that introduces its main character, Kay Vess, and sets the one with talk of heists and plenty of explosive action.
This was followed up very quickly at Ubisoft Forward Live with a full 10-minute gameplay showcase that goes a really long way to show what the game will actually be like to play.
Star Wars Outlaws story
Outlaws stars Kay Vess, a scoundrel in the making who's seemingly set on climbing the ranks of the Empire's most wanted, pulling heists and gaining notoreity.
It's set between The Empire Strikes Back and Return of the Jedi, so we're returning to what some people would call peak Star Wars, right in the middle of the original trilogy.
Kay is accompanied by a little critter called Vix, her constant companion more than a pet, and seemingly also a reprogrammed commando droid, ND-5, who seems like a tough customer.
We don't know exactly how the game will intersect with the movies' stories (if it does at all), but don't be surprised if we get some juicy cameos.
After all, the Hutt syndicate is still in its prime at this point in the timeline, and Han Solo is jetting around being a scoundrel of his own.
The behind the scenes featurette you can swee above offered us an interesting look at the worlds we'll be exploring in Outlaws, and in particular confirms that we'll be going back to Tattooine again.
Even more interesting is the brand new world of Toshara, a wind-swept planet that has taken inspiration from African plains and looks like it's probably the most expansive of the hubs we'll be able to explore.
Star Wars Outlaws gameplay
Outlaws is going to be a truly open-world game, according to Ubisoft and primary developers Massive – and from what we saw in that first gameplay showcase, it sure looks it.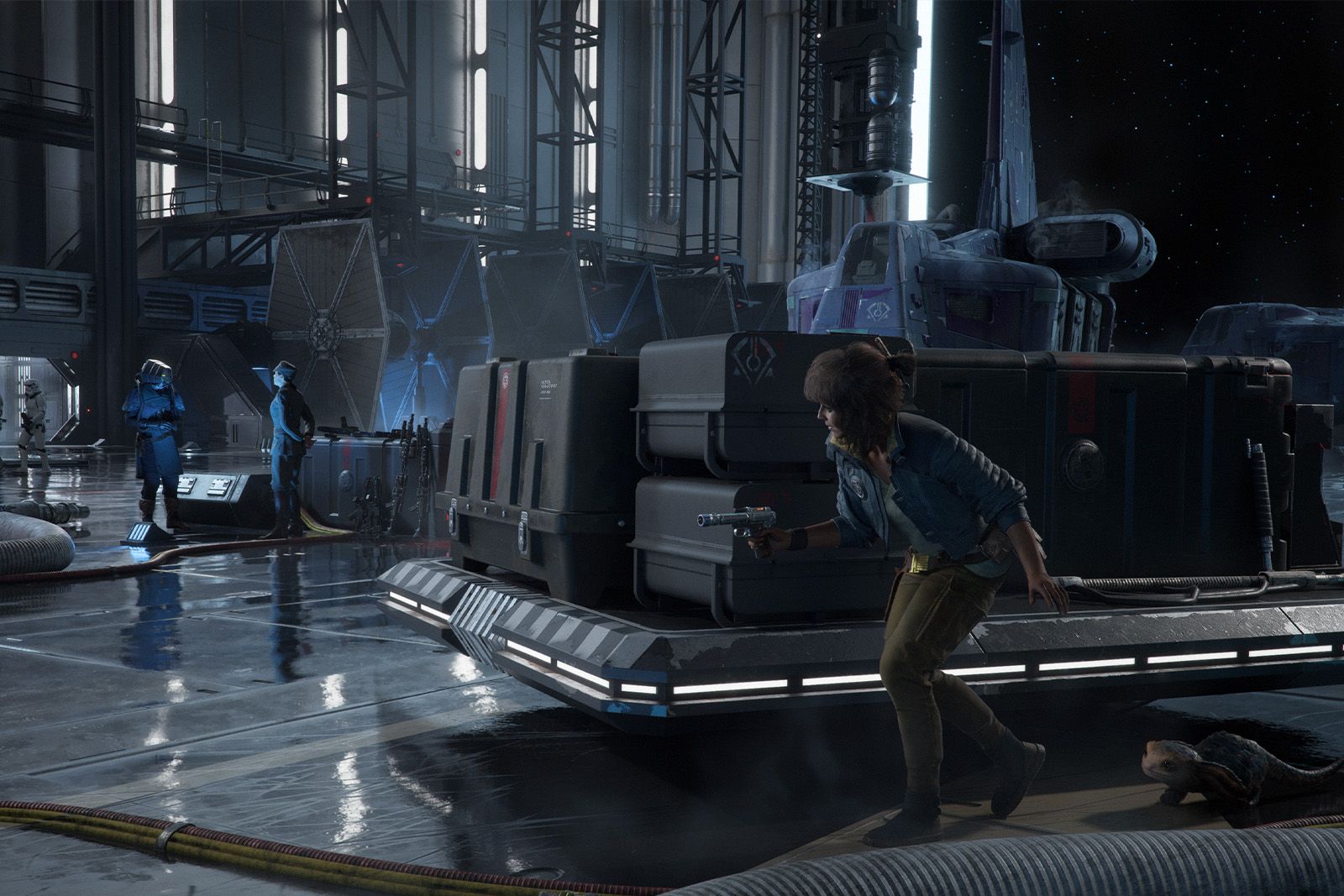 Ubisoft
This seems to mean that we'll be able to move between the orbits of multiple planets, completing missions and meeting new characters and fixers to help us make our way around the galaxy.
Controlling Kay on the ground on these planets, we'll have access to a speeder-bike for faster movement, and the game seems to play like a blended stealth-action and third-person shooter depending on the moment.
Taking off, we'll have full control of our ship and be able to engage in dogfights with TIE Fighters and other adversaries, and plot hyperspace jumps to new destinations.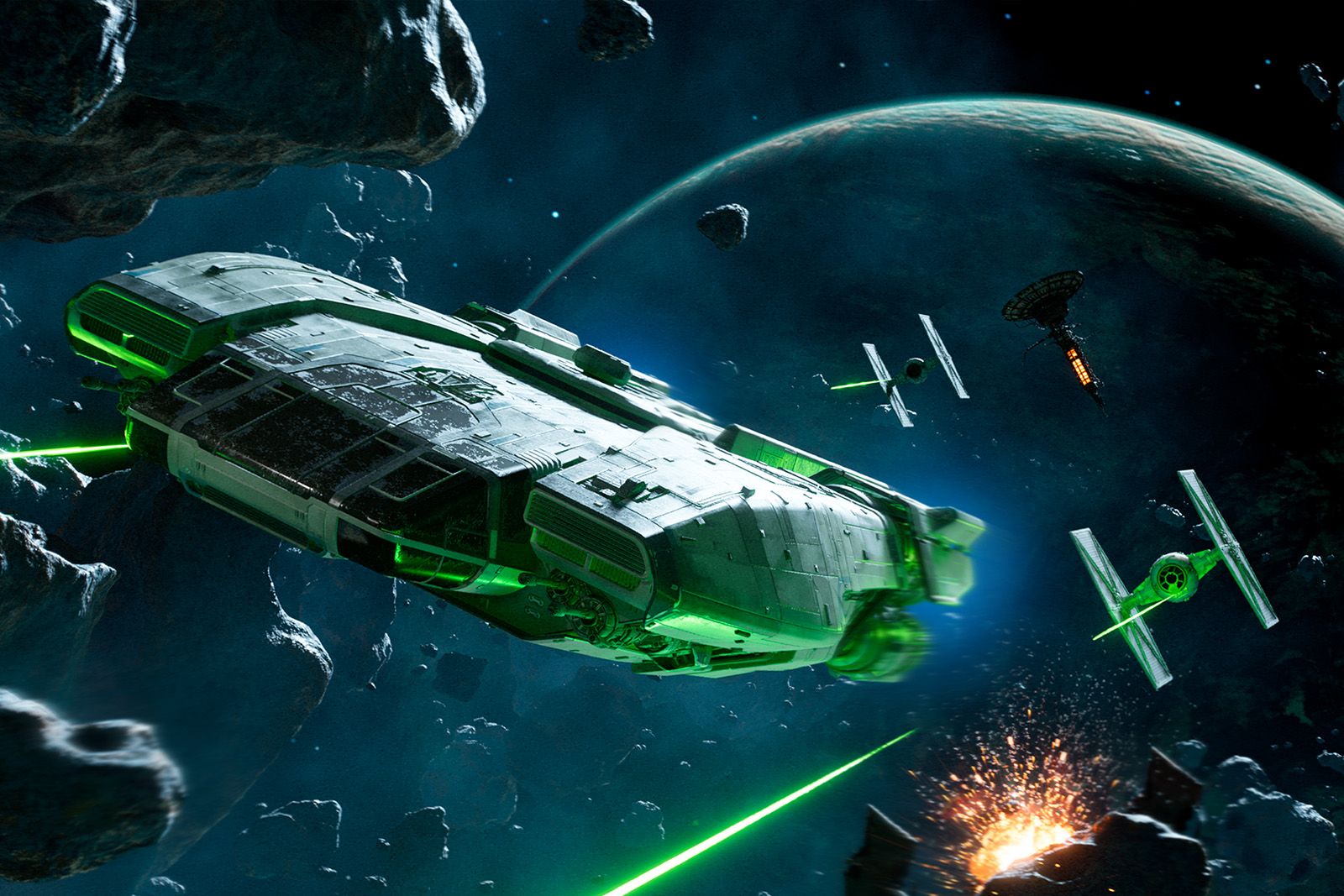 Ubisoft
We don't know exactly how many planets will be available, and we don't know how big the explorable areas on each will be, either. However, it sounds like we can expect a significantly bigger playground than the open-ended hub of Koboh in Jedi: Survivor, for instance.
So far we've seen a few weapons and gadgets in use, and Kay can also direct Vix around to distract enemies or groups, and to flick switches and interact with the environment, so they're a versatile little pal.