We use affiliate links. If you buy something through the links on this page, we may earn a commission at no cost to you. Learn more.
REVIEW – I previously reviewed the Naenka Runner Diver bone conduction swimming headphones and really liked them so when Naenka offered their new Runner Neo headphones for me to try I couldn't say no. Let's see if I like these better.
What is it?
The Naenka Runner Neo headphones utilize bone conduction to transmit sound waves rather than through the air. The Naenka Runner Neo headphones are IP66 waterproof so they can resist sweat, moisture, and dust. They utilize Bluetooth 5.2 to connect to two devices simultaneously and come in green, gray, and red color options.
What's in the box?
1x Naenka Runner Neo headphones in red
1x USB-A Charging Cable Dock
2x Ear Plugs
1x Silicone Adjustment Band
1x User manual
6x Sound quality enhancer
Hardware specs
Weight: 30.3 g or 1 oz
Battery: 160 mAh/4.2v Lithium Ion
Charging time: Fully charges in 2 hours via wireless charging
Playback: 10 hours at 60% volume
IP66 Waterproof Rating
Bluetooth 5.2
Skin friendly silicone
Design and features
The Naenka Runner Neo headphones look like most bone conduction headphones but are a little slimmer and lighter by 6 grams than the Runner Diver's I previously reviewed which were 36.2 grams. They are wrapped in a little smoother silicone so they don't pick up dust as easily as the Runner Diver which is a positive. They fit very nicely over my ears and despite wearing them for hours at a time I did not feel any discomfort.
The Naenka Runner Neo keeps things simple with only three buttons which are the function button and two volume buttons that perform all functions. The biggest change from the Runner Diver is the Runner Neo is now turned on using the + volume button instead of the function button on the right ear piece.
There is a microphone port on the side of the right ear piece and an LED indicator light just a little in front of that. Naenka includes a pair of ear plugs as well as three sets of sound quality enhancers.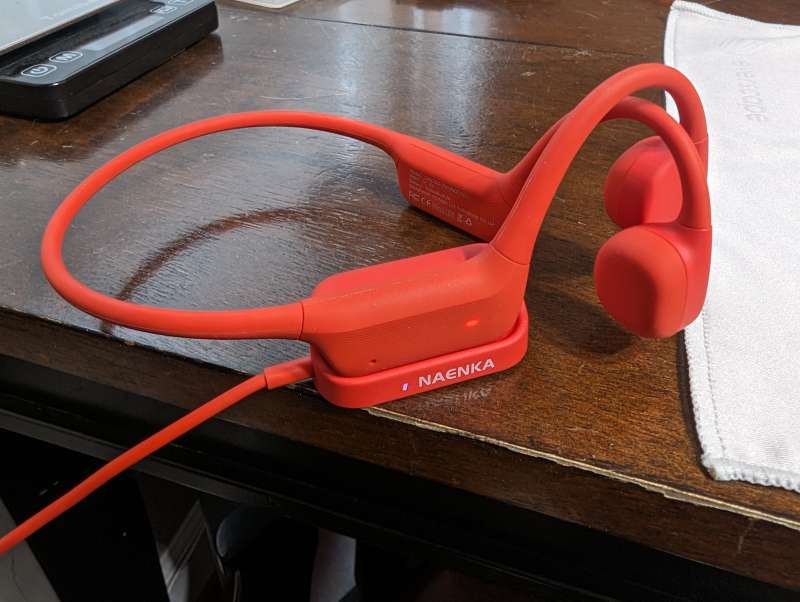 Setup
Setup was pretty easy. To turn the headphones on you press the + volume button for 3 seconds and it will enter pairing mode. Naenka Runner Neo showed up in my phone's Bluetooth and after selecting it I heard a "connected" from the Runner Neo. To turn off the Runner Neo you press the + volume button for 5 seconds.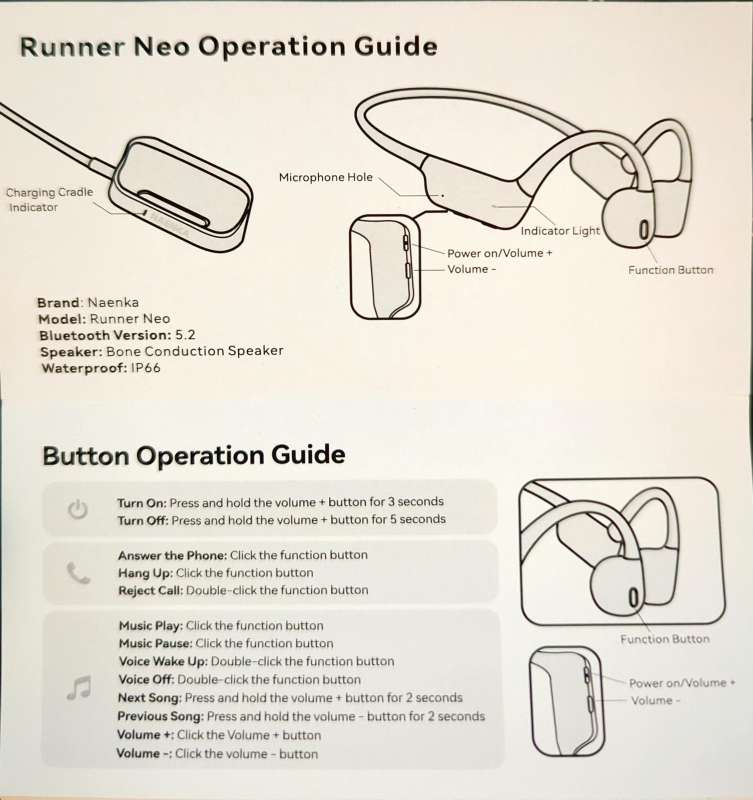 Charging is super easy as well and is now wireless. The cradle connects to the right side with magnets and when the white light stays on it is fully charged.
Performance
The Naenka Runner Neo Bone Conduction Headphones connect to my cell phone extremely fast. After pressing the + volume button for 3 seconds the little voice says, "Welcome to Naenka bone conduction headphones, pairing, the Bluetooth is connected". With the Runner Diver it only says, "Power on, Bluetooth mode, connected" which was succinct and to the point. I would prefer a simple chime or tone or just "Power on, connected" rather than a whole advertising spiel every time I turn them on.
The function button on the right ear piece is used to answer calls and hang up with one click or reject calls with a double click. You can also wake your phone's assistant with a double click and I found it worked quite well on Android with Google Assistant. You can pause music by clicking the function button and resume with another click.
To turn the Naenka Runner Neo off you press the + volume button for 5 seconds and it states a simple, "Power off", which is all you need. This is where a major design flaw arises, however, because when you press the + volume button for 2 seconds it skips to the next track. Pressing the – volume button goes back to the previous song. This was the same with the Runner Diver but since the power on/off was moved from the function button it now activates the skip track when you turn it off.
This means EVERY TIME you turn it off it will skip to the next track. If you are listening to a podcast it will skip to the next podcast. If you are watching a YouTube video it will skip to the next video. If you are listening to an audio book it will skip to the next chapter when you turn it off. So when you turn them back on you will have to go back and find your place. Not a big deal if just listening to music but as a podcast, YouTube, audio book listener this is not only annoying but basically makes them unusable for me as this got old really quickly.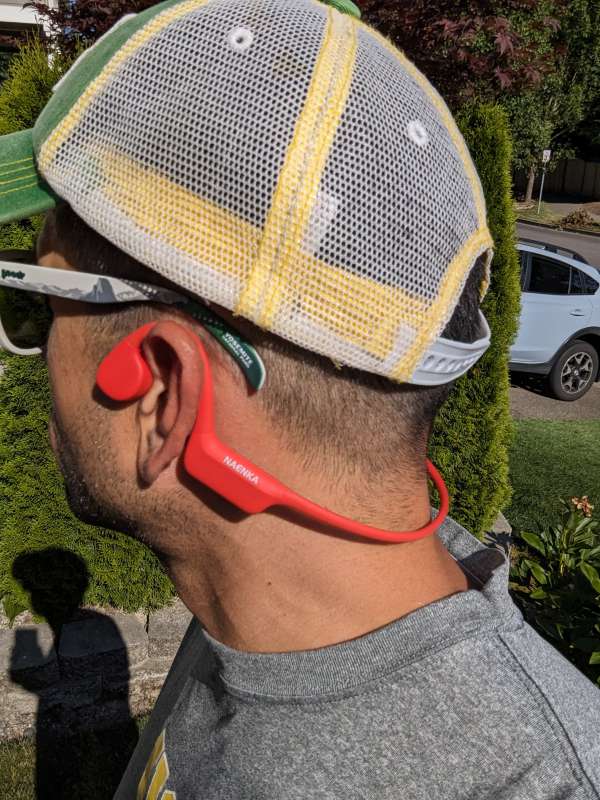 Other than that I really like them. The sound transfer through my cheek bones is clear and phone conversations during calls were great. The Bluetooth range was excellent and remained connected to my phone over 50ft away through multiple walls without any static or skipping which is why I liked the Runner Divers so much.
The only downside to bone conduction is if you are in a very noisy environment such as on a treadmill when everyone around you is also on the treadmills then it can be hard to hear a podcast or dialogue. Music is not an issue and I do like being able to hear everything around me when I am running outside for example. When I am taking a workout class I can have my own tunes but still hear the instructor which I like as well as when weight lifting I can talk to my lifting buddy without having to take an earphone out.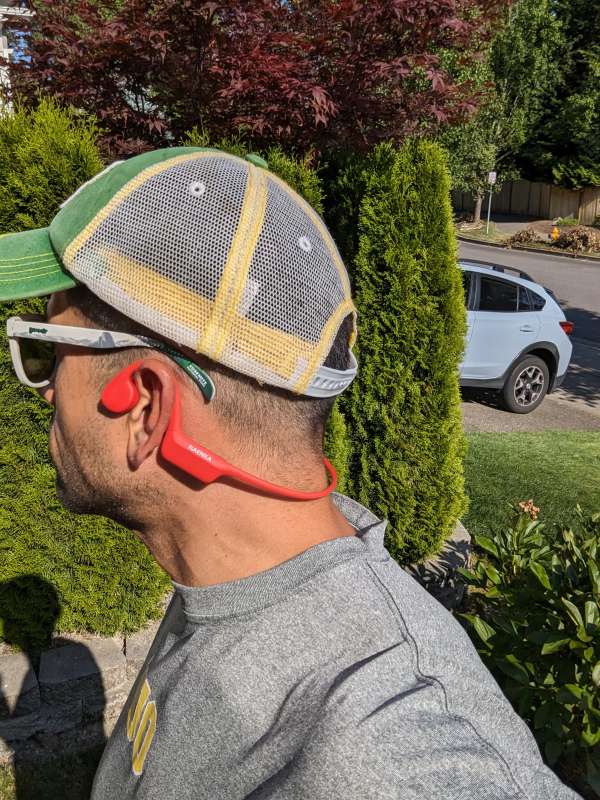 Battery life was excellent and seemed better than the advertised 10 hours per charge and I liked the magnetic charging cable which made a solid connection when attached. At this time Naenka does not have an app which I liked originally because I don't think everything needs one but in this case they do because the only way to fix this huge design flaw is a firmware update which isn't possible without an app.
What I like
Clear sound comparable to in ear headphones
Allows me to hear my surroundings
Comfortable for long time use
What I'd change
Move power on/off back to function button
Only short chime when turning on/off
Final thoughts
For the most part, I like the feel, sound, and lighter weight (30g vs 36g) of the Naenka Runner Neo over my Runner Diver, however, I will keep using the Runner Diver for the huge flaw mentioned above. If not for that I would switch over. I did see that Naenka released an updated Runner Diver2 and as long as they kept the same button functions as the original Runner Diver I would definitely recommend those over the Runner Neo.
Price: $109.99
Where to buy: Naenka Online Store ( save 15% with code gadgeteer15 ) or Amazon ( save 15% with code 15gadgeteer )
Source: The sample for this review was provided by Naenka.