We use affiliate links. If you buy something through the links on this page, we may earn a commission at no cost to you. Learn more.
REVIEW – With climate change and car-choked city traffic dominating the news, moving to a bike has never been more in the public consciousness. While I've been a biking advocate for years, I've never owned an eBike. I finally was given one, the KBO Flip, to review, and I have thoughts. These are shared below.
What is it?
The KBO Flip is a folding e-bike with 20″ x 3″ tires and a removable 15.6Ah battery.
What's in the box?
The KBO Flip eBike itself
Charger
Battery with 2 keys
Full Fenders
Rear Rack
Assembly Tool
Owner's Manual
Hardware specs
From company website
Battery – 36V 15.6Ah
Range – Up to 30 miles(Pure electric) – Up to 55 miles (Pedal assist)
Hub Motor – 500W
Total Payload Capacity – 275 lbs
Recommended Rider Heights – 5'1" -6'2"
Charger – 42V 2A
Controller – 36V 15A
Display – LCD
Pedal Assist Levels – 3
Weight – 57 lbs
Product Dimensions – 65.0" x 23.2" x 47.2" (Folded)
Design and features
Riding an eBike that is well-designed will change your mind about biking. I'll talk more about that below, but it's significant. Key to the adoption of bikes, however, is how easily can this device be integrated into your daily life. (Well, the first key is a safe place to ride, but that's a political and societal landmine far beyond the scope of this article. But it's one that I think is worth fighting.)
The KBO Flip is about as small as you can get in a full-featured bike and still be something that doesn't make you dislike biking altogether.
Setup
The KBO Flip e-bike comes almost completely assembled. (See photos above.) It is padded with loads of cable-tied and taped-on foam padding, but after removing that, dropping the seat post into its tube, and attaching the handlebars and pedals, it's ready to ride. (Well, you should probably charge the battery. The first charge can take a good while, according to the manual. I found this to be true in my case. I started charging it while removing the packaging and assembling the other items. Afterward, the battery still wasn't full, so I left it an hour or so longer.)
The battery slips into a cage just behind the seat post and is secured with the key via a visible deadbolt. The key has to stay in the lock during operation. (Two keys are included.)
The seat has a thumb key release to flip it up out of the way without having to adjust the height (this is demonstrated in the folding video), but you'll need to make sure the quick-release flipper for the seat isn't pointing toward the battery area.
The main frame piece connecting the rear wheel and crank/battery to the front assembly is a single arm, rather than two arms, so there isn't as much material in that space. This made me a little apprehensive at first. I'm used to a bar going straight across from the seat to just below the handlebars, and another from the crank up to that same area, but the Flip only has one, which goes from the crank up to the top of the wheel, which is much smaller (lower) than a 26″ bike wheel! Mentally, this was the largest hurdle to overcome: I'm not going to fall down into this void. (It sounds sillier than it felt, trust me!) Pedaling is different because of the short crank arms, but if you're used to a trick bike or smaller frame, it won't be a problem. The Pedal assist, however, makes this worry/irritation melt away.
Performance
The KBO Flip electric bike is a great size for my 5'7″ frame. I can swing my right leg over the rear wheel while standing still without issues (despite my still-healing torn meniscus), or push off and swing my leg over as I start off. Neither of these is as easy with anything strapped to the gear rack, but it's still manageable. For the past 15 years, I've been riding a step-thru design, and have gotten used to occasionally just stepping aboard. (If you're wearing a skirt or kilt, you may need to – um – take precautions with the Flip, since you won't be able to just step aboard.)
Once mounted and going, it's great to have the pedal assist or the full throttle. Due to the size of the frame, the crank arms are small, so it's not like pedaling a full-sized bike, but that's to be expected.
Folding the Flip for travel is fairly simple. The hinges are stiff, so it's not just going to flop into place, either from the folded position or into that position, but it's not difficult. I'm sure it will get easier over time as the hinge gets used, but I don't really expect to fold it up regularly.
Once I start riding it there regularly, I'll have to see how to store the KBO Flip at work. We currently do not have a dedicated bike storage area, so I may be folding it up every time I'm there. I do wish KBO had thought to have a clip or something to hold it into place, and a way to pull it along while folded, rather than just having to carry it. There is a small affordance just in front of the seat post where a handle is sort of designed into the top of the connecting bar.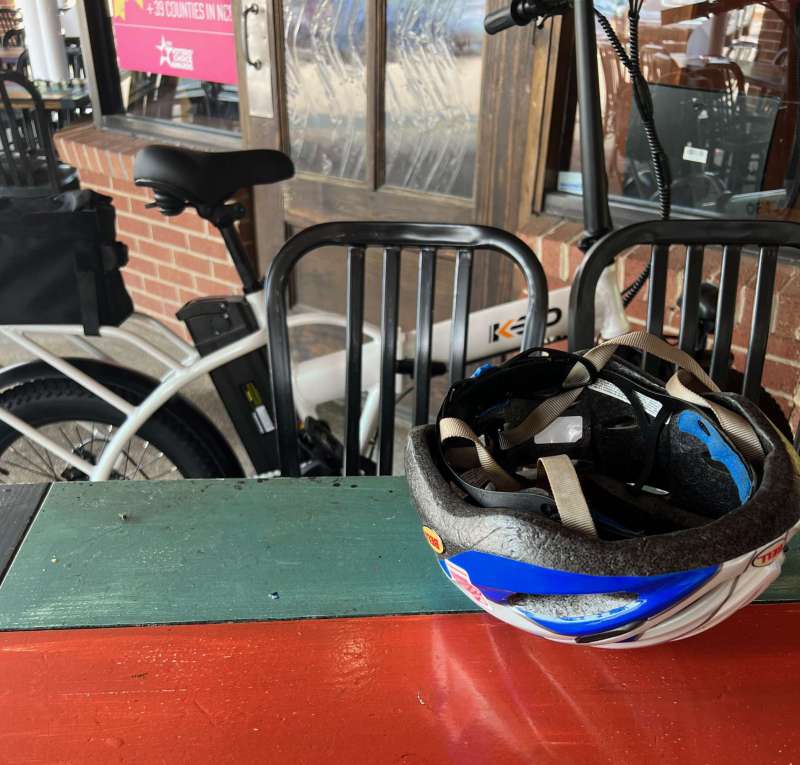 While riding, the KBO Flip e-bike is just pure fun. The gears work as expected, and the pedal assist kicks in as expected and can be adjusted on the fly. The disc brakes work without incident. The wheels are large enough to provide stability while riding. The wide tires give you off-road type abilities but, with e-assist, don't make pedaling on roadways too onerous.
What I like
Very easy to fold – conceptually. I like that the joints are a bit stiff.
Easy enough to deal with while folded.
Simple, but great entry features for the price.
What I'd change
Integrate the rear light with the battery system.
Lights on, front and back, all the time. You should never ride without your lights on – day or night. And the rear light should always flash.
A clip or something to hold the halves together while folded.
More flexibility in adjusting the handlebars.
Final thoughts
Biking should be fun. Find any picture of someone famous (who is not a competitive biker) on a bike, and chances are, they are laughing, or at least smiling. (Don't believe me? Search for the hashtag #bicyclebirthday on Mastodon. You'll find everyone from Marilyn Monroe, to the cast of 30 Rock, to David Byrne, who arrived at this year's MET gala on a bike. Almost every single one is smiling and either riding or just dismounting from a bike.)
I love my regular bike and ride it every chance I get, but it's not easy to get to places where biking is available. Plus, if I'm riding to somewhere that I want to look at least partially presentable, in the sunny South where I live, an e-bike makes a huge difference. This little fold-up e-bike really brings the fun.
While the KBO Flip may not be the bike for you, I encourage you to find a bike (electric or, as a friend says, "acoustic") that can integrate into your life. It's fun, healthy, and helpful for the environment when you're replacing car trips. Do it for your community, do it for the future of the planet, and smile as you're pedaling. This story (a long read but really interesting) recently surfaced on my Mastodon timeline.
Price: $869.00 usually $1069.00
Where to buy: KBObike.com
Source: The sample of this product was provided by KBO.