We use affiliate links. If you buy something through the links on this page, we may earn a commission at no cost to you. Learn more.
REVIEW – If you told me in 2004 that in a few short years there would exist PCs (and Macs of course) that would be the size of a small stack of CDs, I would have rolled my eyes at you. My latest gaming PC then was the size of a small refrigerator, and laptops were anemic at best. When the Mac Mini and later competitors like the Intel NUC series started making waves, it boggled my mind that decent performance could be achieved in such a small form factor. I've followed a lot of these brands and models over the years, so when the offer came to review the GEEKOM AS 6 mini PC I happily accepted.
What is it?
The GEEKOM AS 6 mini PC is a higher-end mini PC with a powerful multicore processor, dedicated graphics, and generous IO connectivity. It's marketed as a performance workstation or a decent mid-range gaming option, so I tested out both scenarios extensively.
What's in the box?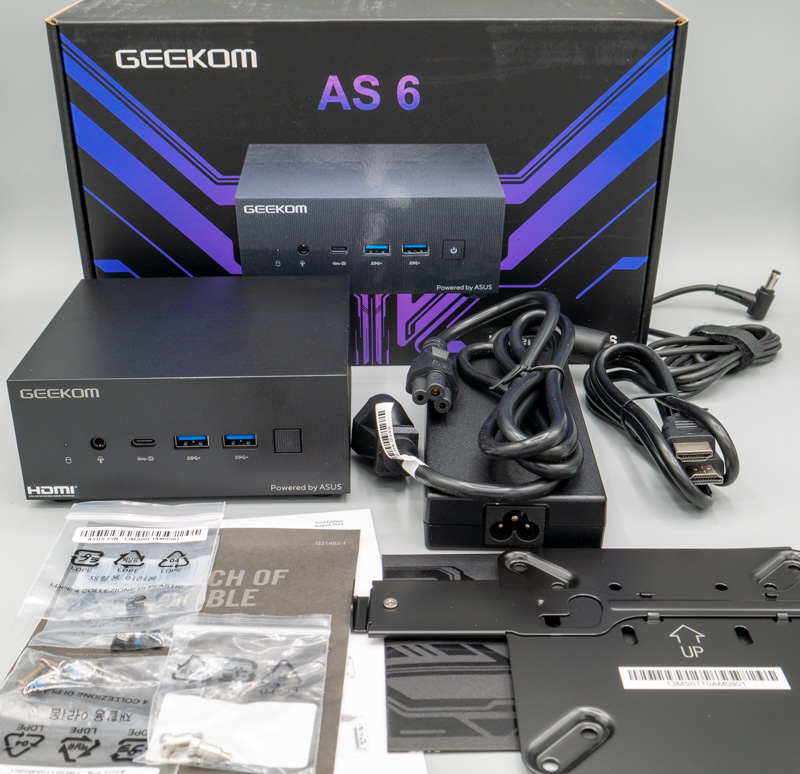 GEEKOM AS 6 mini PC
AC power adaptor
HDMI cable
VESA monitor mount and mounting hardware
SSD/HDD mounting screws
Manual and quick guide
Hardware specs
There are multiple models, these specs are for the one I was sent to review:
CPU: AMD Ryzen™ 9 6900HX (8 Cores, 16 Threads, 16MB Cache, 3.3 GHz~ 4.9 GHz)
GPU: AMD Radeon™ Graphics 680M
RAM: Dual-channel 32 GB DDR5-4800 SODIMM
Storage: 2 x M.2 2280 PCIe Gen 4×4 SSD , supports up to 2TB (* NVMe only – a single 1TB drive was installed on my unit),  1 x 2.5"7mm SATA HDD, supports up to 2TB
OS: Windows 11 Pro
Bluetooth: 5.2
LAN: 2.5G LAN (compatible with 10/100/1000/2500 speed cables and networks, tested on 1000)
Wireless technology: WiFi 6E (supports 2.4, 5, and 6 Ghz bands)
Power Input: 20V 7.5A, 150W power supply
IO Front: 1 x USB4 Type-C (Support DP1.4, 7680 x 4320 @60Hz), 2 x USB 3.2 Gen1, 1 x Audio Jack (Line out/Mic in/Headphone out)
IO Side: 1 x Kensington Lock
IO Rear: 1 x USB4 Type-C (Support DP1.4, 7680 x 4320 @60Hz), 3 x USB 3.2 Gen1, 2 x HDMI 2.1 Port (4096 x 2160 @60Hz), 1 x Display Port 1.4 (5120 x [email protected]), 1 x 2.5G RJ45 LAN, 1 x DC-in, 1 x Padlock ring
Design and features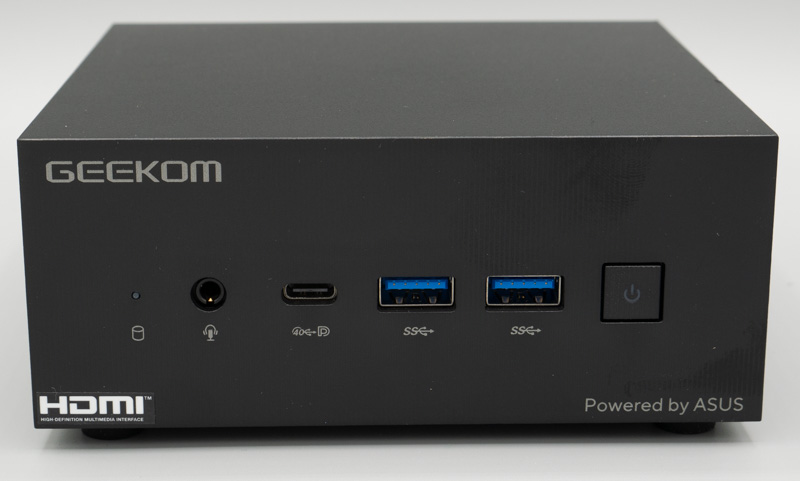 The entire GEEKOM AS 6 mini PC is a simple black square with vents on either side. I like the no-frills basic stealth design a lot. The front has (from left to right) a hard drive indicator LED, audio jack, USB-C 3.2 supporting Displayport 1.4, two USB-A 3.2 Gen1 ports, and a combo power button with status LED. Notice the Powered by ASUS stamped on it: this PC is a joint venture between Geekom and ASUS and supports the MyASUS software which can help with updates and diagnostics as well as support.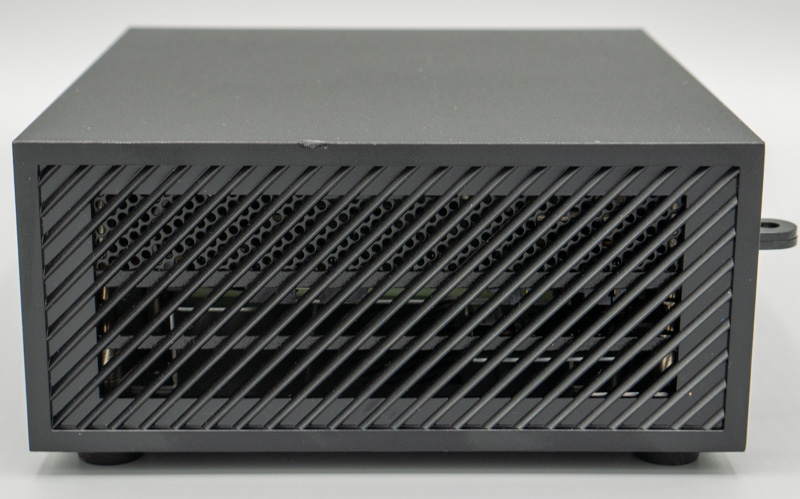 The right side has nothing but fan vents.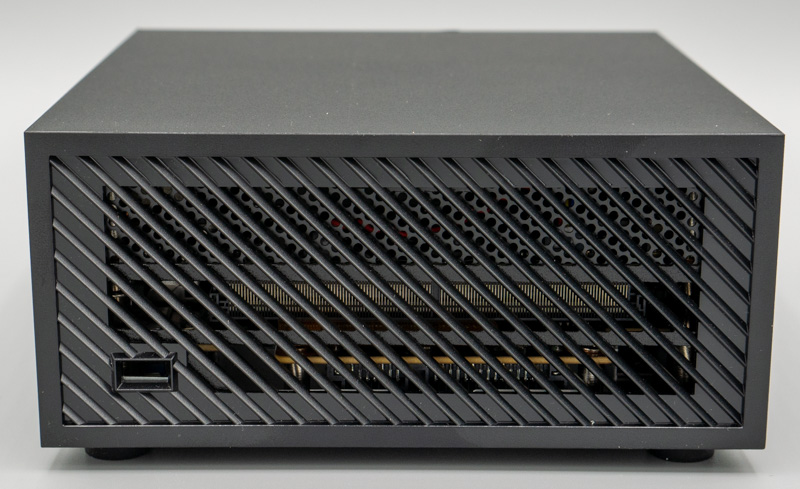 The left is identical except for a Kensington Lock slot. This is quite handy if you're mounting this somewhat pricey device in a public area.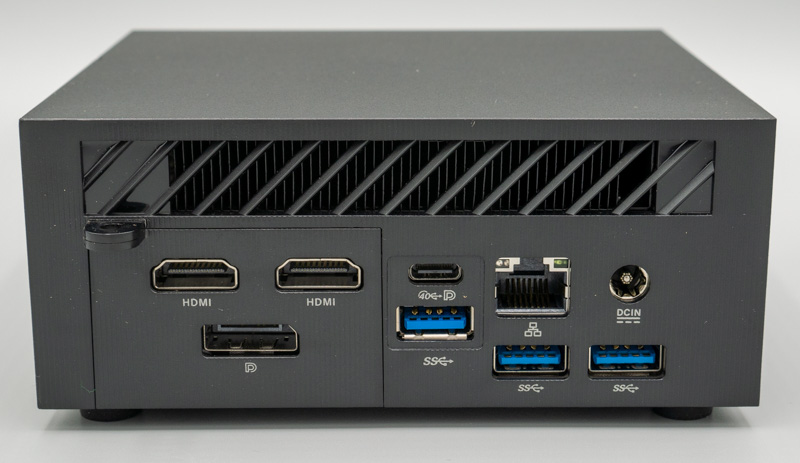 Around the back, we have a trio of video output ports, including two HDMI 2.1 ports, a Displayport 1.4, and a USB4 (C- type) that doubles as another video output port supporting Displayport 1.4 as well, for a total of 4 monitors connected if desired. Three USB-A 3.2 Gen 1 ports, a 2.5G RJ45 LAN port and a DC Power Input port finish up the back IO.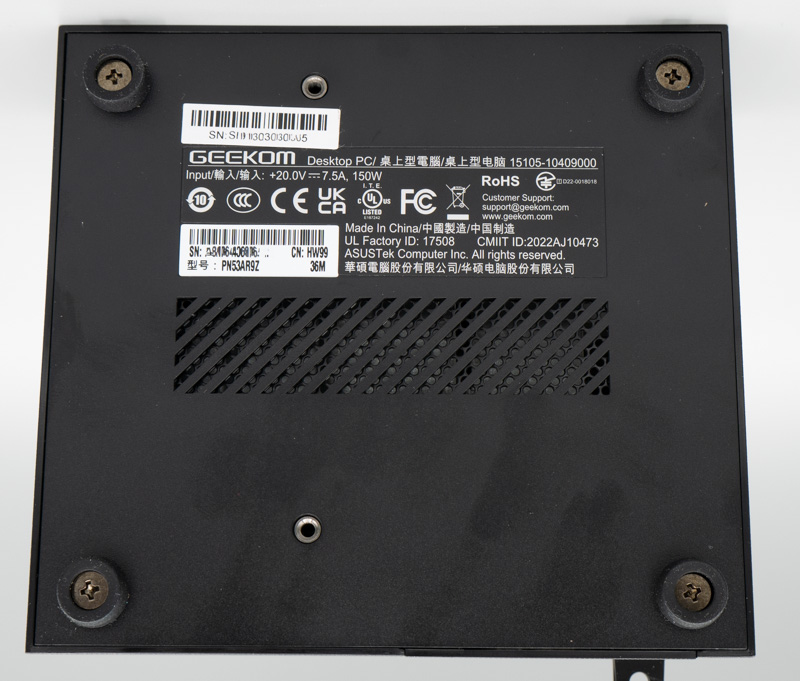 On the bottom, we find four screws inside the rubber feet, and two mounting points (for the included monitor mount).
Setup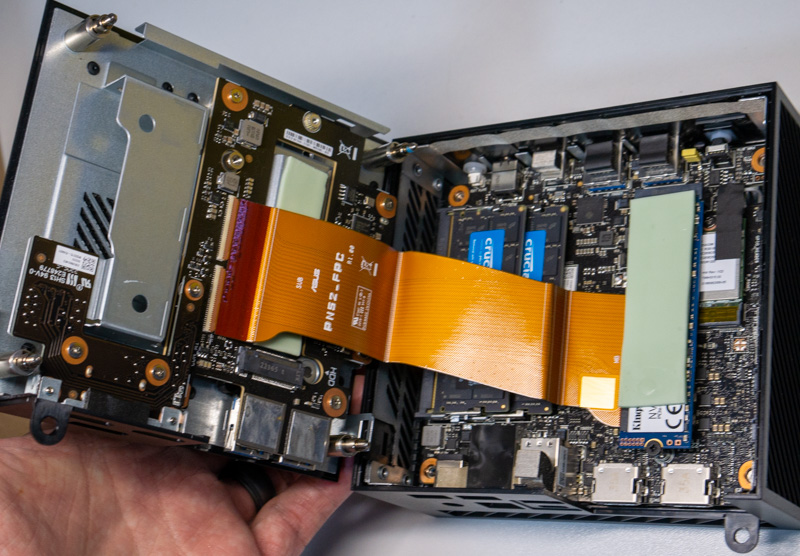 Besides the vanilla Windows 11 Pro software setup, you can also open this device up and add more storage or RAM if needed. One of the two M.2 NVME Gen 4 slots is populated, plus it has space for a 2.5″ SSD/HDD as well (empty in my unit). To access the inside you simply have to unscrew the four bottom screws and use a guitar-pick or something similar to pop tabs around the edges.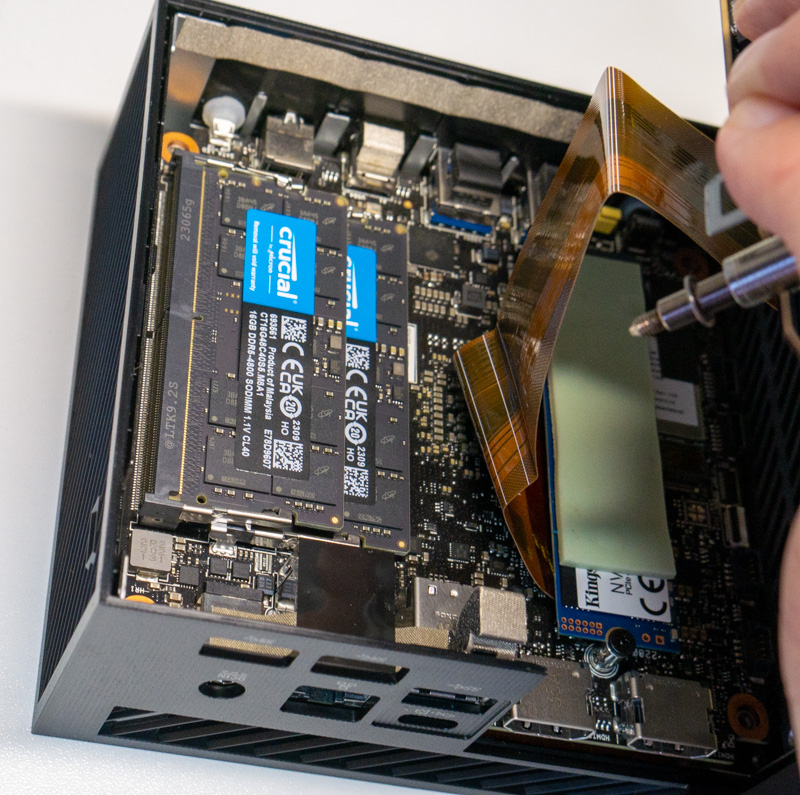 There is a ribbon cable you want to watch out for, but unlike some laptops I've dealt with in the past, it has generous slack so you can get easy access to the innards without disconnecting that.
Performance
The eight core / 16 thread AMD 6900HX CPU on the GEEKOM AS 6 mini PC should be able to handle just about any work, gaming, or entertainment scenario. However, actual performance can vary wildly between different models of PCs using the same parts so I put the AS 6 through a variety of benchmarks as well as real world tests including video editing and gaming.
First up, the benchmarks:
The benchmarks were as good or better than I expected across the board for a PC this tiny. While the Cinebench score was a bit behind the average AMD 5900HX, I wouldn't expect benchmark-topping scores from such a tiny unit. The fact that it was hitting this high while not making much noise at all (quieter than all the laptops in our household) is phenomenal.
Benchmarks don't always tell the whole story though, so I also used the GEEKOM AS 6 mini PC for video editing and encoding, as well as some office work and gaming during the review period.
I edited the same 4k ~5 minute video on both this mini PC and my monster Asus G18 gaming laptop with a 13th gen Intel i9 24 core processor, and the encoding step (which heavily used just the CPU on both) took just over 3 minutes on the gaming laptop, and ~3:30 on the GEEKOM AS 6 mini PC.
For gaming, I tried out a variety of titles including Battlefield 2042 and Civilization 6, and at a mix of Medium and High graphics settings and 1080P resolution, I was getting 40+ frames per second in both. Impressive for an integrated GPU! If you're looking for a do-it-all PC that includes some gaming, and you're ok with lowering settings a bit on demanding titles, this machine will play about anything.
For general office work, entertainment, and productivity, the GEEKOM AS 6 mini PC is a dream. The 32 gigs of RAM handle dozens of open browser tabs with ease, along with pretty much any programs you're wanting to run in tandem. It's ability to drive up to 4 monitors at a mix of 4k and 8k resolutions opens a ton of options for screen setups, and the included mounting hardware even allows you to mount the PC on the back of a VESA compatible monitor!
What I like
Generous IO with modern ports like USB4, HDMI 2.1, and Displayport 1.4
Good performance for small form factor
No weak points in the hardware (like a tiny hard drive or weak iGPU)
What I'd change
I'd prefer the ability to have a stronger fan to squeeze a bit more performance out of the 6900HX, I feel like the quiet fans are best for most people but I'm an enthusiast and a headphone wearer so I like having the option to crank things to turbo when needed.
Final thoughts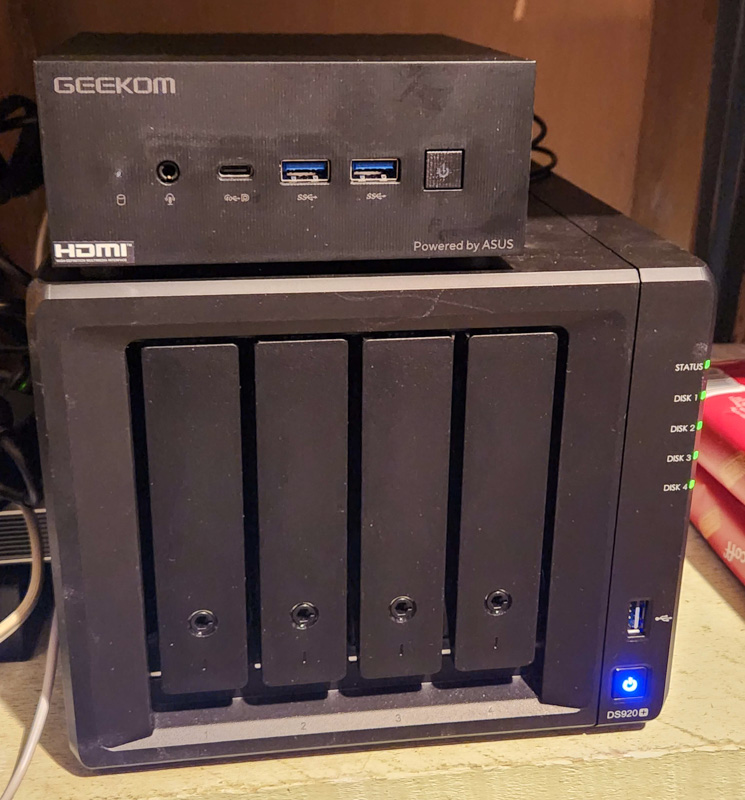 The GEEKOM AS 6 mini PC has earned its place as my media server (pictured sitting atop my NAS in our utility room). I run a Plex media server, and this PC sends out multiple 4k streams (including transcoding if needed) without breaking a sweat. Whenever I check in on it now, it's always happily purring at <25% CPU/GPU use, and I haven't had any issues with it at all. I think the price GEEKOM is asking for the performance you get with this machine is more than fair, two thumbs up!
Price: starting at $889 (sale price $659 at time of review)
Where to buy: GEEKOM and you can find a selection of their mini PCs on Amazon
Source: The sample of this product was provided by GEEKOM