We use affiliate links. If you buy something through the links on this page, we may earn a commission at no cost to you. Learn more.
REVIEW – I've been working from home for over ten years now, and somehow, I still have a lot of meetings online.  At my company, we use Microsoft Teams and Slack for our calls, so I need a headset with a microphone that allows me to hear and be heard clearly by my co-workers.  For years I have used an old Logitech wired headset, but the ear cushions are worn and frazzled.  I need something new, so I'm trying out the H16 wireless headset from EKSA.
What is it?
The EKSA H16 is a headset that supports Bluetooth 5.2 or a USB dongle for wireless connectivity.  The H16 is available in both on-ear and over-ear styles and includes noise-cancelling technology.  The EKSA Telecom brand is targeted at the workplace market, and their slogan is "be heard anywhere."
What's in the box?
The box contained the EKSA H16 headset, the USB-A dongle, a USB-A to USB-C cable, a user manual, and a support card. EKSA graciously included their headset stand as well.
Specifications
Bluetooth:  5.2
Range:  50 feet
Battery:  Rechargeable Lithium ion
Change time:  2.5 hours
Battery life:  35 hours when talking
Speaker size:  40 mm
Weight:  5.3 ounces
Design and features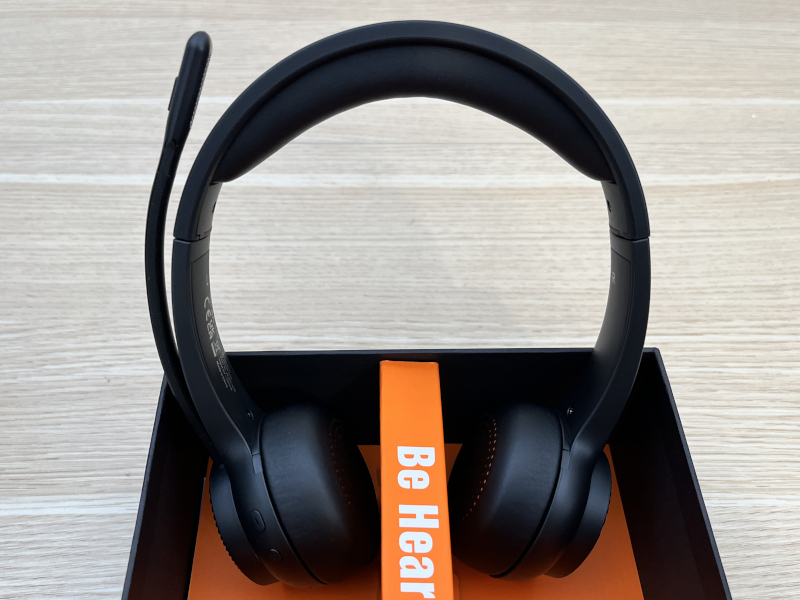 The EKSA H16 wireless headset looks like a typical on-ear headset for use in the office.  The ear cushions are small and round—I am testing the on-ear style—a rotatable mic extends from the left ear cup, and there are buttons for power, volume, and mute.  There is additional cushioning on the headband, and the headband is extendable.  The headset is plastic and very light, and it's entirely black in color except for some orange highlights in the cushions.
Installation and setup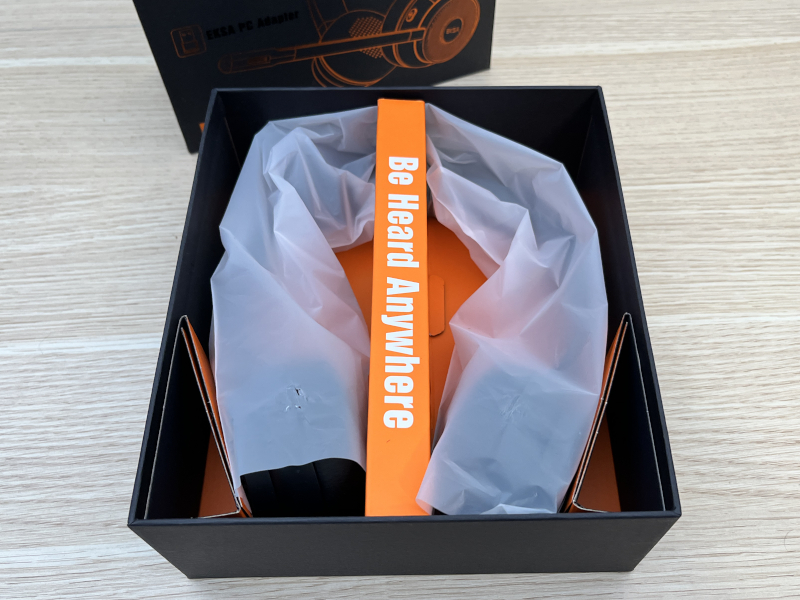 The EKSA H16 arrived well-protected in a stylish black and orange box.  I almost didn't find the USB cable that is hidden in the center piece of orange cardboard, where it says "Be heard anywhere."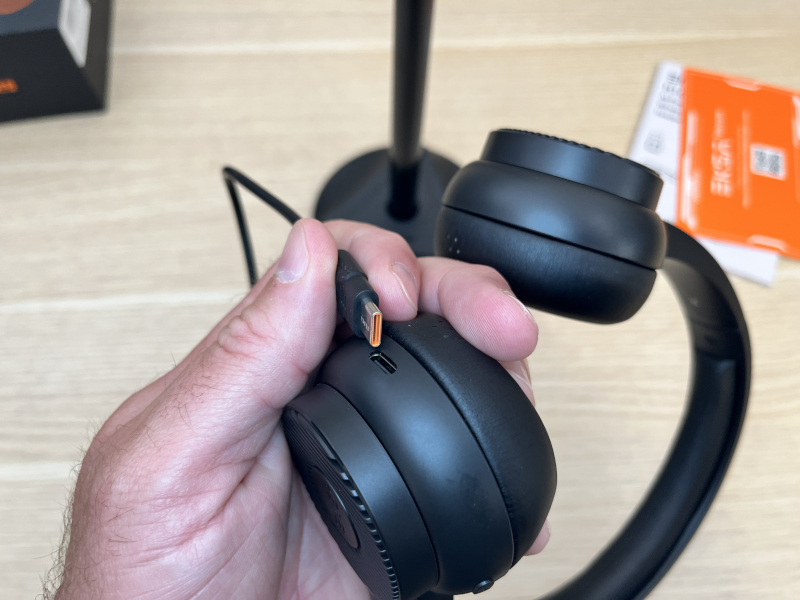 There are only two things required to set up this gadget.  First, I used the USB-A to USB-C cable to charge the headset.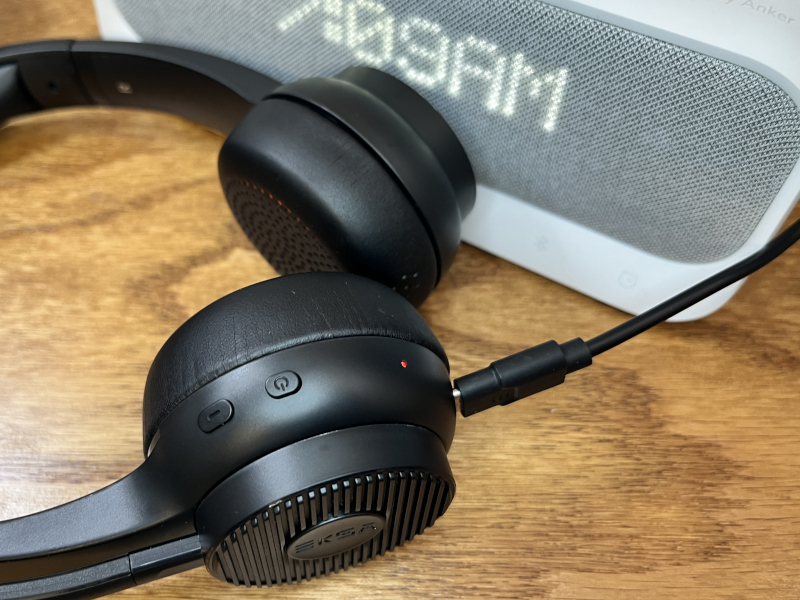 A small LED on one ear cup is red while charging and turns blue when finished.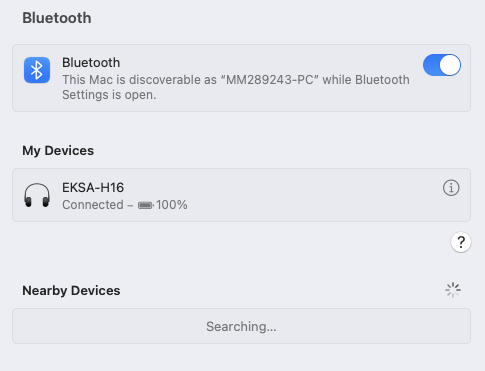 Second, I paired the EKSA H16 wireless headset to my MacBookPro via Bluetooth.  My Mac had no problems detecting and pairing with the H16.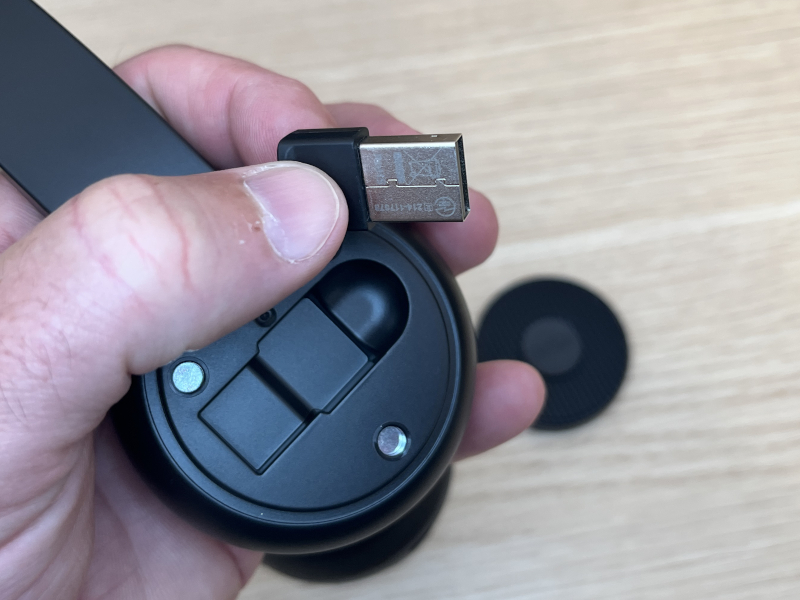 Although EKSA has included a USB dongle cleverly concealed in the headset, it is USB-A.  As USB-A is rather antiquated at this point—it's been years since MacBookPros have included USB-A ports—I never tried this feature. I would like to see EKSA use current USB technology and swap out the USB-A in both the cable and the dongle with USB-C.
Performance
The biggest concern for me when it comes to wireless headsets is connectivity.  Some headsets disconnect frequently or have a second or two of lag when joining a meeting.  I never experienced any of these issues with the H16; its connectivity was just as good as my old wired headset.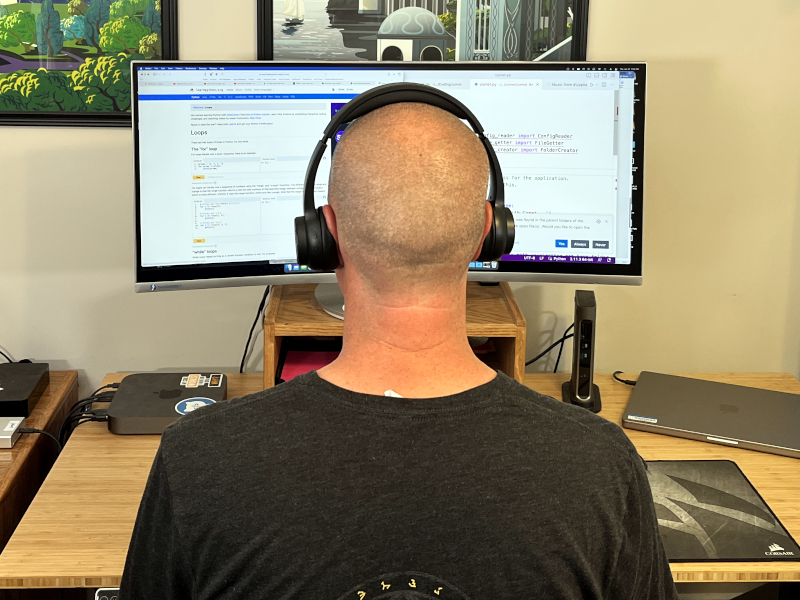 I found the sound quality of the EKSA H16 wireless headset's speakers to be good though not perfect.  I was able to clearly hear everyone with whom I spoke, and when I asked, they always commented that I was coming in loud and clear.  My only complaint is that the headset sounds a bit mushy on some of the lower tones, which I tended to notice when speaking when male co-workers with a deeper voice.  It was not anything terrible, but it was just noticeable. Despite this, the H16 is a good headset for communicating during remote work meetings.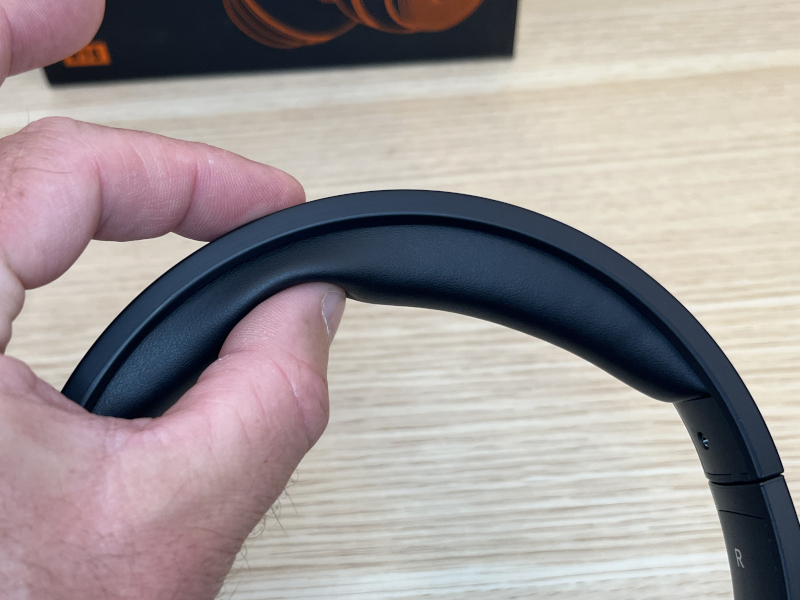 The H16 has a good amount of cushioning under the headband.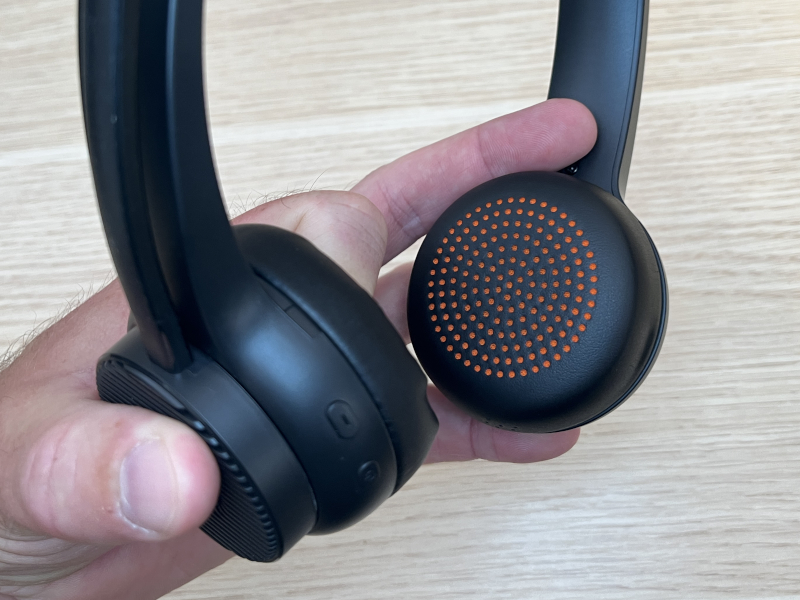 It has a similar amount of cushioning on the ear cups.  Despite this cushioning, the H16 is not as comfortable as I expected it to be.  The ear cups press in too tightly against my ears, and the ear cushions don't quite lay flat against my ears.  After a bit of experimentation, I figured out why:  They are too narrow for my head.  I laid the H16 on top of the CA Essential headset that I reviewed last year, and the difference between the two is obvious:  The curve of the headband for the CA Essential is more rounded, thus making it wider at the ear cups; the curve for the H16 is considerably more oval, thus making it narrower.  I found the same thing when I compared the H16 to my older Logitech headset.  In short, this headset is ideal for people who have smaller, narrower heads.  Additionally, the CA Essential has a pivot point where the headband meets the ear cup, allowing it to rotate in the horizontal plane and thus lay flat against my ears.  The EKSA H16 wireless headset's ear cups are connected directly to the headband; they are angled a bit too much forward, perhaps because of the narrow headband, and thus don't lay flat.  For occasional use, I don't think either of these issues will be a problem for me; if, however, I was wearing this headset all day, it would undoubtedly give me a headache and be unusable.  Perhaps it will loosen up over time, but during the four weeks that I tested this headset, it remained tighter than I would prefer.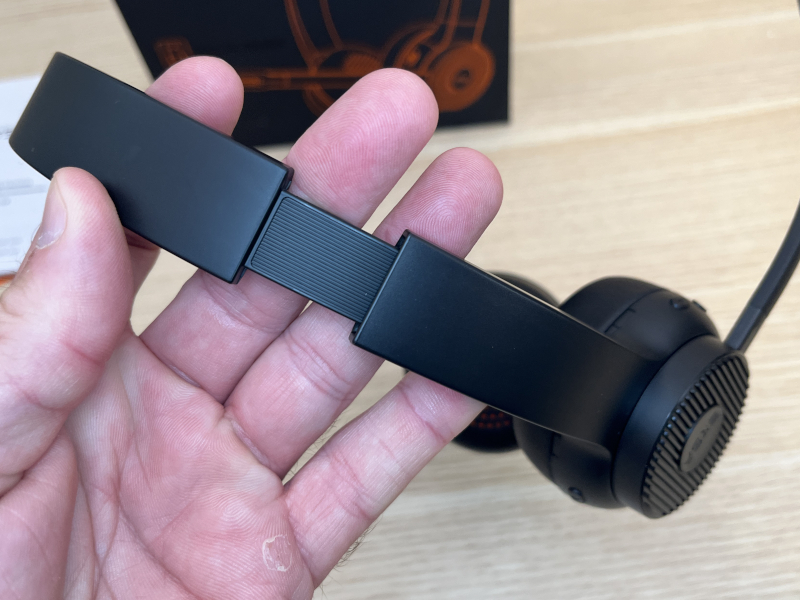 The headband is adjustable and allows me to configure the ear cups to be right over my ears.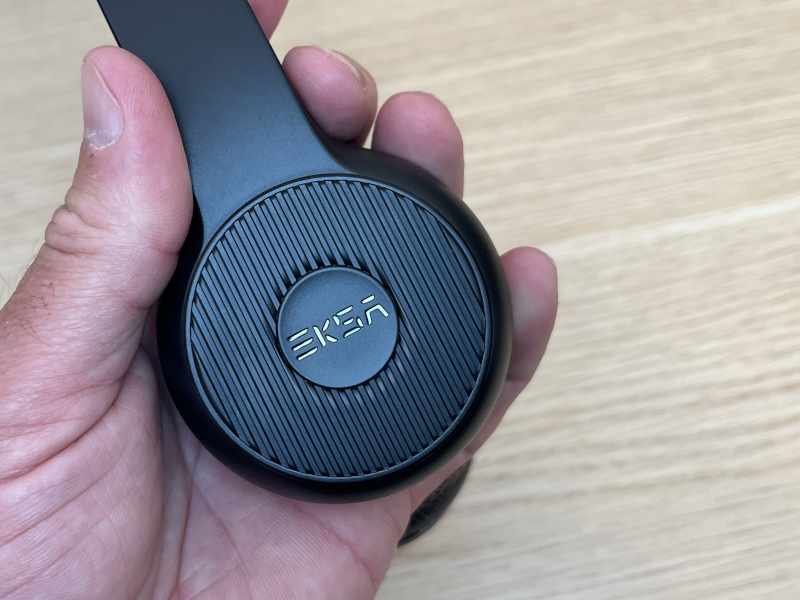 EKSA asserts that the H16 has a 50-foot range, and I can confirm this is exactly right.  My home office is in one corner of our house, and I was able to walk throughout the house and on to our front and back porches without any loss of audio.  Only when I went to the far corner of my garage, which is more than 50 feet away from my office, did I experience audio stuttering.  The freedom to wander about wirelessly is a huge advantage for this headset, as it allows me to do something in another room of my house, like get another cup of coffee, while still listening to whatever is being said in a meeting.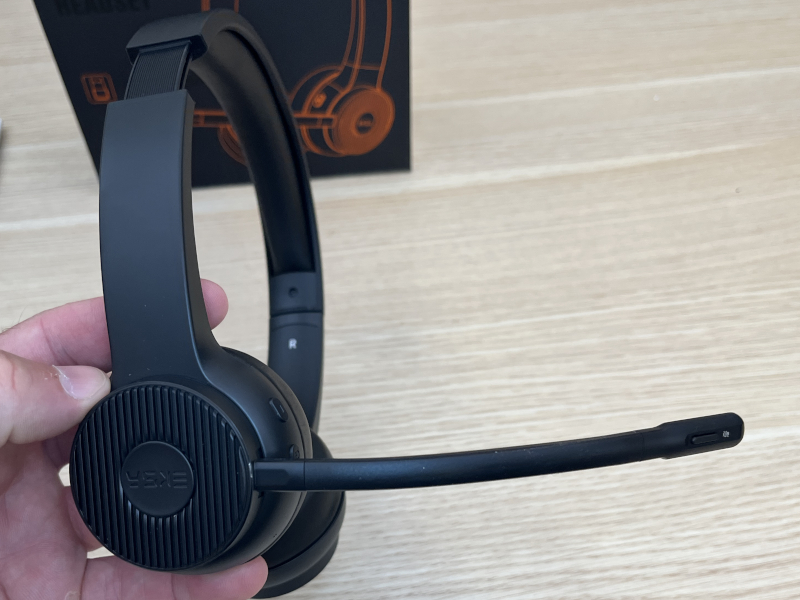 There are controls on the left ear cup, one for power, one for volume up, and one for volume down that all work perfectly.  The EKSA H16 wireless headset announces in a heavily-accented voice when the headset is powered on and off and when its pairing.
There's another small button on the outside tip of the mic that mutes the mic.  When pressed, it mutes the mic and announces that mute is on or off, but it doesn't give any visual indication that I'm muted.  There's no red LED on the mic, nor does it change the microphone icon in Teams and Slack.  My old Logitech headset, which is wired, changed these icons.  This is a pretty big issue for me, as I often need to be certain that I'm muted in order to prevent introducing any unwanted noise when I'm in a meeting.
I set a reminder on my work calendar to charge the headset every Friday afternoon so that it's fresh and ready to go on Monday morning.  EKSA says that the H16's battery is good for 35 hours of talking.  Thankfully I haven't yet had a week where I've needed to talk for 35 hours, but I've never had any problems with it running out of power during the work week.  I could probably go two weeks before having to charge it, though I prefer to be safe and charge it every weekend.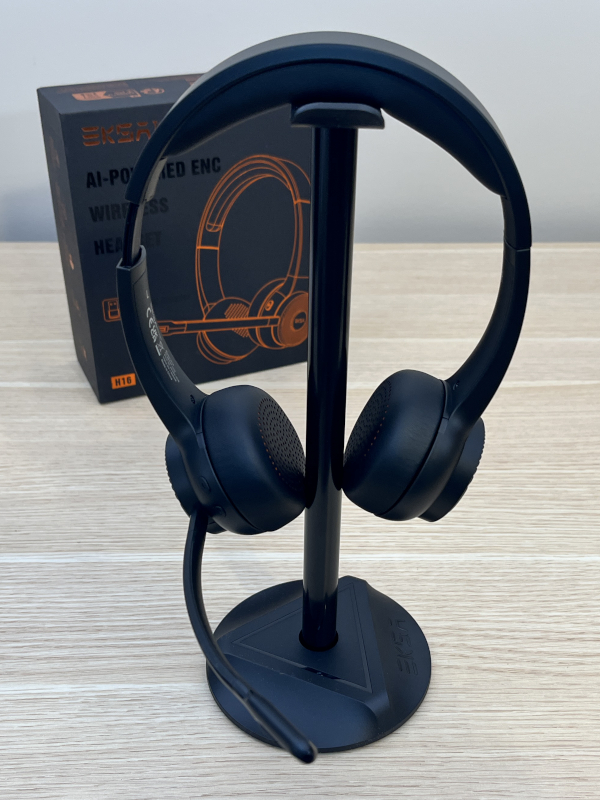 EKSA included their headset stand in the package that they sent me.  It's simple yet effective; it holds the headset and reduces the space consumed on my already crowded desk.  While not required to use the H16, I like this stand and am very glad that EKSA sent it.
What I like
Good audio quality
Lightweight
Reliable Bluetooth connectivity
What I'd change
Update charging cable and dongle to use USB-C
Make the headband more rounded
Provide visual indicators when muted
Final thoughts
The EKSA H16 is a simple yet effective wireless headset targeted for office use.  I used Bluetooth to connect it to my MacBookPro for remote work meetings conducted with Teams and Slack.  I found that it maintained a reliable connection and has good quality sound.  The biggest challenge for me is that the oval-shaped design of the headband is a bit too narrow for my head, causing it to press more tightly against my ears than other headsets that I have used.  If your head is narrower than mine, this might be the perfect wireless headset for your corporate communicate needs.
Price: $59.99 (Amazon) or $79.00 (EKSA)
Where to buy:  Amazon or EKSA's online store
Source: The sample for this review was provided by EKSA.