If there's one thing that a girl can't get enough of, it's make-up. There's always that particular shade of blush that you were looking for, a dramatic kohl pencil that livens up the eyes, face shimmer sticks and pretty nail colors to go with an outfit and more. And lip colors are the highlight of it all. If you are someone who owns just the basic few shades to cover your wardrobe, think again! Go out and get a bunch of hues, even offbeat ones, as that is the style trend.


'It's becoming normal to wear offbeat colors'


A neon wardrobe has always been eye-catching and now use the same mantra on your lips. Mausam Gandhi, a celebrity and bridal make-up artist, says, "Gone are the days when people just wore bold lipsticks or more recently, nude ones, thanks to Kim Kardashian. I remember going to the United States of America with my parents six years ago, when I saw someone with blue lipstick for the first time and I was amazed. The more I traveled I realized how normal it's become to wear unconventional colors. The Met Gala is the biggest example of how we have started implementing colors like orange, purple, black, etc in our make-up routines. Remember how Aishwarya Rai wore purple for the Cannes? Malaika Arora is often seen in a deep purple shade on her reality shows. I love how Rihanna has been wearing bright oranges recently, which are new. Katy Perry wore a bold black lipstick to one of the Met Gala's after parties, and we've been seeing the look often on Instagram reels. "
Expert says: Lip tints, sheer glass and shimmer are also hot faves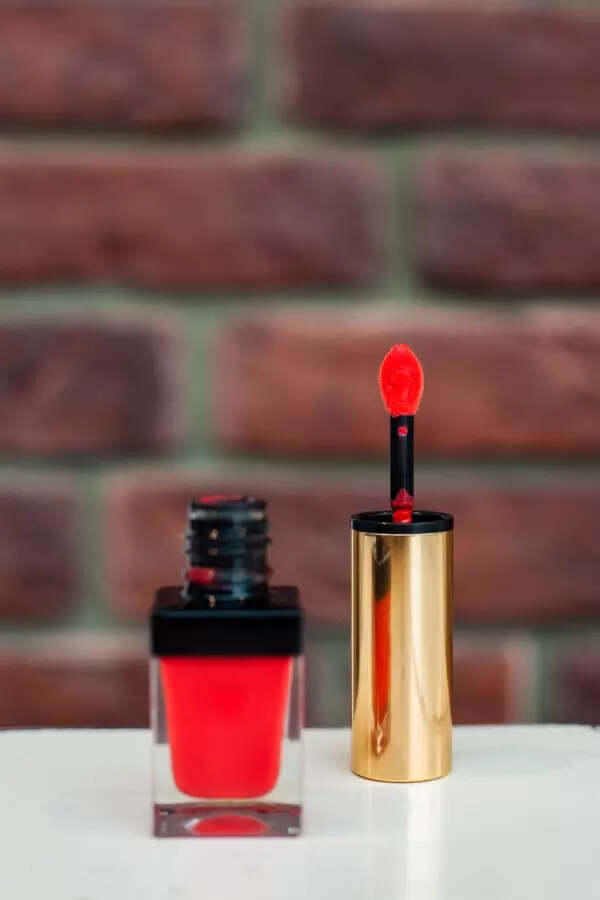 You can breathe a sigh of relief if you don't want to overload the color. A tint is also fine. Affirms make-up professional Meera Sakhrani, "When it's hot, people want to keep aside heavy lipsticks and opt for lip tints as they are light and bright. I have noticed this among clients, even for bridal looks. It's definitely new and people love it as it gives a beautiful glow. To explain, it's red, but it's not too red or it can be pink and not too pink, which works perfectly considering how hot it is. "

Celebrity stylist Richa Mehta, adds, "When the weather is hot, your wardrobe must include whites, neutrals and pastels. Adding a swipe of lipstick is just the pick-me-up your face and outfit would need and type of lip color you use, matters. Complement your neutral outfits with high-shine matte lipsticks, sheer gloss, and shimmer. Always consider your skin undertone and the color of your outfit as well as the humidity or dryness in the weather before selecting the lip shade and the texture. I would say to keep with the trend, layer your classic colors with a holographic gloss or a shimmer powder that works well for day and night. But always have the staples at hand, too. Make sure you stock up on a perfect nude, a classic red, peachy corals, and a creamy rose pink to your makeup kit. They are go-to shades for the Indian skin tone for every occasion. "
Tips to match the outfit with the lips

Richa Mehta shares, "Selecting the right lipstick with your skin tone is essential however keeping aesthetics aside consider the kind of day you have lined up. For a formal workplace look, try low maintenance, subtle shades such as rose pinks and peachy corals to go with your shirts and trousers and power suits. On the other hand, if you are heading out to meet pals or on a fun date at the cafe, slip on pastel dresses and add a dash of shimmer or holographic gloss to your nude shades or even a fuchsia pink, which add a bright touch to the lips. For a night out, pair your cocktail dresses and skirts with two-tone chrome lips to dazzle the night away and make a statement, without chunky accessories.
Wanna grab the pouty popsicle look?

Richa Mehta shares two cool lip hacks. "A trick that I learned while working with make-up artists on set is to warm your lip liner between your hands to make sure the application is smooth and not cracked. Another cool hack for a natural pouty, 'popsicle effect' look is to make a kissy face and dab a bright poppy or plum lipstick shade to the center of your lip.